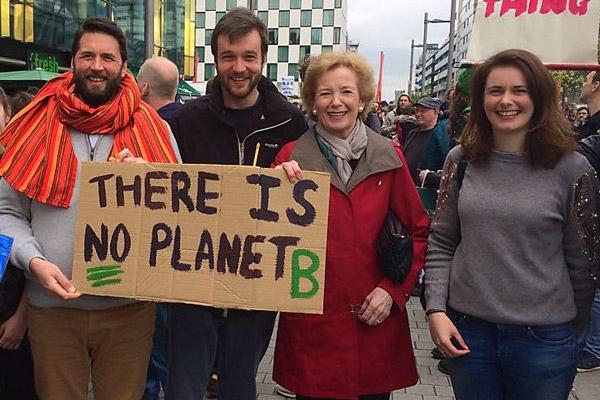 In an era of cynicism within politics and the media, Mary Robinson calls for evidence-based science to determine the global policy agenda and expresses solidarity with climate scientists and those on the frontlines of climate change.
"We desperately need fact-based, evidence-based science to determine the global policy agenda." –Mary Robinson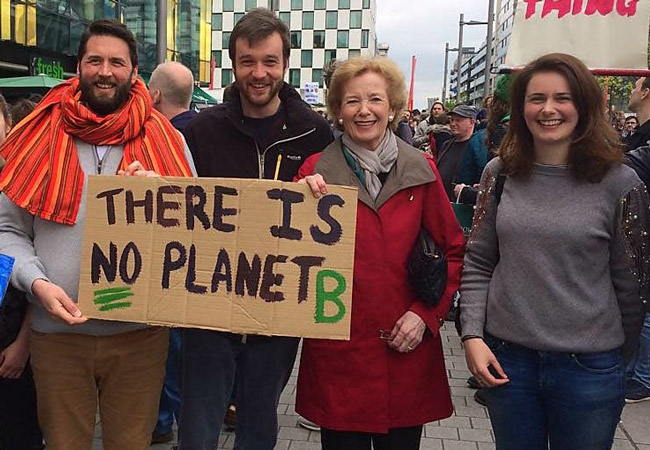 Mary Robinson at the March for Science in Dublin, in April 2017 (Credit: MRFCJ)
When Nelson Mandela founded The Elders ten years ago, he exhorted us to "support courage where there is fear, foster agreement where there is conflict, and inspire hope where there is despair."
These words remain a moral lodestar for me and my fellow Elders, especially in today's troubled world where it is easy to feel overwhelmed by global conflicts and challenges. They also remind me that there are always reasons to find, nurture and champion hope, even when situations can appear bleak and dark.
There is no greater global challenge than climate change, and the situation can indeed seem bleak and dark when I look at the scientific data and forecasts of what rising temperatures will do to our planet unless radical action is taken. I have seen first-hand the negative impacts already felt by vulnerable communities, and listened to those in the front line like Jannie Staffansson, a member of the Saami Council in Northern Scandinavia, who joined me in a recent Hearing before a Committee of the European Parliament and said, "climate change is not a threat, it is here and it is severe".
But hope exists here too. I was delighted a few weeks ago to join the Science March in Dublin, standing alongside scientists, academics and ordinary women, men and children in solidarity with thousands of others all around the globe.
The march's message was clear, simple and powerful: scientists need support in the face of cynical elements in politics and the media who seek to downplay the importance and impact of climate change, to pursue short-term electoral and financial objectives.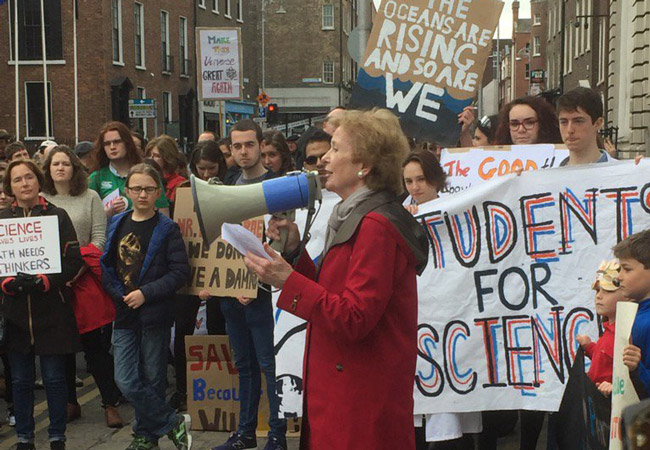 Mary Robinson speaking to demonstrators at the March for Science in Dublin, in April 2017. (Credit: @philkearney)
I speak a lot about the importance of climate justice – that it is unacceptable for the poorest, most vulnerable people on the planet to suffer the most from climate change when they have done the least to cause it.
We will only succeed in securing climate justice if we stay true to the science. We desperately need fact-based, evidence-based science to determine the global policy agenda. This is why I felt it was so important to show my support for scientists and the valuable work they do in researching climate change and the ways we can mitigate its effects.
The Elders have been making this case to world leaders in recent weeks too, to ensure they stick to the commitments they made in the 2015 Paris Agreement.
We wrote to the leaders of the G20 group of industrialised countries, calling for "bold and decisive action" on climate change, and specifically on the need to end fossil fuel subsidies and provide more financial support to poor and vulnerable countries.
The Paris Agreement remains a genuine source of hope and inspiration, and it is imperative that all states who signed it, from the smallest to the largest, stand by and keep their promises. To do otherwise would be an unconscionable betrayal of the people of the world, and of generations to come.
In the months ahead, The Elders will continue to do all we can to support the global efforts to tackle climate change, particularly of grassroots activists, civil society groups and the scientific community. I hope you will continue to stand with us in the fight for a healthy planet for all.