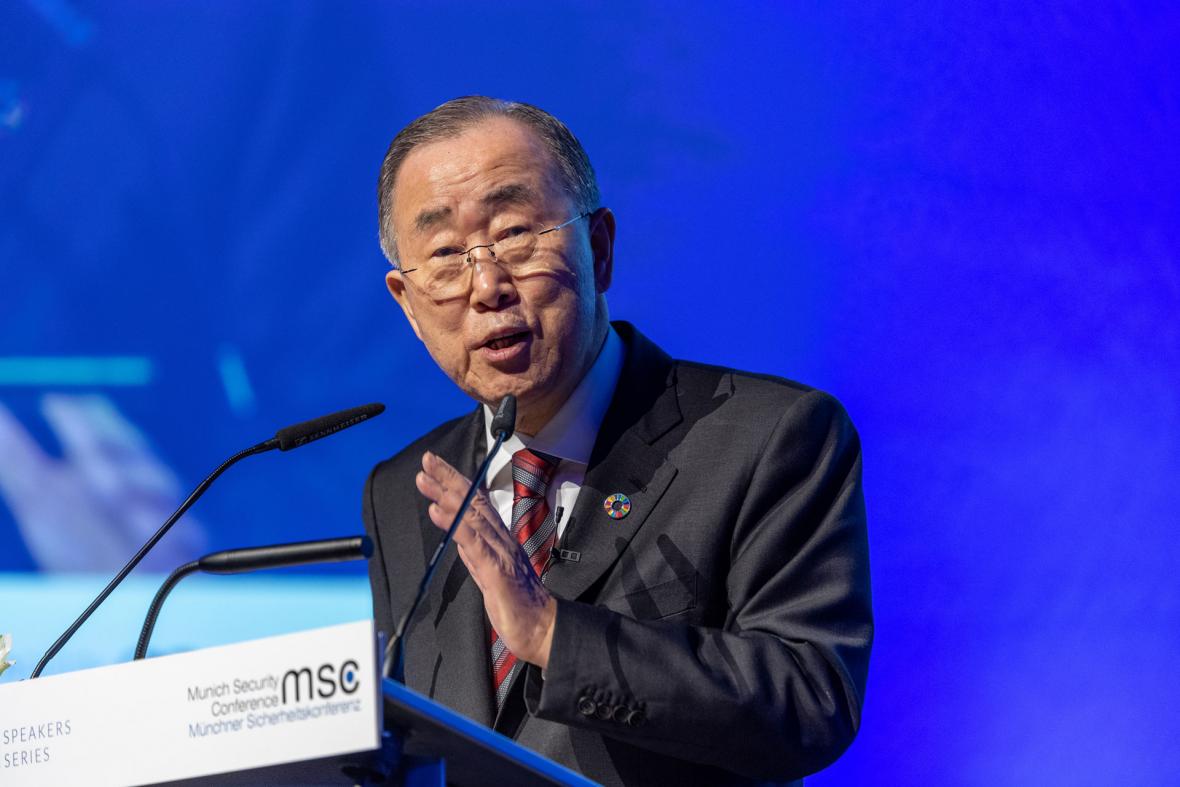 At a time when multilateralism is under attack, Ban Ki-moon reflects on the importance of working together to overcome global challenges.
This public lecture was delivered at the Technical University of Munich on 14 February 2020.
Excellencies, Ladies and Gentlemen,
It is an honour and a privilege to be with you here this evening as part of the Technical University of Munich's Speaker Series.
I would like to thank Professor Doctor Juliane Winkelmann for her warm welcome, and all the team working on the Speaker Series.
I would also like to thank Ambassador Wolfgang Ischinger and his colleagues from the Munich Security Conference for their collaboration, which comes on top of an already hectic agenda.
It is a pleasure to see so many distinguished guests in the auditorium, including the Honorary Consul of my home country, the Republic of Korea, Mr. Thomas Elster.
Finally, I would like to thank the students of the Technical University and other academic institutions gathered here, for the interest you have shown in matters beyond the specifics of your own studies.
I am speaking this evening as the Deputy Chair of The Elders, the group of independent global leaders founded by Nelson Mandela, who work for peace, justice and human rights.
I joined The Elders shortly after the end of my second term as Secretary-General of the United Nations. At that time, my predecessor as Secretary-General, Kofi Annan, was Chair of the organisation.
I greatly valued the opportunity to work again with Kofi in a context that was free of some of the constraints of the UN, and I deeply regret that our opportunity to work together was cut short by his untimely passing in August 2018.
In February 2018, Kofi Annan spoke in this same hall on one of the burning topics of our age: how to protect and enhance democracy in the digital age.
That issue is just as relevant today, and demands a thoughtful and focused response from all sections of society, from politicians, security officials, business and tech leaders and academia.
Dialogue is critical when addressing this and the other complex, multi-faceted topics that feature on the agenda of the Munich Security Conference.
This is why I applaud Ambassador Ischinger's vision to include students and the wider community of Munich's citizens in the Conference's deliberations via events such as this Speakers Series.
This democratic impulse is vital, and all the more important amid the current global climate of populist isolationism, disregard for international law and the abandonment of key treaties and institutional governance mechanisms.
True security is not delivered through strength of arms alone. Rather, it requires citizens to feel both protected and free to question their leaders' decisions via democratic scrutiny, transparency and accountability.
Totalitarian or authoritarian regimes predicated on fear and repression may loudly proclaim their military superiority, and may even threaten or invade their neighbours under the guise of "security concerns". But from the Communist dictatorships of Eastern Europe to apartheid South Africa and Colonel Gaddafi's Libya, they ultimately reveal themselves to be brittle and unsustainable against the popular demand for freedom which cannot be repressed forever.
In preparing for my visit to the Technical University of Munich, I was reminded of the words of one of its most distinguished alumni, the writer Thomas Mann.
Writing from exile in the United States on the eve of the Second World War, Mann appealed to the German people to reject the false promises of the Nazis and return to democratic values:
"Democracy is timelessly human, and timelessness always implies a certain amount of potential youthfulness."
It was a tragedy for Germany, Europe and the whole world that it took six years of bloody war for this truth to be understood and re-rooted into the German body politic.
Today I think it is a compliment to say that Thomas Mann would probably struggle to recognise modern Germany and the way it behaves to its neighbours and the wider world, as a strong and vibrant democracy anchored in the European Union and the United Nations.
As future leaders, I encourage all the young people here to live up to your full potential!
Thomas Mann understood the importance of fighting together for common values.
This remains as critical today as it was seventy-five years ago, at the end of the Second World War and the dawn of the era of the United Nations.
In June 1945, representatives of the victorious Allied Powers and other nations met in San Francisco to sign the UN Charter, a text which remains the cornerstone of today's international rules-based order.
It is worth reminding ourselves of the Charter's opening lines, which speak with humane clarity to the priorities all nations and peoples should set for themselves:
To save succeeding generations from the scourge of war, which twice in our lifetime has brought untold sorrow to mankind,
To reaffirm faith in fundamental human rights, in the dignity and worth of the human person, in the equal rights of men and women and of nations large and small, and
To establish conditions under which justice and respect for the obligations arising from treaties and other sources of international law can be maintained, and
To promote social progress and better standards of life in larger freedom.
Cynics might argue that the fact that war, inequality, discrimination and poverty have not been vanquished over the past 75 years means that the UN is a costly failure. I vehemently disagree!
Much progress has been made, from the reintegration of post-war Germany into the European and global family of nations, to the support for new democracies in former colonial states in Africa and Asia.
Where the UN has failed, I would argue that this has been because member states – particularly but not exclusively the five Permanent Members of the Security Council – have not lived up to their responsibilities, and have placed their narrow national interests above common priorities.
As we celebrate the 75th anniversary of the UN, I urge all member states to recommit to the values and aspirations of the Charter, as the only way to tackle the severe threats facing humanity today, from climate change to nuclear weapons.
Multilateralism Under Attack
At the start of the third decade of the 21st century, our world faces a security crisis greater even than the heights of the Cold War.
Nuclear annihilation is an acute threat, aggravated by both stand-offs over Iran and the Korean Peninsula, and by the deliberate undoing of arms control agreements that have restrained proliferation by key powers including Russia and the United States.
The climate crisis poses an equally grave challenge, with the devastating fires in Australia only the latest example of the risks posed to human health and safety by global warming and extreme weather events.
But even though the last year has seen an outpouring of popular anger and demands for radical change, including passionate and eloquent youth activism here in Germany, global leaders have yet to show they are capable of taking the bold steps to cut emissions and deliver a sustainable future.
Last month, I travelled to Washington DC with Mary Robinson, the Chair of The Elders and former UN High Commissioner for Human Rights, to participate in the annual unveiling of the "Doomsday Clock".
This year, the Bulletin of the Atomic Scientists decided that the threats to humanity are so severe that they moved the clock forward to 100 seconds to midnight – the closest to Doomsday that it has ever been since the Clock was first set in 1947.
This should be a wake-up call for the world.
But my fear is that, just as we need it the most, the multilateral system that has done so much to protect peace and stability for the past 75 years is facing deliberate and concerted attacks by forces that favour a more brutal and aggressive approach to world affairs.
Too many leaders today either embrace the doctrines of nationalism and isolationism, or lack the political courage to challenge these malign forces and instead retreat into passivity.
I urge all world leaders to acknowledge that effective multilateralism is in their own national interest, regardless of size or strength. Getting others to cooperate by means of internationally-agreed mechanisms is less costly and more reliable than unilateral force.
I know that this argument is well understood across Germany and forms a key element of your country's foreign policy. But I fear other countries have either forgotten this lesson, or are wilfully ignoring it in pursuit of short-term goals.
It is a sad irony that the multilateral system's principal assailant, the United States, is the very country that led the design and construction of its institutions in the 1940s and benefited enormously from it in the subsequent decades.
To make matters worse, the response by other influential powers has too often been erratic, uncoordinated and counter-productive. Most have opted to negotiate bilaterally with the US to try to resolve crises, further eroding existing multilateral frameworks.
This is myopic and self-harming. A regression from a rules-based system into power-based strategies will not result in a safer, more predictable or propitious environment for any country.
As of this month, the countries of the European Union are grappling with the consequences of the departure of the United Kingdom and the implications of "Brexit" for European security, trade and prosperity.
I believe the UK's decision to leave the European Union is deeply regrettable. Whatever the final outcome of negotiations to determine future UK-EU relations, I hope that the 27 remaining member states will now come together to reassert and coalesce around common values at home and abroad.
The EU is a powerful voice in world affairs and has a responsibility to use this voice to uphold the values of human rights and dignity. We have seen this in recent weeks in its critical response to the Middle East Peace Plan announced by President Trump, and in its efforts to support peace in Libya, with Germany playing a vital role in convening the latest peace conference.
I hope the EU will also show greater resolve and responsibility towards finding a sustainable, humane response to the many desperate people arriving on its shores as refugees and migrants.
Germany has shown strong leadership, encapsulated in Chancellor Angela Merkel's phrase "Wir schaffen das" – "We can do this". But too many other states have not stepped up in a similar way to resettle refugees in a proportionate and fair way across the EU. This is a failure of solidarity and a rejection of European values that again weakens the ability of a multilateral system to meet global challenges.
Meeting the Nuclear Threat
Europe's debate on refugees and migrants underscores how every continent's peace and stability impinges on the others.
Nowhere is this truer than with regard to policies on nuclear disarmament and non-proliferation.
2020 marks the seventy-fifth anniversary of the use of atomic bombs against the cities of Hiroshima and Nagasaki in Japan.
The development of these devastating weapons of mass destruction coincided with the onset of the Cold War between the United States and the Soviet Union. As a result, from the 1950s to the 1980s, the threat of a nuclear exchange between East and West was an ever-present possibility, and the top priority for discussion at gatherings such as the Munich Security Conference.
But following the fall of the Berlin Wall and the collapse of the Soviet Union, a degree of complacency crept into policymakers' and politicians' efforts to make progress on disarmament and arms limitation.
That complacency was unjustified then, and untenable day. As the Doomsday Clock makes clear, the threat of nuclear annihilation is greater today than even at the height of the Cold War.
One year ago, my fellow Elders Mary Robinson and Lakhdar Brahimi came to the Munich Security Conference to present a new set of proposals from our group to reduce the risks of a nuclear catastrophe and raise the salience of the issue among heads of states and decision-makers.
What we call our "minimisation agenda" is focused on four key principles:
Doctrine, whereby every nuclear state should make an unequivocal "No First Use" declaration;
De-alerting, with almost all warheads taken off high alert status;
Deployment, with a substantial reduction of all nuclear warheads that are currently operationally deployed; and
Decreased numbers, to dramatically cut the number of nuclear weapons in existence.
Sadly, events of the last twelve months have shown little or no progress on any of these elements.
The decision of the United States to terminate the Intermediate-Range Nuclear Forces, or INF, Treaty highlights the lack of trust and dialogue between Washington and Moscow, and also the risk that Europe once again becomes the vulnerable battleground in a nuclear stand-off between the two main superpowers.
Another critical issue is the renewal of the New Strategic Arms Reduction Treaty (START) between Russia and the US. If this does not happen by 2021, there will be no nuclear arms agreement in force between the two powers anymore, and no remaining limits on the size of their deployed nuclear arsenals.
This is a test of leadership.
It is encouraging that President Putin has stated clearly that Russia is ready to renew New START without delay, and I urge President Trump to now move without delay to get a deal.
Meanwhile, both Washington and Moscow have also continued to invest in new technologies such as hypersonic cruise missiles and space-based systems, with the rapid and opaque nature of technological development further contributing to mutual paranoia and distrust.
All nuclear powers – the five permanent members of the UN Security Council (US, Russia, China, France and the UK) as well as Israel, India, Pakistan and North Korea – need to face up to their responsibilities and work together to reduce their nuclear stockpiles.
The Non-Proliferation Treaty Review Conference that will take place later this year in New York is a critical opportunity to make progress, but the current postures of the leading nuclear powers do not augur well. This needs to be an urgent priority for all states, nuclear and non-nuclear, including those members of NATO and other multilateral alliances who are under the "nuclear umbrella" of the US.
Progress on disarmament is urgently required, but so are more constructive and consistent efforts on nuclear non-proliferation.
The international community did make some promising steps in this regard in recent years, with the greatest example being the nuclear deal with Iran – the so-called Joint Comprehensive Plan of Action (JCPOA) – negotiated by the five permanent members of the UN Security Council, Germany and the EU in 2015.
I am afraid that the decision by President Trump to withdraw from the JCPOA is one of the most misguided and counter-productive foreign policy decisions I have encountered in my long career.
By destroying trust and reimposing sanctions, the US has not only raised tensions with Iran to dangerous heights, it has also made it much harder to pursue meaningful negotiations with North Korea with the aim of securing complete, verifiable and irreversible denuclearisation on the Korean Peninsula.
How can any leader take the word of a US President seriously in such negotiations when any successor in the White House can simply tear up existing agreements without rigorous consultation with allies and partners?
Climate Crisis
The limitations of treating diplomacy as a "zero-sum game" are all too apparent in nuclear policy, but the same logic applies just as powerfully to the other central threat facing the planet: the climate crisis.
Just as the US withdrawal from the JCPOA has worsened the security situation in the Middle East, so President Trump's decision to withdraw from the Paris Agreement on climate change has sent a disastrous signal to the rest of the world.
I was honoured to oversee the adoption of the Paris Agreement in 2015 as UN Secretary-General, together with the Sustainable Development Goals with which it is inextricably linked.
These two instruments represent genuine triumphs of multilateral diplomacy, and I remain convinced that if they are implemented in full, we can minimise the damage caused by changes in climate, and dramatically improve the lives of billions of poor and vulnerable people across the world.
For this to happen, leaders need to show they are serious about raising their levels of ambition and political commitment. And citizens, too, need to show they are serious about holding their leaders to account.
In this regard, I have actually been heartened by developments in the United States since President Trump's announcement about Paris.
Americans from all walks of life – state governors, business leaders, labour unions, faith and women's groups and growing numbers of youth – have come together to declare they reject the Administration's climate policy, and are still committed to the principles of the Paris Agreement.
This determination reminds me of the words of Kofi Annan:
"When leaders fail to lead, the people will lead and make them follow."
Perhaps the most visible demonstration of this "people power" over the past twelve months has been the youth climate movement and the ceaseless campaigning of young activists like Greta Thunberg and Luisa Neubauer.
With the fierce clarity of youth, these courageous and determined young people are demanding action, now, to secure their future and that of the generations to follow who have not yet been born.
All of us have a responsibility not to betray these young people.
All of us have a responsibility to take concrete steps towards a carbon-neutral economy, changing our patterns of consumption and behaviour in a more sustainable way, and insisting our leaders make climate change a top priority.
We need a new mindset that recognises the urgency of the challenge the IPCC posed in its report on warming at 1.5 degrees Celsius. These new ideas must be born from a shared understanding that we need to reduce global carbon emissions by 45% by 2030 and be carbon neutral before 2050.
At the same time, we need to ensure that the transition to a new carbon-neutral economy takes place in a way that does not abandon those workers and communities that have been traditionally dependent on fossil fuel industries and heavy manufacturing.
"Climate justice" needs to be integral to our global response; without it, the world risks creating new categories of "winners and losers" which could exacerbate existing inequalities, and open the door for unscrupulous political forces to prey on feelings of resentment and exclusion.
The results of the COP 25 summit in Madrid last December were disappointing. This makes it all the more important that nations come together this year for COP 26 in Glasgow with real determination to take meaningful action and raise ambitions.
This will be an important moment for the United Kingdom to show it remains committed to multilateral action in the post-Brexit landscape, and I hope it will deploy all of its considerable diplomatic and political capital to make this COP a success.
The climate crisis and the nuclear threat are only two of the urgent issues that demand a collaborative, global approach.
All of the topics that are on the agenda at this year's Munich Security Conference require a similar approach, from terrorism and violent extremism, gender and economic inequality, and how to adapt to new, disruptive technologies.
The voice and perspective of youth is critical to these conversations. I believe that young people, who have grown up in the digital age, understand instinctively that they are connected beyond national borders and are global citizens.
This is why I have set up the Ban Ki-moon Centre for Global Citizens in Vienna, to help provide young people with a greater say in their own destiny, as well as a greater stake in their own dignity.
In fact, these young people have much that they can teach their parents and those in power today about how to tackle current and future threats. Their understanding is not obscured by nostalgia but driven by a desire to enjoy peace, stability and shared prosperity.
Faced with today's complex, multi-faceted and gravely serious challenges, it is perhaps understandable that some older generations feel overwhelmed and seek solace in simplified narratives of a bygone "golden age" when they had a sense of being in control of their individual and national destinies.
What is profoundly irresponsible, however, is for politicians – especially but not exclusively in democratic societies – to collude in or deliberately stoke these illusions for their own aims of securing and sustaining power, in full knowledge that no one country, however powerful, will be able to meet these global challenges on its own.
Thomas Mann understood this over a century ago. In language that reflected the deep gender inequalities of his own age, he wrote in his famous novel "The Magic Mountain" that
"A man lives not only his personal life, as an individual, but also, consciously or unconsciously, the life of his epoch and his contemporaries."
Today, we all live the life of our epoch and our contemporaries. From Munich to Mogadishu, Berlin to Baghdad, all of us are bound together in the fate of our shared planet, and none of us will be truly secure whilst others are exposed to the cruelties of war, oppression and starvation.
But I do not want to end on a note of pessimism. Instead I want to recall a tremendous anniversary that took place earlier this week: on 11 February, people all around the world celebrated the 30th anniversary of Nelson Mandela's walk to freedom from his prison in South Africa.
Mandela was the founder of The Elders. For me and millions around the world he remains the prime example of the very best of humanity: determined, committed, principled in struggle but also magnanimous, warm-hearted and honourable in victory.
All of us can learn from his example and do what we can in our own ways to build a better world.
When Mandela first convened The Elders in 2007, he gave a remarkable speech in Johannesburg that we treat now as our "mandate". I would like to end this lecture with the closing lines of that speech, in the hope that it inspires you as much as it inspires me:
"I believe that in the end it is kindness and generous accommodation that are the catalysts for real change."
Thank you very much.