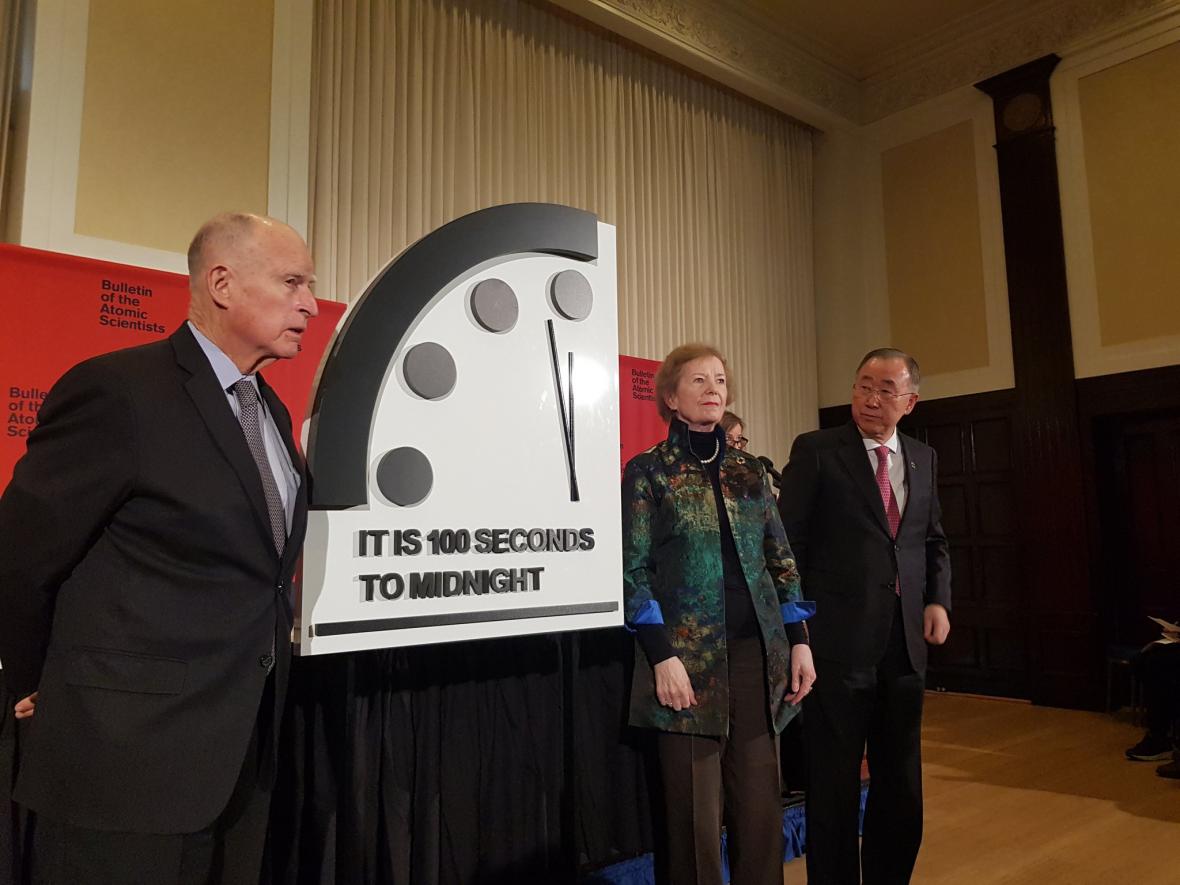 Unveiling the 2020 Doomsday Clock in partnership with the Bulletin of the Atomic Scientists, Mary Robinson calls for an urgent change of mindset to challenge the existential threats facing humanity.
The following is a transcript of her 23 January speech
Thank you Rachel. Governor Brown, Chair Bob Rosner, ladies and gentleman.
On behalf of myself, Ban Ki-moon and all The Elders: it is a great honour to be here today, for what can only be described as a solemn occasion.
I must say when I revealed the new time, I felt more and more anger, the reaction of an angry grandmother, at what is happening.
When Nelson Mandela founded The Elders in 2007, he spoke of the need to "support courage where there is fear, foster agreement where there is conflict and inspire hope where there is despair". I often recall these words, but rarely do they feel as important as they do today.
The Doomsday clock is a globally recognised indicator of the vulnerability of our existence. It is a striking metaphor for the precarious state of the world but, most frighteningly as we have just heard, it is a metaphor backed by rigorous scientific scrutiny. This is no mere analogy. We are now 100 seconds to midnight and the world needs to wake up.
Our planet faces two simultaneous existential threats: the climate crisis and nuclear weapons. We are faced by a gathering storm of extinction-level consequences, and time is running out.
The science of the climate crisis makes it imperative that we take urgent action in 2020. We need a change of mindset in politics, finance, business and civil society, one that enables us to keep temperature rises at or below 1.5°C, whilst protecting the rights, dignity and livelihoods of those affected by the shift to a carbon neutral economy.
Not to do so will be a death sentence for humanity, and yet, world leaders continue to ignore the science: international climate summits fail to reach agreement and investment in the exploration and exploitation of fossil fuels continues to increase.
Despite this dire picture of failing leadership and narrow self-interest, we can draw hope and inspiration from the young schoolchildren and activists who are striking under the banner "Fridays For Future".
Here in the United States, I have been hugely inspired by the way so many people from politics, business, labour unions, faith groups, women's and youth movements declared they were "Still In" the Paris accord despite the Federal Administration's withdrawal – including of course Governor Brown in California.
However, whilst public pressure gives us a sliver of hope for our climate, the opposite is true on nuclear.
As long as nuclear weapons remain in existence, it is inevitable that they will one day be used, whether by accident, miscalculation or design. Yet the scale of a potential catastrophe, and discussion on what can be done to deescalate the risk of a nuclear war has been given a shockingly low amount of consideration by political decision-makers, opinion formers and the public.
This is why The Elders have proposed a 'nuclear minimisation' agenda that, we believe, would significantly contribute to reducing the threat of nuclear catastrophe.
Our positions are summed up by what we call the "4 D's":
Doctrine: every nuclear state should make an unequivocal "No First Use" declaration;
De-alerting: almost all warheads should be taken off high alert status;
Deployment: substantially reduce the one-quarter of all nuclear warheads that are currently operationally deployed;
Decreased numbers: dramatically cut the number of nuclear weapons in existence.
However, such proposals will never come to pass if we do not first defend and strengthen the nuclear arms controls that still exist.
The Elders believe this must begin with the United States and Russia negotiating the extension of New START – the only remaining bilateral agreement between these two nuclear super powers – without delay.
I note that President Putin has explicitly said he is ready to do this, so I urge President Trump to respond in kind so both men can get down to business. They should recall and reiterate the declaration of their predecessors Ronald Reagan and Mikhail Gorbachev that "a nuclear war cannot be won and must never be fought". These were pioneering words at the time and the world needs to hear them again.
Such a step would help create an environment for nuclear disarmament ahead of the Non-Proliferation Treaty Review Conference later this year and inspire other leaders to take similarly bold steps.
Let such a nuclear détente be the way the world marks both the 75th anniversary of Hiroshima and Nagasaki, and the 50th anniversary of the Non Proliferation Treaty. Let this year be the start of new era of nuclear negotiations. Let us hope to return here in a year's time to reveal the hands on this clock are further from midnight than they are today.
Thank you.