"While outsiders such as the AU and the UN can help, what is crucial is for the leaders of Sudan and South Sudan to talk directly and build mutual trust; the task cannot be left to anybody else" Martti Ahtisaari argues that Sudan and South Sudan need to take immediate action towards building a collaborative relationship, and that the real dividends of the peace agreement for South Sudan will depend on investing in the long-term; by focusing on its infrastructure, constitution and economy – but most importantly its people.
For any dispute to be resolved, clear goals are required: some immediate, some long-term.
In the case of Sudan and South Sudan, the international community is united in calling for a complete resolution of the two countries' outstanding issues as soon as possible. The 2 August deadline set by the African Union and the United Nations is a serious one, with consequences threatened for both sides if there is insufficient progress. The AU panel that is facilitating the talks, chaired by the former President of South Africa, Thabo Mbeki, is working hard to coax the parties into bridging their differences and should be commended for its efforts.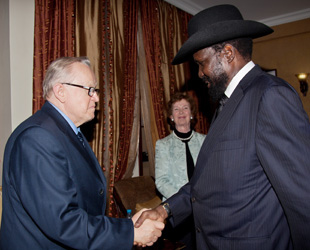 Martti Ahtisaari meets South Sudan President Salva Kiir

While outsiders such as the AU and the UN can help, what is crucial is for the leaders of Sudan and South Sudan to talk directly and build mutual trust; the task cannot be left to anybody else.
During the two recent Elders visits to the region, we repeatedly called on both Presidents to meet and show leadership. In early July, I joined Mary Robinson and Desmond Tutu to convey this message in person to President Salva Kiir, in Juba. In late May, Lakhdar Brahimi and Jimmy Carter met President al-Bashir in Khartoum with the same intent.
Making the most of its human capacity
Resolving outstanding issues from the 2005 Comprehensive Peace Agreement, however, is a relatively short-term goal. In my experience, the real work begins after peace agreements have been signed. The so-called 'peace dividends' require the right environment to benefit the people, and for peace to stand the test of time. This hinges on long-term investments in infrastructure, education and human capacity building to administer the state and strengthen its institutions.
Education should be an absolute priority. In a country where 70 per cent of children between 6 and 17 years have never set foot in a classroom, and less than 10 per cent of children finish primary education, it is so important that we ensure human capacity is never wasted – particularly girls'. After three decades of experience in peace building, I have come to the conclusion that there is nothing more important than giving every child a chance to go to school. It is the surest path to breaking the vicious cycle of violence, and the only way to channel the energy and talent of the people.
Funding and infrastructure programmes must be mobilised to engage people in other essential activities. In my experience, road works are a particularly effective way of building a new nation. South Sudan needs 'feeder roads' between areas of agricultural production and other parts of the country where, as Mary Robinson has pointed out, a large proportion of the population is at risk of extreme hunger.
Road works require manpower in large numbers but need little human resource training. In addition, and as the government has acknowledged, South Sudan needs to build up its ability to train people for more advanced roles as it continues to establish its state institutions.
Laying the foundations of inclusive government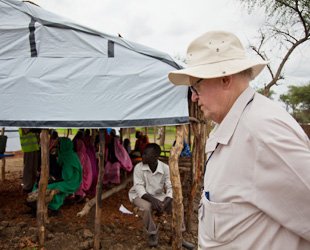 Martti Ahtisaari at Yusuf Batil refugee camp in South Sudan

As with building roads and schools, it is essential for the government itself to invest time and money now in the long-term foundations of the state. A permanent democratic constitution is naturally of vital importance. To reflect the rich diversity and aspirations of the people of South Sudan, the process must be as inclusive as possible. While you cannot consult everybody individually, we found in our short visit to Juba that there were many active and energetic civil society groups that should be engaged in the drafting process, which do not feel their voices are currently being heard.
The National Constitutional Conference (NCC) created for this purpose has been set a deadline of July 2013 – only one year away – to deliver a text that will have profound and lasting consequences for the democratic future of the country.
Oil need not be a polarising issue
Of course, financial resources are needed to embark on these long-term goals. In the immediate future, oil revenue will be essential to South Sudan. I am convinced that oil need not be a polarising issue – it may be that an interim agreement will be needed for some years, but there are existing international compensation standards, avenues for arbitration and precedents set by similar situations in other regions to show that these differences can be overcome.
Provided there is prudent and transparent management of its oil revenue, South Sudan has the opportunity to develop and put itself on the path to a diversified economy. With its fertile soil, agriculture could – and should in my view – play an important role for the country by providing employment and self-sufficiency, and by saving on imported food that could be grown at home.
What is clear, in any case, is that South Sudan's economic prospects are intertwined with the North's, beginning with oil and continuing with the re-opening of roads, trade and the resumption of all direct transport links between the countries. The two Sudans have too many areas of mutual interest not to pursue constructive relations. As both currently experience serious economic problems, in large part due to their oil dispute, we must hope that the leaders recognise the mutual benefits that cooperation would bring.
I saw for myself in South Sudan the scale and urgency of its problems. But I also saw great talent and energy in the people, who wish for nothing more than to start building a prosperous nation. It will take time, but the government's ability to meet these goals lies in taking important decisions about the kind of country they want to see – today, not tomorrow.