This week, Graça Machel and Mary Robinson will be at the Skoll World Forum in Oxford to discuss ethical leadership, climate action and supporting girls' welfare. Watch the live sessions and add your voice to the discussion on Twitter.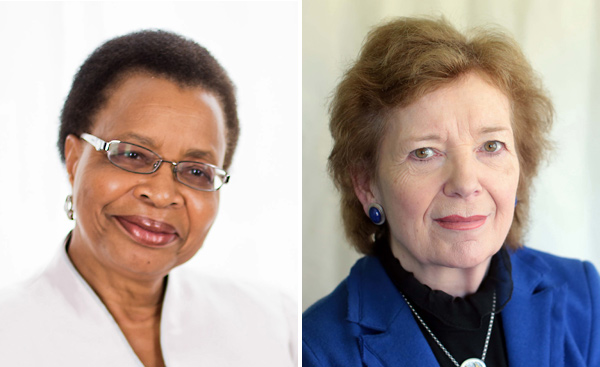 Two Elders will be at this year's Skoll World Forum on Thursday and Friday. Find out more about the sessions and watch the forum live on the video player below. You can add your voice to the discussion by tweeting @TheElders and #SkollWF.
Thursday 1.15 - 2.30 pm GMT+1: Zero Carbon the Climate Justice Way
Mary Robinson joins fellow climate justice leaders to discuss the Sustainable Development Goals, and how to ensure all countries reach zero carbon emissions by 2050.
Thursday 5.30 - 7.30 pm GMT+1: Awards ceremony
Graça Machel will be receiving the Skoll Global Treasure Award for her work on the Africa Progress Panel, Millenium Development Goals and Sustainable Development Goals, supporting efforts to realise the rights of African women and children. She will be interviewed by Ann Cotton, Founder and President of CAMFED.
Friday 10.00 - 11.15 am GMT+1: Unleashing Girls' Power
Graça Machel joins fellow girl and women's rights advocates to discuss how to empower girls and support them in overcoming the obstacles of poverty, child marriage and lack of substantive secondary education.
Friday 1.15 - 2.30 pm GMT+1: Beating the Odds: Lessons Learned from Social Innovators in Government (This session will not be livestreamed.)
Social innovators, including Mary Robinson will use their experience in government to discuss how to drive large-scale change and alter entrenched mindsets.
Desmond Tutu will also be at the Skoll World Forum, delivering a speech during the opening plenary session.
Watch their sessions via the livestream below: