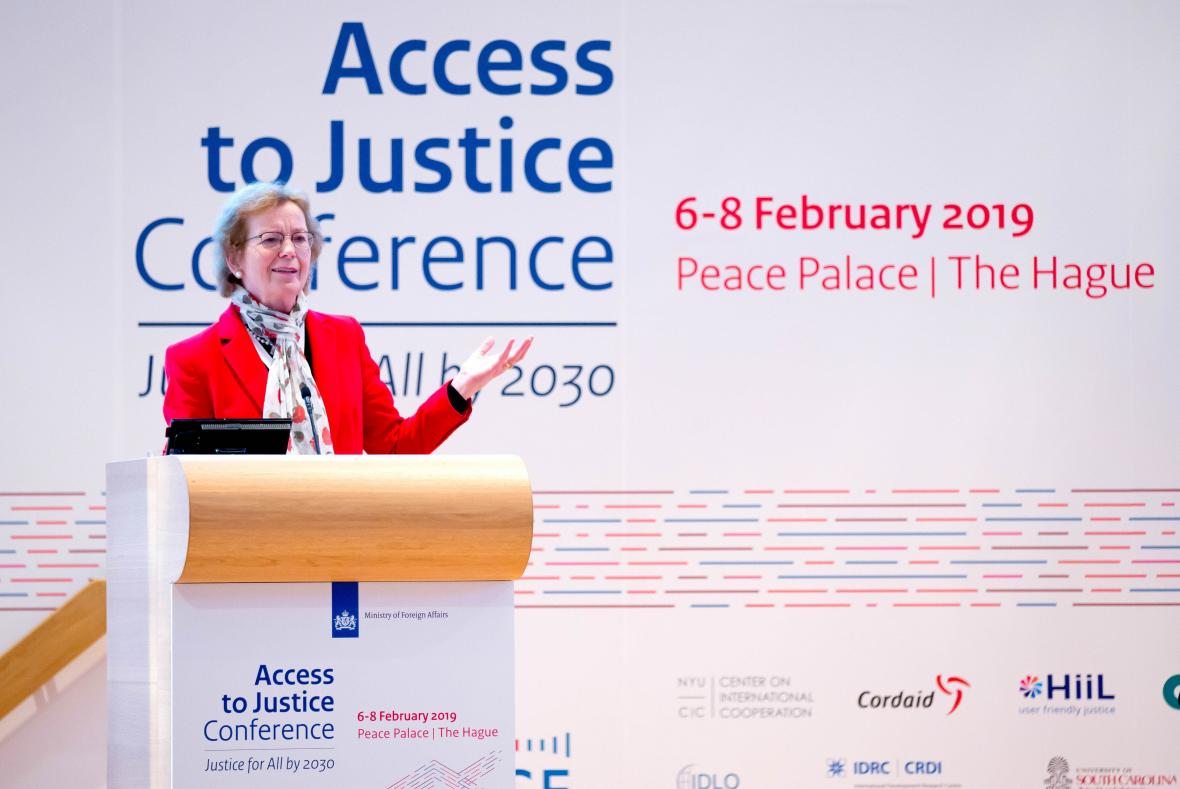 As a new report launched at the World Justice Forum today reveals more than five billion people worldwide lack meaningful access to justice, Mary Robinson reflects on the saddeningly slow progress made to close the justice gap. First published in The Independent.
More than five billion people worldwide do not have access to justice in their everyday lives.
This is the shocking reality revealed in a new report by the Global Taskforce on Justice being launched today in The Hague.
Injustice on this sweeping scale should shame us all, not least because the justice gap is growing.
‍
Mary Robinson - Elder
Over ten years ago, I was a member of the Commission on Legal Empowerment of the Poor. Our report in 2008 found that more than four billion people lived outside the protection of the law.
Let us recall the great progress made on other justice issues: the abolition of slavery, the success of the anti-apartheid movement, the civil rights movement in the U.S. and the ringing words of Martin Luther King, 'injustice anywhere is a threat to justice everywhere'.
So, the fact that the justice gap has risen by a further one billion people is a damning indictment of our global political and legal systems.
This includes 1.5 billion people who cannot resolve their justice problems, such as victims of unreported violence or crime, or who cannot resolve a dispute over land or the denial of a public service.
Such situations can have a cascading impact on individual lives, families, communities and the wider social fabric. Many people become unemployed. Around a third of people with a justice problem are likely to experience a physical or mental health problem.
Justice is the thread that runs through the 17 UN Sustainable Development Goals. Without access to justice at every level in society, we stand little chance of achieving the wider SDGs.
World leaders acknowledged this when they signed up to the Goals in 2015. Our challenge today is to hold them to account – and also to put pressure on donor governments and multilateral institutions. Meanwhile the failure to provide justice is costly.
Recent estimates from the British government show that unresolved disputes and serious legal problems may cost that economy up to £3.5 billion annually.
On a global scale, violence against women is estimated to cost between 1 and 4 percent of GDP. The financial costs to private businesses have been found to be as high as 3.7 percent of GDP in Peru and 6.5 percent of GDP in Bolivia.
In the United States alone, the cost of intimate partner violence exceeds $8.3 billion per year.
A growing body of evidence demonstrates that expenditure on people-centred justice can deliver a high return on investment. In England and Wales, every pound invested by the Citizens Advice bureau service generates £1.80 in savings for government and £11 of wider social and economic benefits.
The Task Force report presents the first estimate of the cost of providing universal access to basic justice. In low-income countries, it would cost USD$20 per year to provide each person with access to basic justice services, in middle income countries $64 and in high-income countries $190.
Beyond finance, we need a shift away from justice reforms that focus solely on institutions and move to a people-centred approach that embraces legal empowerment. This approach has a focus on preventing injustice, is open to innovation and works in collaboration with other sectors, such as health and education.
In July, countries will report to the UN in New York for the first time on their progress on delivering access to justice as part of their SDG commitments. The Elders have written to heads of state, encouraging them to make ambitious funding commitments, in particular for grassroots justice defenders.
As ministers, lawyers, civil society groups, donors and policymakers gather this week in The Hague for the World Justice Forum, I hope they will draw on Nelson Mandela's legacy of unstinting determination in the cause of justice.
With sufficient political will and financial ambition, I am certain that we can advance the cause of justice for all and build a world where access to justice is a right afforded to everyone, not just the privilege of a minority.