Recently Mary Robinson traveled to Uganda to spend time with youth activist and friend Vanessa Nakate. The two women spent time in communities learning about how local people are striving to adapt to the challenges of the climate crisis. Both Mary Robinson and Vanessa are passionate about the role women and girls have to play in climate leadership at a local, national, and international level.
In conversation, Vanessa Nakate explained to Mary Robinson: "I believe that we need women's voices. But not just their voices. We need their leadership in the climate conversation. No team can play with just half of the players. In any match the team needs to be complete to be able to have the best possibility of winning the game. Women make up more than half of the world's population, so how can we expect to make the best decisions for the people or the planet when it's just half the team making the decisions? We can never win that game. So I think women's leadership is very important in climate conversations."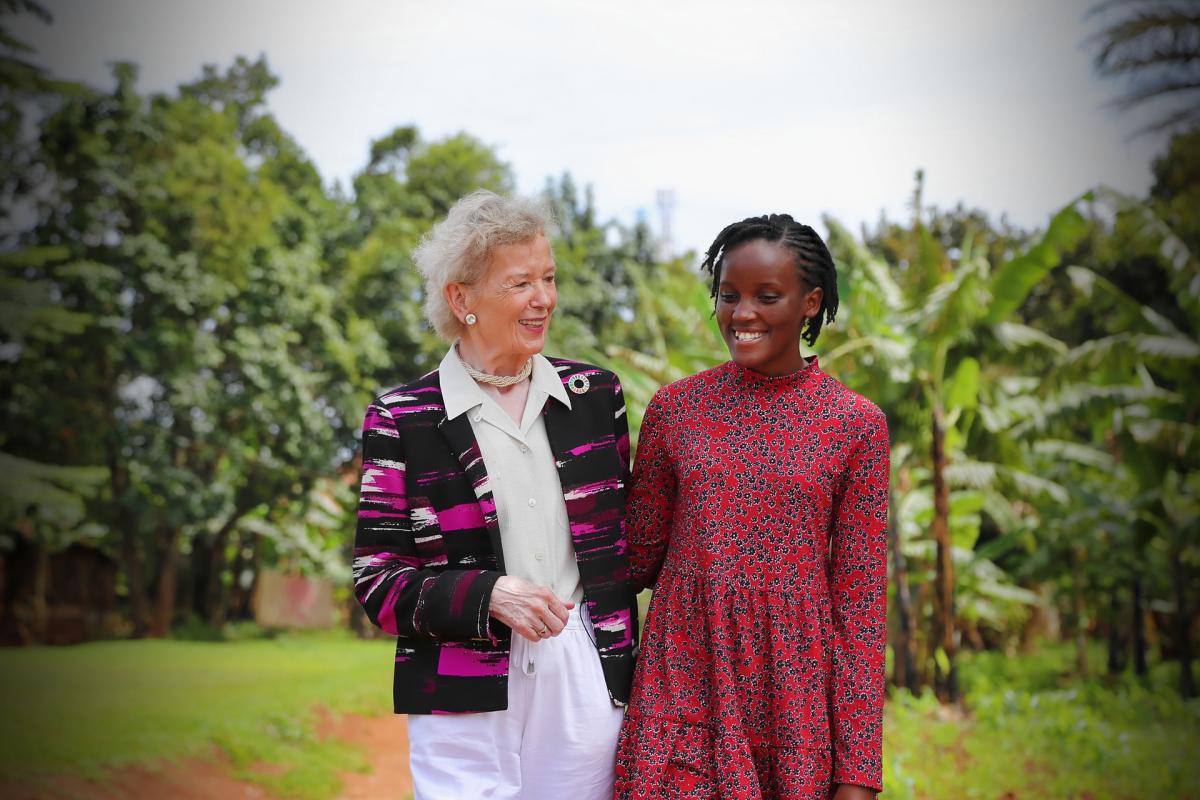 Vanessa Nakate founded her own project in Uganda, 'Vash Green Schools', that focuses on providing schools with solar panels for electricity and clean cooking stoves to reduce deforestation and aid student health. This work includes environmental education in schools.
When speaking about the importance of climate education with Mary Robinson, Vanessa said, "We need women in the rooms where decisions about our planet are being made. I believe one of those ways we can make that happen is through women's empowerment and also girl's education."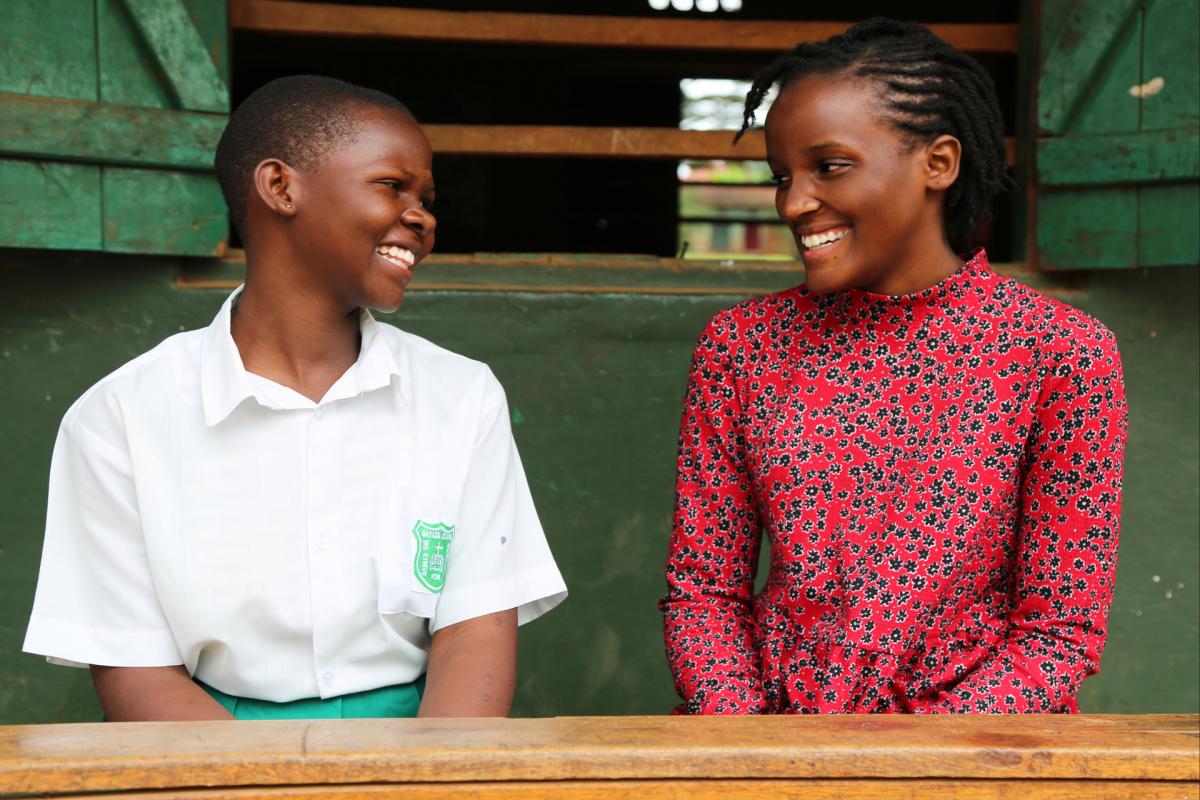 Mary Robinson reflected on her time visiting one of the schools Vanessa had been working with: "The children, mainly girls, showed us their sustainable school projects and when I asked them about what needs to be done on the climate crisis they were full of good ideas. Young people, in particular young women, often have that energy. I heard somebody say in a meeting I was at recently, 'let's go where the energy is', I thought that was lovely. That is what we need to do. We need to go where the energy is. For me that is harnessing the energy of youth and women's leadership in addressing the climate crisis."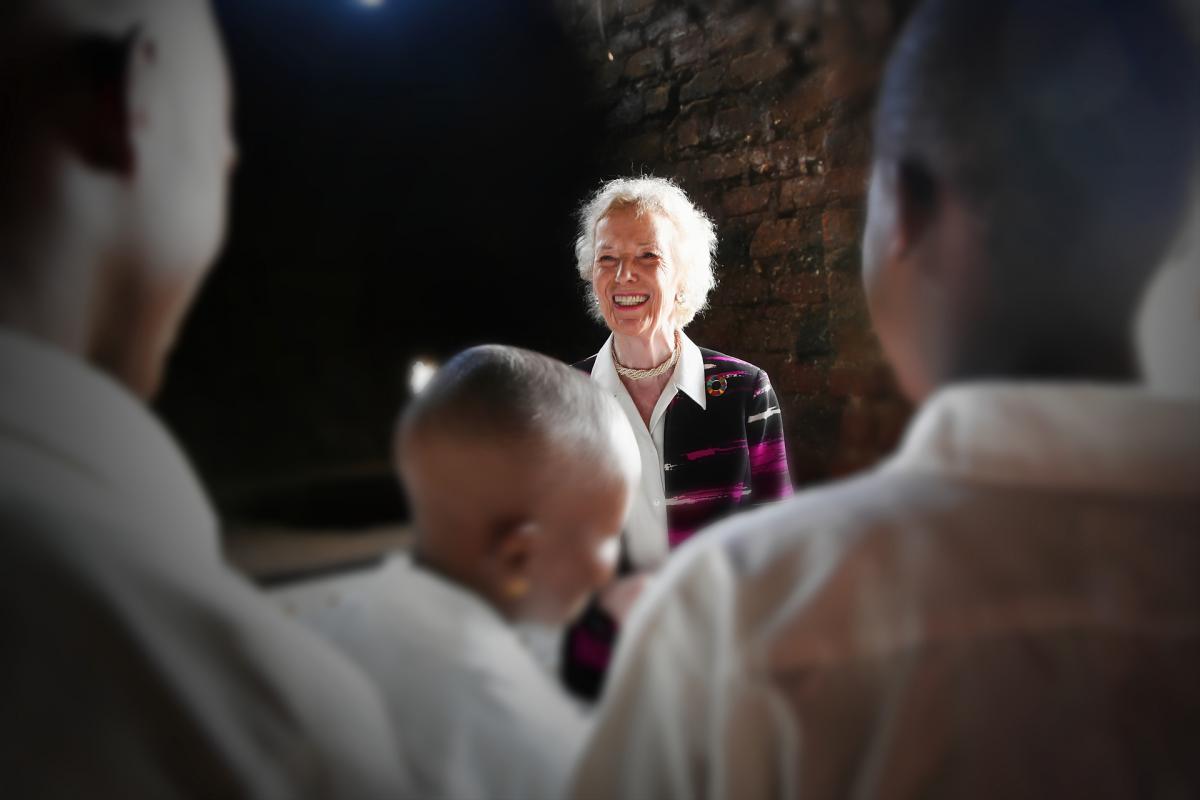 Mary Robinson and Vanessa Nakate visited a range of climate adaptation and innovation projects in Uganda.
Oribags factory in Kampala takes material waste from landfill and finds new ways to use it in the mass market. Founded by a woman, Rusia Orikirza (not pictured), they include women at every level of their creative process. Mary Robinson said, "There's a way of collaborating and cooperating that women bring to problem solving that I think we need far more of."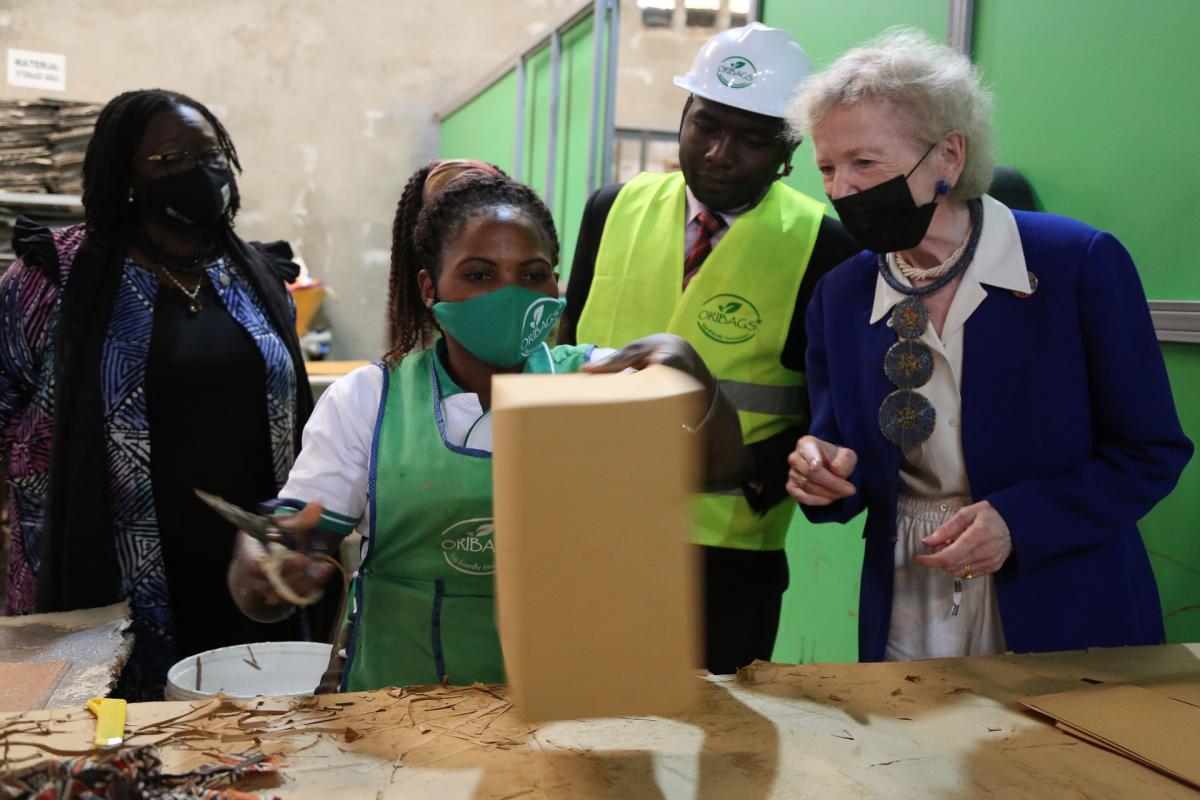 "I'm absolutely convinced that women leaders and women networks need to become far more engaged now in solving the acute problem of the climate crisis through a positive narrative of choice. What if our best world is still ahead of us? What if we were to choose and work for that world linking everything being done on the ground? And much of that work is being done by women - women entrepreneurs, young women, women farmers." – Mary Robinson
This image shows a farmer tending crops on adapted farmland in the Uganda wetlands in Pallissa District.
In Kampala, Mary Robinson and Vanessa Nakate also visited a women's group made up of refugees from the Democratic Republic of Congo. The women had received training from local entrepenerial organisation CloudGreen who focus on using green technologies to assist women in setting up their own businesses.
Here, the women show Mary and Vanessa the electric motorbike they use to deliver foods and earn a livelihood.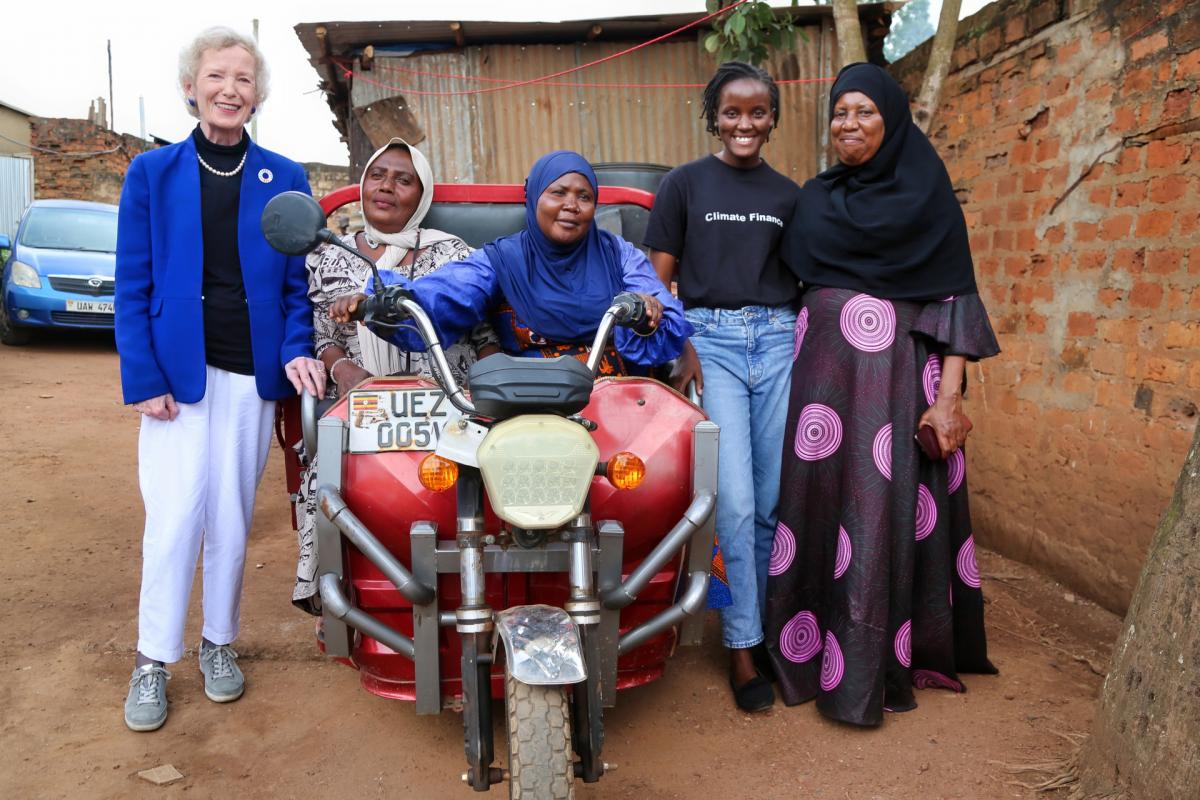 "We need to hear women's stories. We need to hear women's experiences. More than this, we need to have women in the room when make climate decisions." – Vanessa Nakate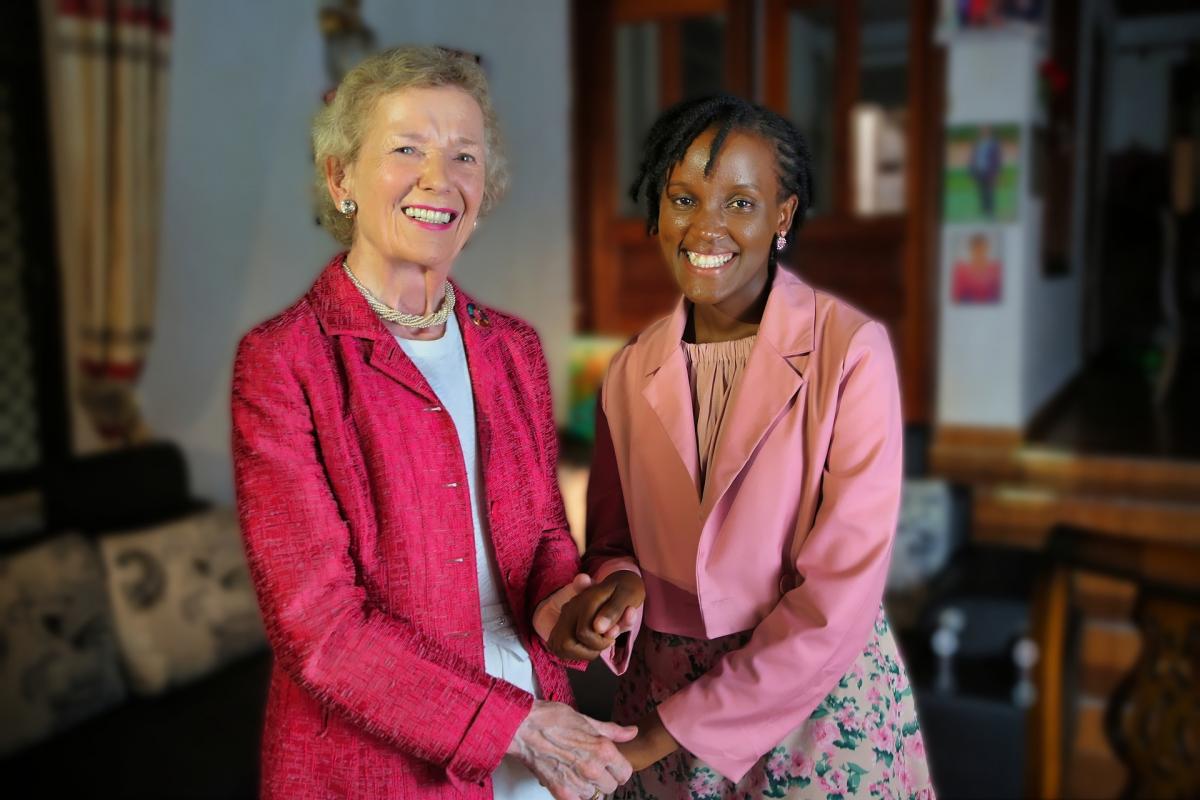 The Elders believe the experiences and perspectives of women and girls, civil society, young people, climate vulnerable countries and Indigenous communities need to be centre-stage. Barriers to participation must be removed both in international decision-making spaces such as COP27, but also in communities and in national climate policy planning and delivery.