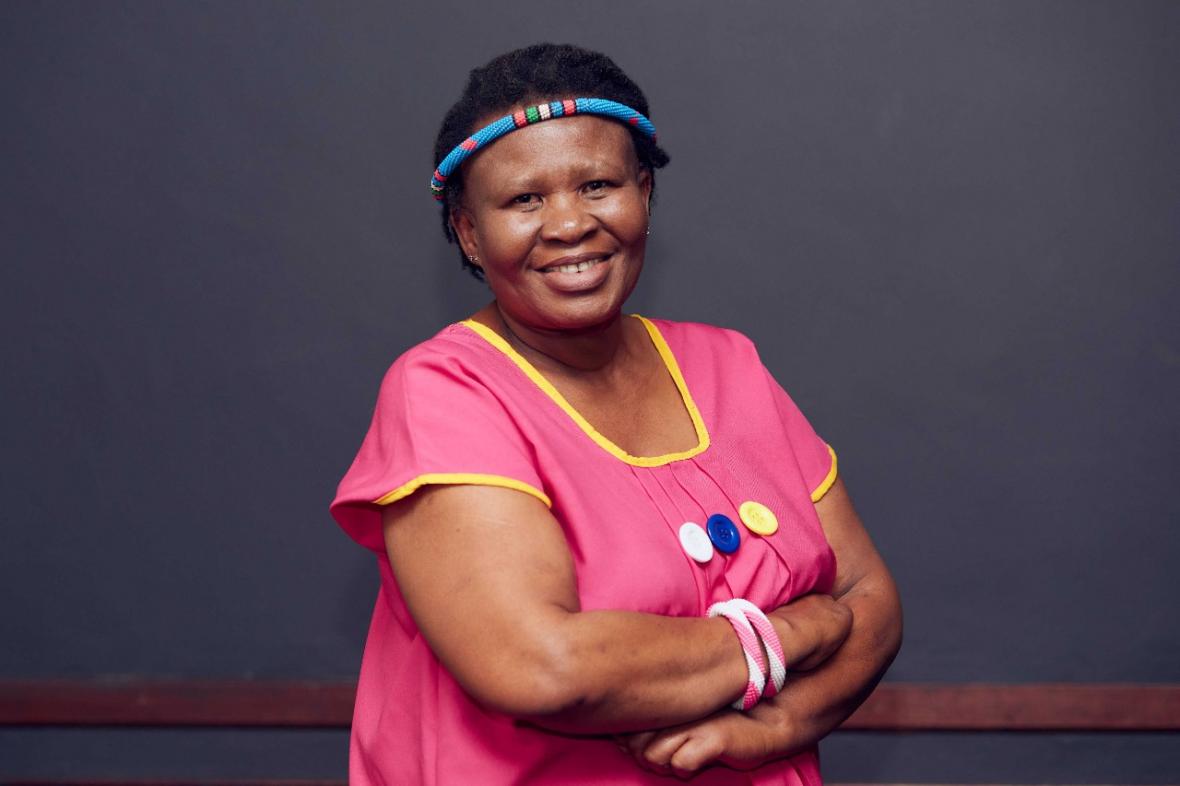 Makoma Lekalakala, from South Africa, explains that leaders at COP27, especially those of industrialised Global North countries, must recognise and prioritise African climate concerns if climate justice is to be realised.
This blog is the second in The Elders' 'Beyond Declarations' Climate Blog Series 2022 and features an introduction by Gro Harlem Brundtland, first woman Prime Minister of Norway:
---
"Earlier this year, I met Makoma Lekalakala in South Africa along with other civil society representatives from the Presidential Climate Commission. We discussed recommendations for a just transition away from coal in South Africa, one which leaves no one behind. In that same spirit, Makoma asks us in her blog to consider how we can create a sustainable, just future where the rights of the most vulnerable communities are upheld.

Makoma's call for COP27 to prioritise African issues should be heard by everyone: she reminds us that it is industrialised nations that have contributed most to climate change. Inequalities exacerbated by the climate crisis cannot be fairly addressed without involving the frontline communities experiencing its worst impacts. People in the Global South continue to bear the brunt of the climate crisis, with their experiences and perspectives too often ignored. In climate discussions and negotiations it is vital that the concerns of civil society, young people, climate vulnerable countries and Indigenous communities are centre-stage."

- Gro Harlem Brundtland
Many Africans are thrilled that this year's United Nations Framework Convention on Climate Change (UNFCCC/COP) is taking place in Africa, with hopes that African issues will be prioritised. But this is not the first time that COP is being held on the continent. In fact, this is the fifth time – the first being Nairobi Kenya, then Durban South Africa and twice in Morocco. However, we are yet to see a clear focus on addressing the climate change legacy created by the industrialised nations of the north. And while Egypt dubs this COP as 'Africa's COP', unfortunately it does not yet look like they are hosting the COP on behalf of Africa. These proceedings are still too dominated by the northern countries, and, from my perspective, negotiations do not appear to be balanced.
Africa has, for a long time, called for climate justice. We are yet to see it materialise. The issues of loss and damage particularly, have now made it more evident that the climate debt owed to southern countries has not been paid. While climate financing might seem like a sensible approach, it is not a just solution, not while there are many strings attached.
But I am still hopeful that this COP may be different. Maybe this so-called 'African COP' will acknowledge the plight of those who have been impacted most negatively by climate change. The fact that industrialised nations of the north also experience climate change and its associated disruptions has been a wake-up call for them. Yet, Africans have been saying for some time that some of the solutions that have been brought forth by those outside the continent are not for the benefit of Africa, because they make no actual difference and temperatures keep on rising and rising.
I am encouraged that since COP27 is being held in Africa, this will also challenge our African leaders and negotiators to up their game. They must take a decisive stand for climate justice for Africans, who now feel very insecure because they are experiencing the rise in temperatures and the unprecedented floods, which have displaced them and put them in dire situations that even threaten their survival.
My hope for this African COP is that world leaders, especially in Africa, recognise and prioritise our struggles, which are largely a result of the actions in the industrialised north. African leaders must call for real accountability. They should be our strongest advocates, for the wellbeing of all Africans.
---
Makoma Lekalakala is the Director of Earthlife Africa JHB, an environmental justice activist anti-nuclear organisation. Makoma is a strong campaigner for a just and fair society. Her commitment to climate justice in South Africa has led civil society to win the first South African climate change legal court case against the government and the reversal of the nuclear deal by the South African and the Russian government. For her efforts she received the WWF Living Awards Honourable Mention in 2017, the Goldman Environmental Prize for Africa in 2018 and the Nick Steel Memorial: Environmentalist of the Year 2018 amongst other accolades.
Views expressed are those of the author and do not necessarily represent those of The Elders or The Elders Foundation
'Beyond Declarations' Guest Blog Climate Series 2022
Learn more about climate challenges and solutions from women leaders on the frontlines of the climate crisis in Africa.