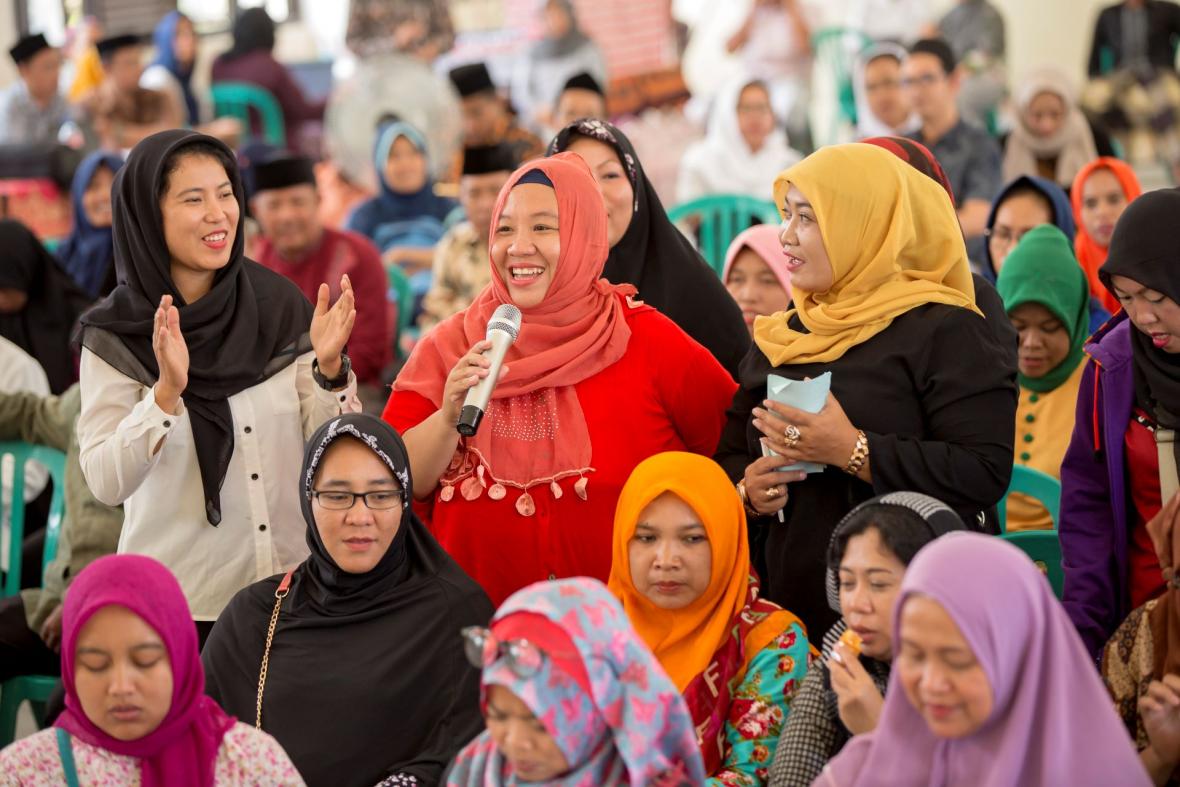 To mark International Women's Day 2023, The Elders have launched a
focus hub
to platform the voices of women working on the frontlines of peace-building.
The Elders are calling on governments and institutions to support women peace-builders and recognise their essential role in achieving just and sustainable peace around the world.
Women play central roles in community and state-level leadership in conflict-affected countries, and they hold a unique position in upholding the cultural and social systems that promote peace. As peace-builders, women are therefore crucial actors in the transition from violent conflict to sustainable peace.
This International Women's Day, The Elders call on governments, the UN and other international organisations to deliver on their commitments under the women peace and security (WPS) agenda to support women peace-builders. Women peace-builders require proper recognition, sustainable financing, and measures to ensure their safety and security. The rich experience and diverse networks women bring to the process, substance and implementation of peace processes should no longer be overlooked.
It is high time that women's skills and knowledge in peace-building and conflict resolution are recognised: women must be seen as vital agents for peace.
Graça Machel, founder of the Graça Machel Trust, co-founder and Deputy Chair of The Elders
On International Women's Day, we affirm the imperative of investing in women and girls as key contributors towards achieving the sustainable development agenda.

Women and girls experience the full impact of war, yet they are not only survivors and resilient - women peace-builders play a crucial role in creating inclusive, just and durable peace. Governments and international organisations must deliver on their commitments to recognise and support women as agents for peace.
Juan Manuel Santos, Former President of Colombia, said:
The participation of women at the formal negotiating table and within the wider peace process has been a crucial aspect of the journey towards peace in Colombia. But the task of women peace-builders is not an easy one. All too often, they face threats and denigration from within their own communities.

It is incumbent on political leaders, governments and international organisations to recognise and defend their role, and put the necessary measures in place to ensure their safety and security.
Ellen Johnson Sirleaf, Former President of Liberia, said:
Women and girls are often the first responders to the world's crises, working across the dividing lines of conflict and reflecting the diverse concerns, interests, and rights of their communities. Their voice matters in peace-building.

This International Women's Day, I join my fellow Elders in underlining the importance of fully integrating women peace-builders into peace negotiations and decision-making processes.
Zeid Ra'ad Al Hussein, Former UN High Commissioner for Human Rights, said:
It has been over 22 years since UNSCR 1325 was signed, and we have seen some progress on the Women, Peace and Security agenda — but not enough. Women's full representation across conflict prevention efforts and peace processes at all levels must be a priority for the international community.

Governments, the UN and other international organisations should provide resourcing directly to women peace-builders and their networks so that they can fulfil their vital mandate.
In January 2023, The Elders launched a new strategy for 2023 – 27. Drawing on our values and mandate from Nelson Mandela, one of the four cross-cutting commitments we incorporate across our programmes is on gender equality and women's leadership. Through this commitment we: advocate for women's leadership and transformative approaches to women's participation at all levels; promote the voices of feminist and women-led movements; and highlight accountability for preventing and responding to gender-based violence, particularly in our conflict work.
The gender gap in global leadership and representation remains stark. This International Women's Day, the Elders add their voices to those of women working on the frontlines of peace-building in their communities and countries. Learn more and watch special #IWD2023 messages from Chair of The Elders Mary Robinson and Deputy Chair of The Elders Ban Ki-moon on our focus hub.