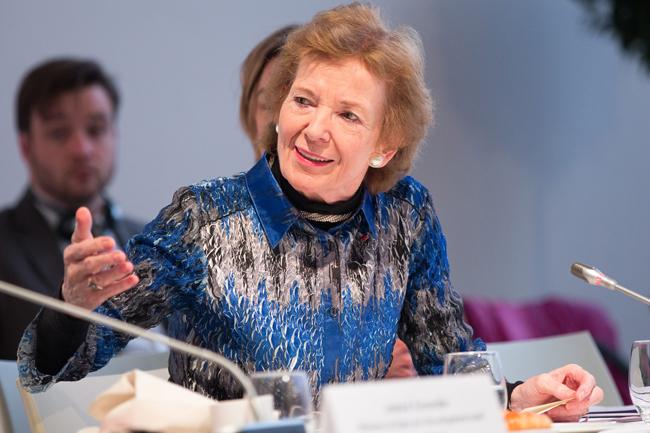 The Elders congratulate the signatories of the COP21 climate deal in Paris for reaching "an agreement for humanity" which, if implemented fully and in good faith, could herald a turning point in the fight against climate change, poverty and injustice.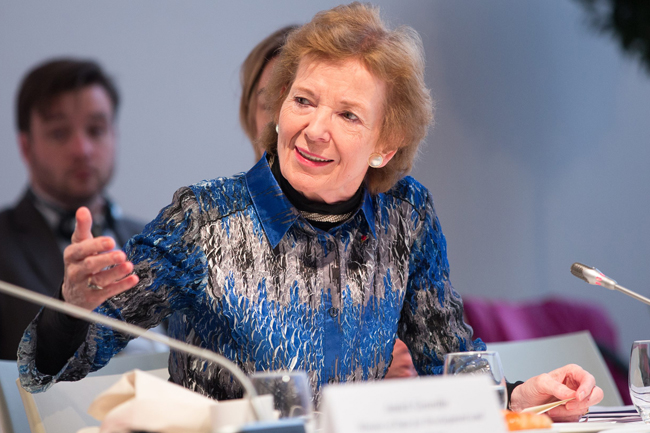 Mary Robinson at COP21 in Paris.
Credit: Mary Robinson Foundation - Climate Justice
Mary Robinson, who attended the talks in Paris as the UN Special Envoy on climate change and President of the Mary Robinson Foundation – Climate Justice, said:
"The Paris Agreement provides the opportunity to transform our way of life to one that is fairer and more sustainable. It builds on our growing understanding of climate change as a social, economic and environmental issue, and it recognises the need to respect and promote human rights, the rights of indigenous peoples, gender equality, women's empowerment and intergenerational equity to achieve a just transition."
The Elders are pleased to note the engagement of business, private sector finance, trade unions and other civil society groups in the negotiating process. That such an inclusive process brought in so many diverse constituencies is a tribute to the French presidency of the COP and the work of the UN Framework Convention on Climate Change and its tireless Chair, Christiana Figueres.
Kofi Annan, Chair of The Elders, said:
"The Paris climate agreement is not the end but the beginning of the road. The world has rallied around clear targets that now need to be implemented to avoid a looming climate catastrophe. This is the historic responsibility of politicians, businesses and of citizens who will need to hold their leaders to account against the targets they have set themselves. It is a responsibility that rests on all our shoulders."
The Elders will continue to work on climate change and development issues, consolidating the achievements of 2015 and campaigning for ever-greater ambition to truly secure a just, prosperous and healthy planet for future generations.