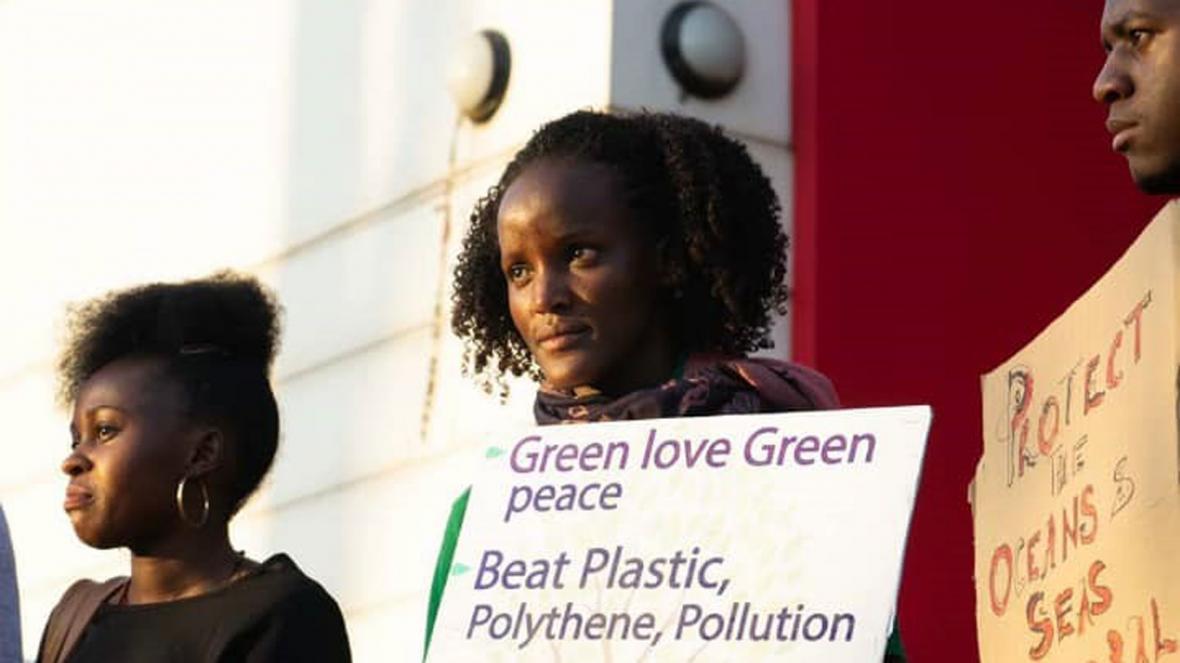 Vanessa Nakate, a young climate activist from Uganda, outlines the devastating impact of climate change and warns that those on the frontlines must be engaged in finding solutions. She also highlights the challenge of climate activism in the Global South.
This blog is the third in our intergenerational series "It will take all of us: never too young to lead on the climate crisis" and features an introduction by Ellen Johnson-Sirleaf:
---
How can we ever authentically talk about climate justice without including the voices and leadership of people from the Global South? As Vanessa persuasively writes, if we erase these voices then we are erasing the ideas, innovations and potential solutions of those who are in many ways best equipped to articulate the threat of climate change. It is the people of the Global South who understand climate change as a reality because it is they who are already suffering its effects. I am inspired by Vanessa's boldness and courage as a young climate leader, she has demonstrated her commitment through her moving words, but most importantly through her actions.
---
If someone asked you to choose between life and death, what would you choose? I would definitely choose life!
The climate crisis is about life and death. It is not a future emergency, climate change is already here. People have already lost their lives to the climate crisis. People have been facing disasters caused by climate change for a long time now. I have come to realise that climate change doesn't just bring about droughts, or floods, or torrential rainfall, or landslides. Climate change completely changes people's lives because it steals their dreams and hopes from them. It takes away their future.
I have seen victims of climate disasters in my country. I have seen their tears, I have heard their cries, and I have felt their pain. I have seen mothers cry for their children after being buried by landslides. I have seen families lose their farms, which is the only source of food for their children. In my country Uganda people heavily depend on subsistence farming, and in the case of a climate disaster like flooding or intense drought people's crops are destroyed. This food scarcity then means people are forced to decide whether they should eat a meal today, and go without tomorrow. It is painful for me to see people suffer so much when they are hit by climate disasters, especially women who prepare food for their families. They do so much, but then can lose everything in a second.
It hurts me to see women walk long distances to look for water for their families because of water scarcity in their regions. This is a result of wells drying up, boreholes drying up, because of the intense droughts. It disturbs me to listen to stories about families that have had to migrate for a better life to the cities, but then they only reach the slums. Or they are sent to the streets to beg. It is frustrating to know that a child might not go to school because of a hungry stomach. It is this that motivated me to become a climate activist. I really wanted to find a way to help these people and change their lives. I may be able to have food for myself, but not everyone does.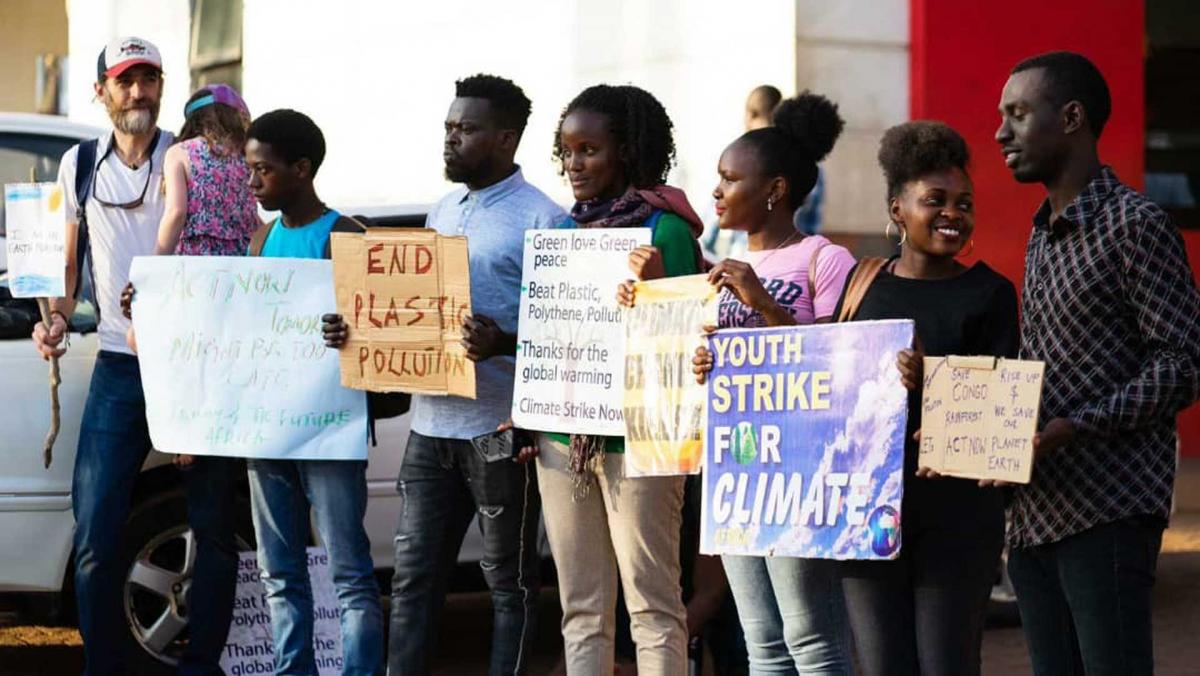 In Uganda people have many issues they have to deal with, people are often just focused on their daily needs, on earning enough daily money for daily consumption. It is hard to convince someone who has such urgent needs to be part of climate activism. Therefore being a young climate activist in Uganda comes with challenges of its own! People are not always aware that we are in a climate crisis. Most people are not educated about the issue of climate change. It is therefore very hard to convince them that we need to address this issue right now. That is why I have been doing climate strikes for over a year now, going to the streets or in front of big malls, or in front of the government offices, or the Parliament of Uganda, to strike for the climate and to demand action from the leaders.
I have also been in to schools and in to the communities to try educate people about the threat of the climate crisis. In schools, I aim to try and educate students about climate change and its dangers, and encourage them to pass on the message to their parents and their teachers. It is not always easy to persuade young people to just walk out of school on a Friday and strike, some would face suspension or expulsion, so this is another way to work with schools and students so they can understand the issues. I also get involved in community activities where we go and do clean-ups, we pick up plastic because this enables us to create a clean environment but also to speak to local people. Not all people have phones, not all can access the internet or watch television to access the news, so through these clean-ups we are able to speak to people about climate change, about protecting our environment, and the importance of our eco-systems. We talk about ways to preserve our nature and to secure a better future – not just for ourselves but for our children and our grandchildren and for the generations to come.
I do not think voices from the Global South are listened to enough, this is something that needs to change. For a long time different Global South climate activists have tried to get their message out, have tried to be heard, have tried to amplify their voice, but all in vain! The media is so specific about what it reports, it is so biased with who is chosen for interview, so most African activists do not have the opportunity to have their voices amplified. I personally believe that every activist has a story to tell, and every story has a solution to give, every solution has a life to change. Earlier this year I went to DAVOS, I happened to be at a press conference with other climate activists from Europe, I was the only person representing the African continent. So, when in the reporting I was then erased out of a photograph, to me it felt like the voice of African climate activism had been erased too. I had been given an opportunity to speak on the world stage, to speak to leaders and demand action, but my opportunity was pushed under the ground the moment I was removed from that photo. A voice had been erased, but not just my voice, the voices of fellow activists in Africa. It was a very trying moment for me, a disheartening moment, but I thank God I came out stronger from all of this.
Leaders need to include the voices of the Global South and give young people from the Global South an opportunity to be listened to, to share their story, to speak up and to offer their solutions. They need to respect the fact that for people from the Global South the climate crisis is already here. They need to give a platform so that people, and in particular young people, from the Global South can engage with them in conversation and be involved in decision making processes. It is hard otherwise to ask the young people to think of a future when that future is so uncertain.
As I write, we are in a COVID-19 situation. We are told to wash our hands all the time, but there are people in my country who do not have enough water because of climate change to do that. How are they supposed to follow guidelines when climate change has left them with their wells dried up, their boreholes dry, their streams dry, and with no access to water? This emergency has reminded us all that we have many problems in our world, but climate change intensifies these challenges. It makes things worse.
So, if someone asked you to choose between life and death, what would you choose? I would choose life. We all need to choose life. Climate change is the biggest threat facing humanity, and our lives depend on us fighting together for a better and healthier future for everyone.
---
A Kampala native, Vanessa Nakate is the founder of the climate action groups Youth for Future Africa and the Rise Up Movement. She drew inspiration from Greta Thunberg in leading a strike outside the Ugandan parliament to protest against climate inaction and rising temperatures. Vanessa is a committed campaigner for climate initiatives across Africa, including protecting rainforests in Congo and improving access to environmental education in Uganda.
Views expressed are those of the author and do not necessarily represent those of The Elders or The Elders Foundation