Jimmy Carter, in our fifth of seven films, describes his Object of Fairness. Join in the discussion yourself on Facebook or Twitter.
"When I was 14 years old, I didn't realise at that time the devastating effect of discrimination on my neighbours."
The Pasture Gate, a poem I wrote about my childhood growing up in Georgia, is my Object of Fairness. Segregation and systemic discrimination against African-Americans was deep-rooted across Georgia and much of the United States throughout my childhood. In 1877, just twelve years after the Confederates' defeat in the American Civil War, Georgia introduced a 'poll tax' which deliberately disenfranchised poor blacks – and poor whites too – by preventing them from registering to vote. This was compounded by a 'white primary' system within the state Democratic party from 1908, which effectively barred African-Americans from meaningful political engagement.
Racism was violent as well as institutionalised in this period; 135 people, mainly African-Americans, were lynched by the Ku Klux Klan and other white vigilantes in Georgia in 1924-5 alone. It took a full century after the abolition of slavery for a US President – my Democratic predecessor, Lyndon B. Johnson – to push through the Civil Rights Act and Voting Rights Act in 1965. These seminal pieces of legislation helped transform the lives of millions of African-Americans, particularly in the Southern states.
My poem describes the moment in my childhood when my playmates and friends started to change the way they acted towards me.
We only saw it vaguely then
But we were transformed at that place
A silent line was drawn between
friend and friend, race and race.
Not then, nor now, was I superior, 'smartest or best' because of the colour of my skin. So when I was elected Governor of Georgia in 1971, I made it clear that the days of racial segregation were over. No poor, rural, weak, or black person should ever again have to bear the additional burden of being deprived of the opportunity for an education, a job, or simple justice.
We still have a long way to go with this sentiment echoed in Goal 10 of the Sustainable Development Goals: to reduce inequality within and among countries. Let's aim a peaceful and just world where human rights are universally respected and enjoyed.
And that's what fairness means to me.
Jimmy Carter
---
What does fairness mean to you?

Join in the conversation by posting a picture of an object that represents fairness to you to our Facebook or Twitter using the hashtag #ObjectOfFairness.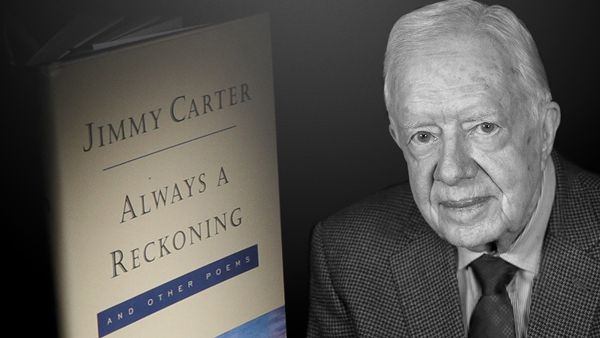 Jimmy Carter with his book of poems, Always a Reckoning and other poems.