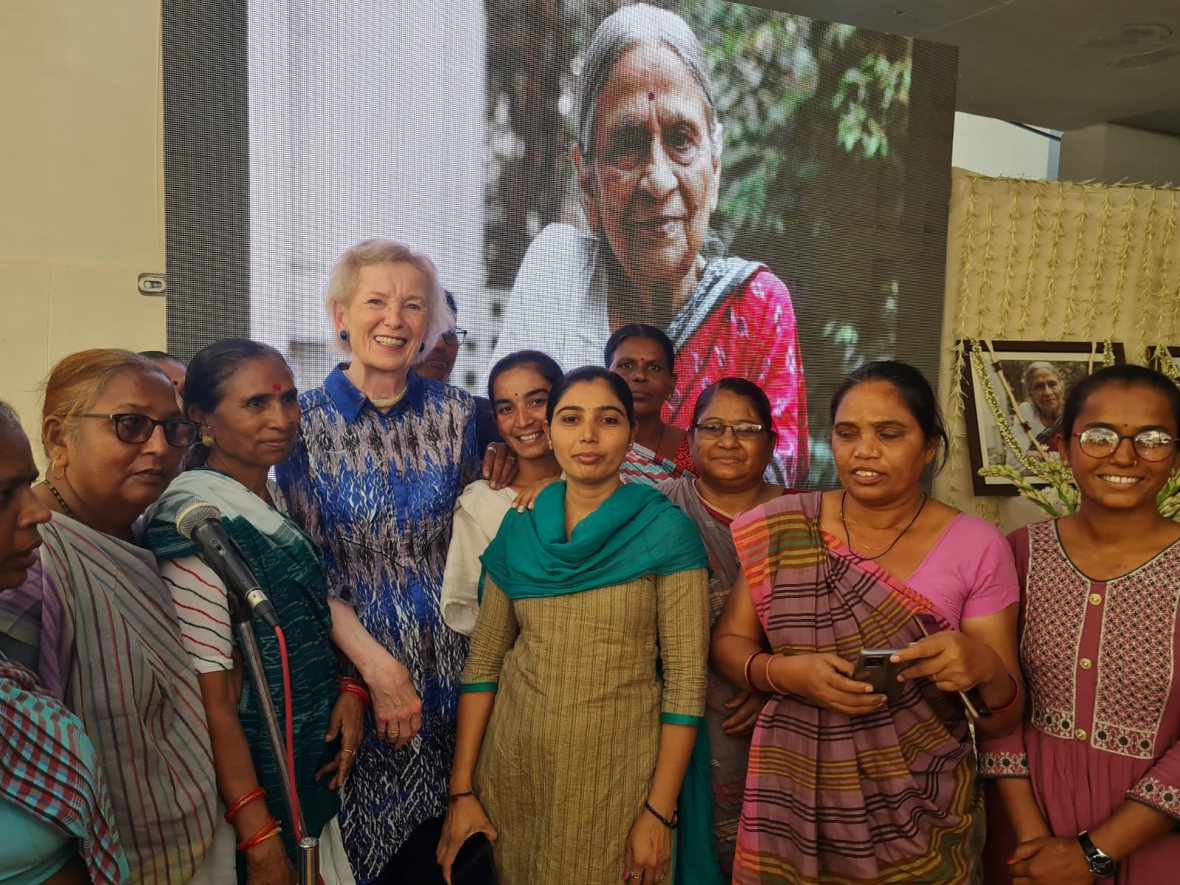 On Saturday 19 November
Mary Robinson
celebrated Ela Bhatt's life and legacy at a memorial service in Ahmedabad, reflecting on her tireless commitment to improve the lives of marginalised people, her determination to advance justice, and her wisdom.
Read Mary Robinson's speech
Dear friends,
It is an honour and a bittersweet privilege to be with you here at this Smaran Yatra to celebrate the life and legacy of our beloved sister Elaben.
The news of her death touched millions of people worldwide but none more so than here in Gujarat, the land of her birth and the community in which she lived and cultivated such a remarkable bond of kinship and solidarity throughout her long life.
I was lucky to get to know Elaben when I was President of Ireland. She came to a women leader's conference that I organised, and made the impact you would expect if you knew Elaben! Two years later, when we were planning a state visit to India, high on my list was a visit to SEWA here in Ahmedabad - that is when I first got to see Elaben in action. Then I got to know her in a very special way through our membership of The Elders, the group of independent global leaders founded by Nelson Mandela some fifteen years ago.
Ela's reputation preceded her as a "gentle revolutionary", but I very quickly learned that her gentleness could never be mistaken for passivity.
She worked tirelessly to improve the lives of the poor and marginalised in society, from children in Gaza facing the weight of occupation and repression, to the victims and survivors of child marriage in her native India and across the world.
I travelled with Ela to Gaza and other parts of Palestine and Israel in 2010, with our fellow Elders Lakhdar Brahimi and Jimmy Carter. After that trip, Ela said something that has always stayed with me, and remains acutely relevant to that conflict and so many others today: non-violent struggle against injustice requires "more hard work than fighting" and that "it is the coward who uses weapons".
This goes to the heart of the Gandhian philosophy of non-violent resistance to oppression which motivated Ela Bhatt throughout her life, and which formed the basis for the development of SEWA and its long campaign for justice.
In the world of global power politics, all too often male-dominated, bellicose rhetoric is prized over arguments for understanding and accommodation.
But one only had to spend a few minutes in Elaben's company to see how false that worldview is; her courage lay precisely in her humility, her insistence on listening to and respecting the views of people on the margins, and her determination to seek justice by building an inclusive network of solidarity.
Nelson Mandela understood this instinctively and intimately, and this is why he asked her to join The Elders. I am forever grateful that Elaben accepted. I learned so much from her, and will continue to do so in the years ahead.
My friends, I have just come from the COP27 climate conference in Egypt. I was in Sharm El-Shekih, meeting young activists from Africa, Asia and all across the globe, I was reminded of some other words by Ela which again show how she could always sense the moral heart of an issue and root her activism in the lived experience of ordinary people:
"The climate emergency is not just an environmental issue, it is a human rights issue too. It affects the humble street seller in the ghats; the woman who is struggling to provide food for her family; and of course the children, whose future is now so uncertain."
I think of her again today as we recognise how unfair it is that people living in informal settlements, especially women and children, bear the brunt of the worst impacts of climate change. There is still much work to be done to carry on the fight for women's rights and dignity, especially in the midst of tackling the awful impacts of the climate crisis.
Elaben often described poverty as a form of violence. She acknowledged not only the injustice of poverty, but the intersectionality of the issues that trap people in poverty. In her gentle but compelling way, she fought throughout her life to bring visibility to the women and girls who were marginalised, stigmatised or ignored in society.
As she said in her own words: "In my experience, margins are fertile ground. Edges are dynamic areas where there is room for growth and more fresh air to think clearly. Here, there is plenty of room for women to build, create and grow the kind of structures and institutions that are organic, sustainable, and people-friendly."
In carrying forward Elaben's legacy, I encourage us all to stay passionate, committed, focused and attuned to what happens at the margins of society's fabric. As her life's work with SEWA demonstrated, and as so many of you here today know directly, when people come together with a passion for change, great change can happen!
Thank you.