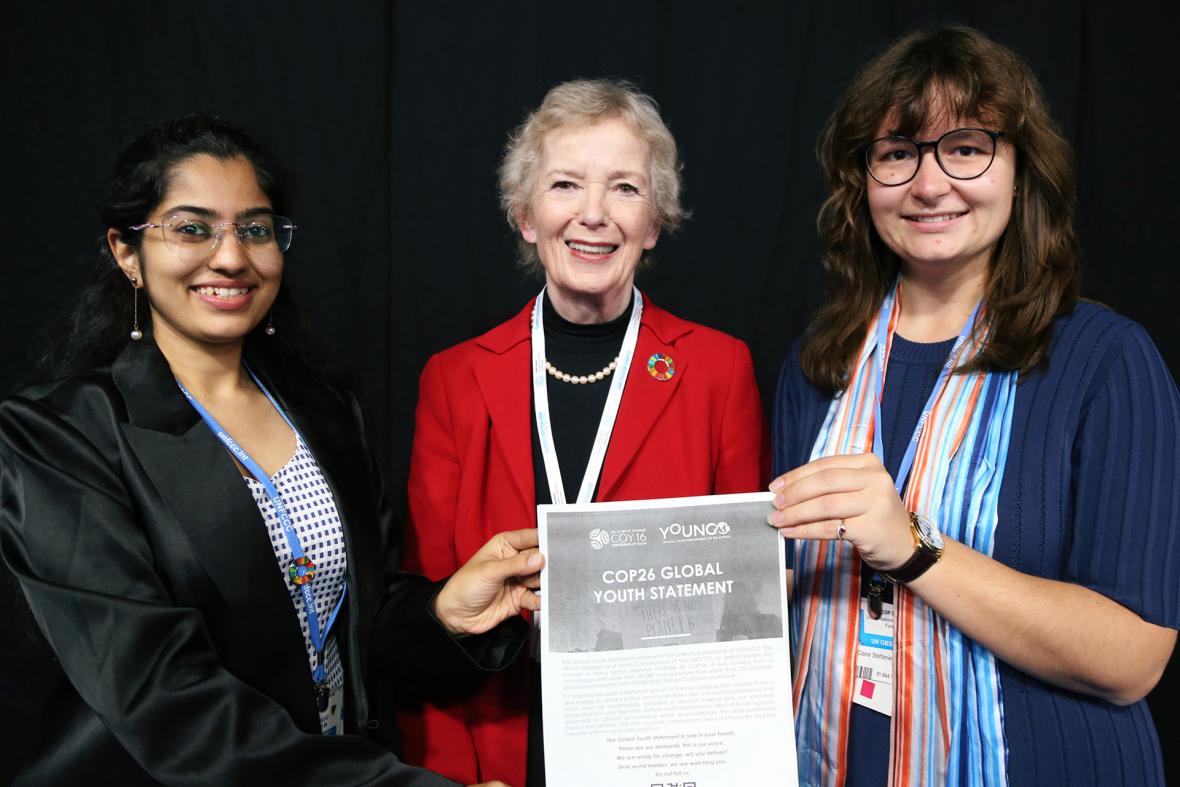 Read Mary Robinson's speech

One of the reasons I was pleased to accept this invitation was because I was invited by conveners to be in the minority - an older person in the midst of a group of young climate leaders! Too often it is the other way round. Though the vital voices of young people have been a clarion call demanding we pay attention to the existential threat of climate change, the involvement of young people in climate policy decision-making processes and actions which affect their lives is still far too limited.
I speak to you today in my capacity as Chair of The Elders, a group of independent global leaders founded by Nelson Mandela in 2007, working together for peace, justice, and human rights. We are not a western group, we are a global, balanced group.
On his 89th birthday, Nelson Mandela announced the formation of The Elders. One of the challenges at the forefront of our minds in 2007 was the climate crisis. I wish I could say that over the past 15 years, we have all done so much that it is no longer a priority for The Elders, or for the world in general. Tragically, we all know this is not the case.
We have had 14 Climate COPs in those 15 years; we have had countless international, national, and local climate decision-making meetings; we have had the launch of the Sustainable Development Goals; the landmark Paris Agreement; and we have had numerous intergovernmental climate conference reports alerting us to the latest scientific data, forecasts and warnings. Yes, we have made progress – the work of countless climate champions and activists has not been in vain - but we have not come anywhere near close enough to where we need to be.
Under the Paris Agreement adopted in 2015, you will recall that nearly all the world's nations pledged to limit global warming to "well below" 2°C above pre-industrial levels and to "pursue" efforts to cap warming at 1.5°C.
Since 2015, each passing year has built an unequivocal case for doing all we can to avoid temperature rise of more than 1.5°C. Crossing that threshold risks unleashing far more severe climate change effects on people, on wildlife, and on ecosystems.
This is why The Elders have been standing in solidarity with young people and the scientists calling on leaders to meet and increase their political ambition and their financial commitments. At COP26, leaders reached a consensus on speeding up progress, saying they would promise to "revisit and strengthen" their climate plans by 2022. We all need to hold them to these promises.
Furthermore, as we start to look to COP27, the war in Ukraine, that terrible war in Europe, is forcing many nations – especially in Europe - to rethink their energy policies, given their heavy dependency on Russian fossil fuels. The fragility of energy security has been laid bare as has the vulnerability of global oil markets. What needs to be done in the short-term to meet energy needs must not be allowed to compromise climate commitments. Ultimately a more secure future is one which is based on sustainable energy and a just transition. In fact, Europe has to take this opportunity to get out of fossil fuels all together, and I think there is the beginning of that ambition, and I think we need to work towards that.
So what does any of this have to do with intergenerational dialogue or young people as part of the climate decision making process? Everything!
We should no longer be considering young people as an optional extra in climate decision making and nor should we see intergenerational dialogue as a "box-ticking" exercise.
Gatherings like this one we are having today are inspiring and provide a space for learning and discussion. However, we also need to ensure we are increasing access to important decision-making events and processes, especially for young people, historically under-served and marginalised communities, vulnerable populations, and indigenous peoples. These were actually the people who got the 1.5°C into the text in Paris. I remember that as the great climate justice moment.
Intergenerational dialogue is not a new concept. It has been an important component of many cultures for hundreds of years. In many indigenous communities intergenerational dialogue forms a part of all decision-making processes and different generations actively seek out the different perspectives of others. Closer to my own home, intergenerational dialogue played a vital role in leading and sustaining communities during the conflict in Northern Ireland, it was also seen as important in the peace process itself. We need to create spaces for dialogue shift conversations and provide room for innovation between generations.
We need each other – people from different generations. To ignore or to sideline young voices would not only be wrong, it would be reckless. The 1.8 billion young people in the world today make up the largest youth population in history and 90 percent of young people live in developing countries – many of the same countries most vulnerable to the impacts of climate change. The climate crisis is an injustice for young people and those yet to be born, and it is young people who will have to deal with the consequences of their leaders' inaction.
We need the voices of young people in decision making because intergenerational dialogue must no longer just mean the elder imparting wisdom to the younger person, which I grew up with. My grandfather spoke to me about justice and I listened, and I didn't say anything. That is not true anymore. The young people on our panel today are digitally smart, they have a clear vision of the future they want, they understand the science. Intergenerational dialogue is therefore dialogue where we learn from each other, and we learn together, and we co-create together.
We can only make a difference when all generations work together and when both younger and older people take the time to listen, understand each other and recognise their role in tackling climate change. As we look ahead to COP27 we need to move from intergenerational dialogue to intergenerational cooperation, intergenerational solidarity and intergenerational co-creation, action on this crisis.
The future belongs to us all – it is up to us all. I remember travelling with Kofi Annan to Zimbabwe on his last mission where he pushed himself when he wasn't feeling well, and then he died shortly afterwards. He kept saying, "You are never too young to lead, you are never too old to learn," and that is where I am now. I want to learn from you young people.
Over to you.