Kofi Annan, Lakhdar Brahimi and Ernesto Zedillo attended the annual Munich Security Conference from 16-18 February 2018.
This was the third time that Elders attended the Conference, during which they took the opportunity to address conflicts and tensions in the Middle East and wider issues facing the world today.
Kofi Annan's first formal engagement was a speech to over 1,000 students at the Technische Universität on "Has information technology become a threat to democracy?"
The three Elders proceeded to meet with António Guterres, Secretary-General of the United Nations, Jeffrey Feltman, Under-Secretary-General for Political Affairs, together with Staffan de Mistura, UN Special Envoy for Syria.
At #MSC2018, @KofiAnnan & Lakhdar Brahimi hold talks with @antonioguterres and #Syria Envoy Staffan de Mistura. pic.twitter.com/K8QfQCccdm

— The Elders (@TheElders) February 16, 2018
The Elders also held discussions with Sheikh Khaled Al Jarrah Al-Sabah, Kuwait's Deputy Prime Minister and Minister of Defence on regional security issues.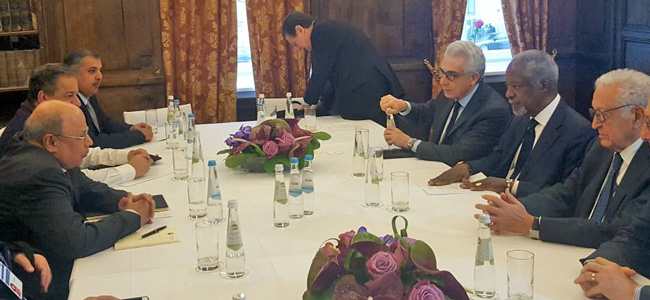 During the Conference, Kofi Annan also held a 'fireside chat' with Eric Schmidt, former CEO of Google on Technology's Impact on Democracy. This built on an announcement that the Kofi Annan Foundation would launch a new initiative on Technology and Democracy.
#SocialMedia is only a tool...the failure of the #ArabSpring showed that technology without political leadership is not enough. #MSC2018

— Kofi Annan (@KofiAnnan) February 16, 2018
Ernesto Zedillo also gave introductory remarks at an event on The Global Economic Order.
#Globalisation was not destroyed by the 2008 financial crisis but it was weakened; to defend it against protectionism, we must "speak truth to power" - particularly the United States: Ernesto Zedillo. #MSC2018 pic.twitter.com/oEQiDV1sJk

— The Elders (@TheElders) February 16, 2018
Concluding the delegation to the Munich Security Conference, Lakhdar Brahimi and Ernesto Zedillo met with Mohammad Zarif, Iran's Minister of Foreign Affairs, to encourage improved regional relations and to reiterate support for the implementation of the Iran Nuclear Deal.
Good discussions with @JZarif at #msc2018 on regional security issues. Ernesto Zedillo & Lakhdar Brahimi reiterated @TheElders' call for full implentation of #JCPOA nuclear deal. pic.twitter.com/W1CNvjE8X6

— The Elders (@TheElders) February 18, 2018