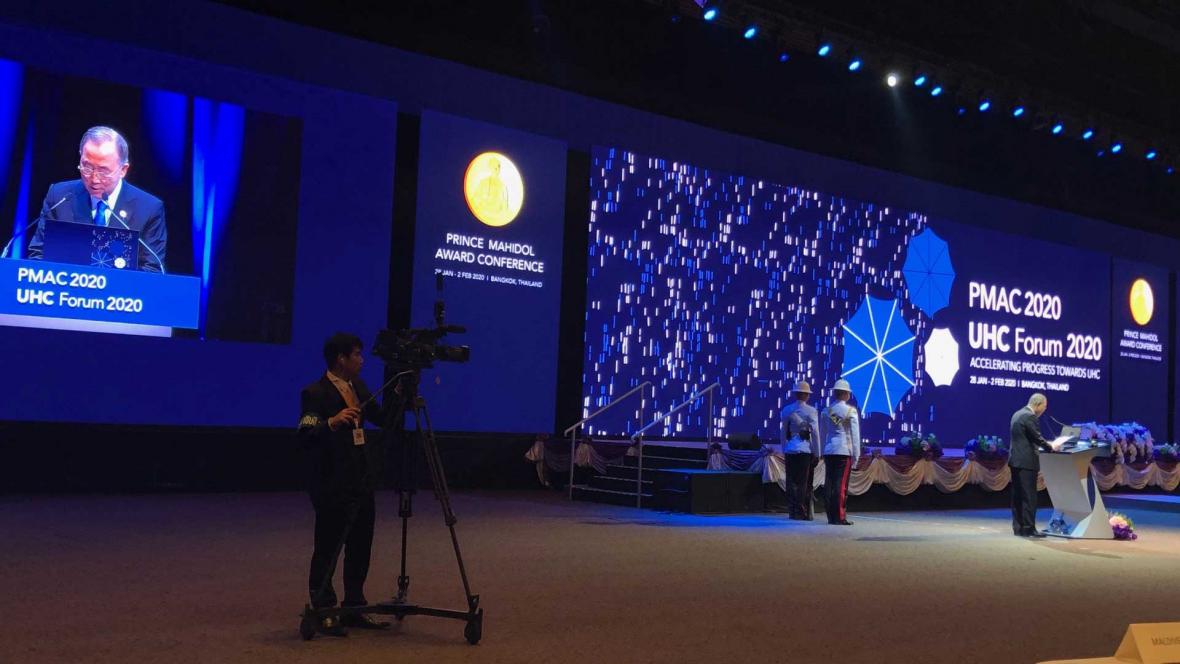 Your Royal Highness Princess Maha Chakri Sirindhorn, Your Royal Highness Princess Dina Mired, Prince Mahidol Award Laureates, distinguished guests, ladies and gentlemen,
I am honoured to speak to you today at the opening ceremony of the Prince Mahidol Awards Conference, which has become one of the most important events on the global health calendar. This conference has had a profound impact in shaping the global health agenda - most notably through initiating and spearheading the campaign for Universal Health Coverage. Leading health activists and policy makers have been championing UHC at PMAC for almost a decade now and your collective efforts helped ensure that UHC was incorporated into the Sustainable Development Goals. I congratulate you all for this tremendous achievement.
This year, PMAC is taking place at a time of acute public concern about the global health risks posed by the coronavirus in China, which has already spread to other countries and continents. As with SARS and avian flu, this epidemic highlights the critical importance of achieving UHC through resilient health systems that can protect all citizens, regardless of income or background.
The WHO has just declared coronavirus to be a global health emergency. The way to overcome the coronavirus is through countries working together in a spirit of solidarity and coordination. This is the same spirit that informs the UN's Sustainable Development Goals, of which UHC forms an integral element.
Ladies and gentlemen, today I am speaking to you as the Deputy Chair of The Elders. The Elders believe that the best way to achieve the health SDG is though UHC, where everybody receives the quality health services they need, without suffering financial hardship. By 2030, there should be no one dying needlessly from preventable diseases; no one should be left behind. That is the philosophical motto of the SDGs.
Three times over the last decade, all countries have committed themselves to achieving UHC at the United Nations –most recently at the High-Level Meeting on UHC in September 2019. At this, dozens of heads of state said that they would ensure that their countries reach UHC by 2030 and made bold announcements about the health reforms they will implement to achieve this goal.
But if we are being honest, we have to acknowledge that since the signing of the SDGs, progress towards UHC has been inadequate and uneven. The latest WHO and World Bank UHC Monitoring Report shows that although health service coverage has been improving, levels of out-of-pocket health spending have been rising, meaning that more people are being impoverished because of health costs. This shows that governments are not meeting their obligations to finance UHC properly – too much of the burden is falling on households. This not only undermines achieving UHC, it is also a threat to global health security, because out-of-pocket-spending on medicines is one of the main drivers of anti-microbial resistance. High private health spending also inhibits progress towards other SDGs including eliminating poverty, reducing inequality and achieving gender equality. Women and their children often suffer most when health services are underfunded, as they have higher healthcare needs but often lower access to financial resources to pay for services themselves. This is why, when implementing UHC reforms, countries must prioritise delivering the health services women and children need most and provide them free at the point of delivery.
With the clock ticking to the SDG deadline in 2030, it is therefore appropriate that the theme of this year's PMAC is "Accelerating Progress Towards UHC". To achieve this target, many countries will require massive investments in their health systems and radical changes in policies to improve access to care for the poor and vulnerable.
The good news is that, by learning from UHC success stories from around the world, including Thailand, we know what works and what doesn't. Take for example the tricky issue of how to finance UHC.
As my fellow Elder, Gro Harlem Brundtland, former Prime Minister of Norway and former Director-General of the WHO, highlighted at the United Nations High-Level Meeting in September: there was a time when some development agencies and Western countries used to discourage higher government spending on health and instead promoted private voluntary financing like user fees and private insurance.
But thankfully across the world political leaders, and the heads of international financial institutions and lenders, have now listened to the needs of their people. They have rejected these failed policies and instead switched to a health financing system dominated by public financing – either through general taxation or compulsory social health insurance. This is the only way to ensure that healthy, wealthy members of society subsidise services for the sick and the poor, so that nobody gets left behind. As Dr Brundtland said in New York:
"If there is one lesson the world has learned, it is that you can only reach UHC through public financing."
Therefore one of the simplest ways we can hold political leaders to account in reaching UHC is tracking how much public financing they allocate and disburse to their health systems.
Transitioning from a health system dominated by private out-of-pocket financing to one mostly financed by public financing has become one of the defining steps in achieving UHC. It's a transition my own country, the Republic of Korea, made in 1977 and was also seen as the key step to bringing UHC to the United Kingdom in 1948 and Japan in 1961.
And of course one of the most celebrated and impressive transitions to publicly financed UHC happened right here in Thailand in 2002, with the launch of the Universal Coverage scheme. It's worth remembering that this was implemented in the immediate aftermath of the Asian Financial Crisis, when the World Bank advice was that Thailand couldn't afford to increase public health spending to cover everyone. But as my good friend and former World Bank President, Jim Kim, said at the World Health Assembly in 2013, the Thai Government wisely ignored this advice and in one year injected around half a percent of GDP in tax financing into its health system. In the process, the country swiftly moved from around 70% coverage to almost full population coverage – a shining example of how to accelerate progress towards UHC. In fact, during my time as Secretary-General, I have introduced this story every time we talk about public health and UHC.
What Thailand, the Republic of Korea, Japan, the UK and many other countries have also shown is that UHC reforms are so effective and so popular, they can become part of a nation's identity and prove resilient in the face of changes of government.
So what are the implications for the theme of this year's PMAC: accelerating progress towards UHC?
On a global level, we need to prioritise helping countries that are still to make the transition to a universal publicly financed health system. Here our focus should be on countries with low levels of public health spending, often less than 1% of GDP, where up to three quarters of health spending is in the form of user fees. These countries need to double or triple their public spending on health over the next decade and prioritise funding a universal package of services, focussing on primary care services provided free at the point of delivery.
These low-spending countries tend to be in Sub-Saharan Africa and South Asia but there are already shining examples of countries in these regions using public financing to extend health coverage - for example Sri Lanka in South Asia and Rwanda in Africa. Also, it is perfectly feasible to increase public spending on health this quickly, if there is political will, as shown by Thailand and China. This reinforces the point made by the WHO Director-General Dr Tedros that UHC is a political choice.
Your Royal Highnesses, Excellencies, Ladies and Gentlemen, let me conclude.
The focus of our UHC programme at The Elders is to encourage political leaders to make this choice, by helping them appreciate the health, economic, societal and political benefits of achieving UHC. Some of my fellow Elders have spearheaded successful UHC reforms themselves, like former President Ricardo Lagos of Chile and former President Ernesto Zedillo of Mexico – so we are speaking from experience.
In doing this we are very keen to work with you, the UHC community, to identify opportunities to promote UHC reforms at the highest level of government. We have already engaged with political leaders in Indonesia, India, South Africa, Tanzania and the United States to promote UHC and are always on the lookout for windows of opportunity to champion UHC to the next generation of global leaders. So if you feel political commitment to UHC is lacking in your country and we can be of assistance, do please let us know, as we want to play our part in accelerating UHC as a means to deliver the SDGs.
UHC makes medical, economic, political and social sense. But as the founder of The Elders, Nelson Mandela, so powerfully stated:
"Health cannot be a question of income; it is a fundamental human right."
At the start of a new decade which also marks the 30th anniversary of Mandela's freedom from prison, let us commit to work together to realise his vision and make UHC a reality for all. Let us join our hands together to help make the world healthier and stronger
Thank you.