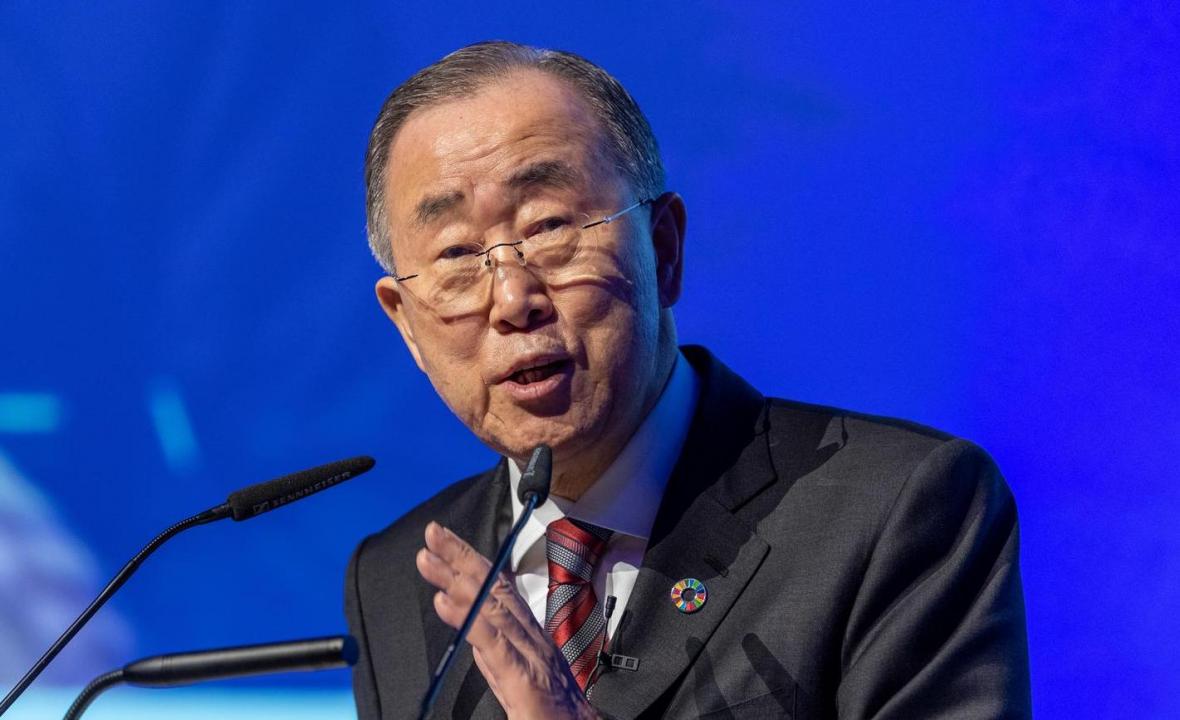 Ahead of the Petersberg Climate Dialogue, Ban Ki-moon calls on German Chancellor Angela Merkel to show climate leadership by increasing climate finance to vulnerable countries. Published in Handelsblatt.
International climate negotiations are built on one critical ingredient: trust. Tackling the climate crisis must be a collective endeavour undertaken in a spirit of solidarity, justice and proportionate burden-sharing.
Without proactive and ambitious steps by Germany and other leading industrial powers to deliver their climate finance commitments to poorer countries, there is a risk of a growing trust deficit that will not be overcome by the COP 26 summit in Glasgow in November 2021 – with potentially disastrous consequences for our planet.
The Petersberg Climate Dialogue next month will be the last major climate summit hosted by Chancellor Angela Merkel. This is her opportunity to show global leadership and lay the foundation for successful UN climate talks this year.
Alongside fair contributions by all countries to cut emissions to zero over the next decades, the other part of the bargain is the financial support to be provided by developed countries to assist developing countries to cut emissions and adapt to a changing climate. A good decade ago, as UN Secretary-General, I helped broker a commitment by the world's rich countries to increase climate finance to $100 billion per year by 2020.
However, for all the warm words of the intervening ten years, progress towards meeting this goal has been far too slow. According to the OECD, funds amounted to just below $80 billion in 2018, although others estimate the real level of support could be much lower. Inaction and neglect on the part of donor countries understandably breeds distrust and frustration among developing countries who suffer the most from the impacts of the climate crisis but are least responsible for emissions.
Wherever you look, the worsening impacts of the climate crisis are plain to see, from the sinking islands in the Pacific to the wildfires in the USA or Australia to the cyclones ravaging the coasts of Asia. In Africa, millions of smallholder farmers rely on rain to make a living off the land, yet conditions are becoming increasingly unpredictable. For example, conflict-riven Somalia has had to cope not only with the pandemic but also four floods and cyclones that displaced more than 650,000 people from their homes, and created the conditions for an unimaginable locust infestation that has destroyed crops and livelihoods.
The combination of climate-related disasters and the drastic economic impact of the COVID-19 pandemic creates a dangerous mix that is devastating not only to the countries concerned but their neighbours and the wider geopolitical balance, with potentially dramatic consequences for peace and security.
It is estimated that developing countries lost $1 trillion cumulatively in 2020 to the financial, social and health crises engendered by COVID-19. Combined with a debt crisis and recurring extreme weather events, this risks putting back years of hard-won progress towards the Sustainable Development Goals. Developing countries will remember who came to their aid at this dark moment: Germany and Europe, or others.
It is in all our interests to provide the necessary climate support and rekindle a genuine spirit of cooperation. Wealthy countries must finally recognise that, creating a propitious environment for the multilateral negotiations that will take place in Glasgow at the end of the year.
In this regard, it was certainly welcome that Chancellor Merkel pledged €220 million to extend climate risk financing and insurance at the Climate Adaptation Summit I co-chaired in January 2021 with Mark Rutte, Prime Minister of the Netherlands. But climate adaptation costs in developing countries - for example to protect people from severe weather disasters, or to adapt farming systems - are estimated to grow to up to $800 billion a year by the middle of the century.
I have been proud to work with Chancellor Merkel over many years to promote an ambitious global climate agenda. Germany was a key supporter in the move to get the 1.5 degrees Celsius target included in the 2015 Paris Climate Agreement – which was a precondition for many climate-vulnerable nations' adoption of the ultimate deal.
At the 2015 Petersberg Dialogue ahead of COP 21 in Paris, Germany set the right dynamic by committing to double its climate finance by 2020. Next week's Petersberg Dialogue affords another critical opportunity for Chancellor Merkel to show international leadership, by committing to double climate finance once more by 2025, and specifically pledging to direct further resources to climate adaptation.
Such action would see Germany join other front-running countries, like the UK, who already committed to double their climate finance commitments to 2025. Last week, President Biden also promised to double the relevant funds over the coming years. I echo the UN Secretary General's call for all developed countries to deliver the long-promised $100bn.
The great dramatist Goethe wrote that "nothing occurs in living nature that is not connected to the wider whole". The events of the past year have underscored how intimately intertwined our human existence is with our planet's health, biodiversity and other species, and how inextricably linked any nation's fate is with the rest of the world.
As we look forward beyond the pandemic, we need a holistic, sustainable and ambitious collective climate agenda in which wealthy countries recognise their responsibility to support the whole family of nations. Chancellor Merkel now has a unique opportunity to make the next move.