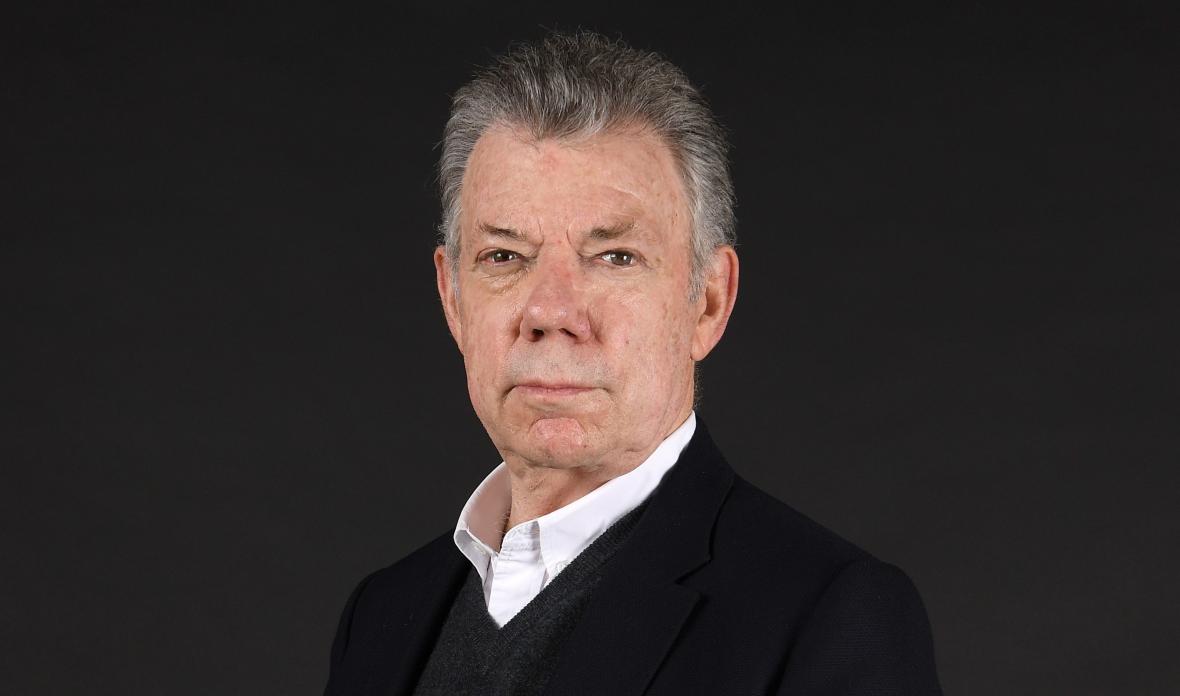 At the UN Security Council meeting on climate, peace and security,
Juan Manuel Santos
underscored the importance of bold leadership and multilateral cooperation in tackling the interlinked global challenges of the climate crisis and conflict. Both should be integral to the Council's work, he explained.
Read Juan Manuel Santos's speech
Madame President, Minister Almheiri, Under-Secretary Lacroix, Ms. Kadry, distinguished members of the Security Council.
It is an honor to come back to the Security Council. I want to thank the Permanent Mission of the United Arab Emirates for the invitation.
Allow me to start with an anecdote.
The day I was going to be sworn in as President of Colombia, I went to the Sierra Nevada, one of the most biodiverse and beautiful mountains in the world, where our distinguished ambassador comes from, to ask permission from our older brothers, the Kogis, the Arhuacos, the indigenous people that live there and who are known to best preserve the prehistoric civilisation.
They gave me their blessing with a baton and a mandate: "Make peace with the FARC, but also make peace with nature. Peace among humans will not be successful unless you make peace with mother nature too", they warned me. And they asked me to come back when I had completed my mission.
As you very well know, after six years of negotiations, we ended 50 years of war with the FARC and this guerilla no longer exists.
I want to take this opportunity to express my deep gratitude for the great support this Council has provided over many years to the Colombian peace process. This support was and is instrumental, and it shows that when the Council is united, it can make a significant contribution to peace and security around the world.
The Colombian peace agreement is unique in many ways.
It includes a gender and an ethnic chapter, and the victims and their rights became the center of the negotiations. In addition, since nature was also a victim, the protection of the environment is present in all sections of the agreement.
Repairing nature is actually one of the sanctions specifically mentioned for those most responsible for war crimes and crimes against humanity.
Because the agreement has not been effectively implemented, violence and deforestation in some areas left by the FARC has increased but, on the other hand, in many places, former combatants and communities have come together to preserve our forests and rivers and to promote ecotourism, a good example of reconciliation not only among humans but also of humans with nature.
In 2018, a couple of months before leaving office, I returned to the Sierra Nevada to give back the baton. And, as proof of mission accomplished, I gave the leaders of the Kogis and Arhuacos three things: 1) a copy of the Peace Agreement; 2) information on our very aggressive environmental policies; and 3) the text of the SDGs, approved here in this building in 2015, where Colombia played a key role in its conception.
To my surprise, they told me to keep the baton because my mission was not finished. They claimed that in the SDGs the most important dimension was lacking: the spiritual dimension which means that humans have to accept and understand that life is nature; that rivers, oceans, trees, they all have life and they all have rights, and should be treated as equals. And they are right.
I came back from the Vatican yesterday, where Pope Francis invited 30 Nobel Peace Laureates to the first World Meeting on Human Fraternity.
In our declaration we made a call to build 'environmental fraternity', to make peace with nature, because, and I quote, "everything is in relation to everything else". This call should be embraced by the Council.
We have for too long ignored nature and its critical role in sustaining humanity and the planet.
The science is now clear that if we are to reverse the destabilising impacts of climate change, we must stabilise our relationship with nature.
Biodiversity loss and climate change cannot, I repeat, cannot be addressed separately. In countries like mine, preserving the forests turns out to be more net effective - and as important - as cutting emissions from fossil fuels.
This year's Climate Change Conference in Dubai is of the utmost importance because we cannot keep postponing decisions that are crucial to the survival of humanity.
One great achievement for the upcoming COP28 would be to explicitly link the Biodiversity Convention with the Climate Convention and identify shared commitments and actions under both.
Or, even better, merge them into one Convention. I know that in the actual circumstances this is an impossible ideal, but the point is that both should act together to recognise and adequately fund the protection of nature to ensure its role as a fundamental solution to our climate and biodiversity crises and as a necessary condition to achieve and maintain peace.
I am a member of The Elders, the group of independent leaders founded by Nelson Mandela, whose former Chair was Kofi Annan and today's vice chair is Ban Ki-moon.
The Elders are united in our commitment to peace, human rights, justice, and a sustainable planet.
It is our mission to call on world leaders to step up and respond to the existential threats facing humanity: the climate crisis, pandemics, nuclear weapons and now also artificial intelligence, which should be urgently regulated.
We are worried that people are losing faith in the multilateral system. Deepening divisions are continuing to undermine the Council's ability to deliver on its core mandate. In this regard, I commend the wise decision by the UAE – as COP28 host – to put climate, peace and security on the agenda.
Despite the desire by some members of the Council to treat climate change and security as separate issues, in the real world the consequences of climate change and conflict very clearly converge.
Climate change exacerbates threats to human security and war damages nature and the environment in numerous ways, from the destruction of dams – just look at Ukraine – to attacks on oil pipelines and agricultural land that sustains rural communities – look at my country.
Even though conflict and displacement driven by climate change have a disproportionate effect on women, women have shown great leadership finding solutions, from resolving local water disputes in Yemen, to resisting environmental crimes in Colombia.
The Council must step up and play its part in addressing the unprecedented challenge of climate insecurity, working with other UN offices and other international institutions to find sustainable and just solutions.
There is much the Council could do to integrate climate more effectively into UN operations on the ground, building on the work of the Informal Expert Group.
This includes having more climate and security advisors attached to peacekeeping missions, and using climate forecasting as part of the UN's prevention toolkits to anticipate and mitigate risk in fragile contexts.
There cannot be peace without sustainable development, and there cannot be sustainable development without peace. As simple as that.
Peace can only be maintained if the very forests, soils and rivers that communities depend on are protected and managed sustainably.
Ahead of COP28, the international community must help the most vulnerable to strengthen their resilience. This starts with "developed" countries delivering their climate finance promises, including a doubling of adaptation finance by 2025, and multilateral institutions dramatically increasing their financial capacity.
We need bold policy action: we must redouble our efforts not only in mitigation and adaptation but in nature-positive solutions including conserving high-integrity forests, peatlands, coral reefs, and other ecosystems that provide humanity with clean air, clean water.
I would like to end with a call on the members of this Security Council for unity, constructive dialogue and cooperation – not only on climate, peace and security, but on the Council's mandate as a whole.
We are at a moment in history where the world is at risk of dividing into blocs which compete for power and supremacy over each other, rather than cooperating to address the unprecedented challenges and existential threats that we all face. Unite, cooperate or we will all perish.
Thank you.