Conflict
Elders Statements
The Elders insisten en que la neutralidad en Ucrania no puede ser una opción después de su visita a Kiev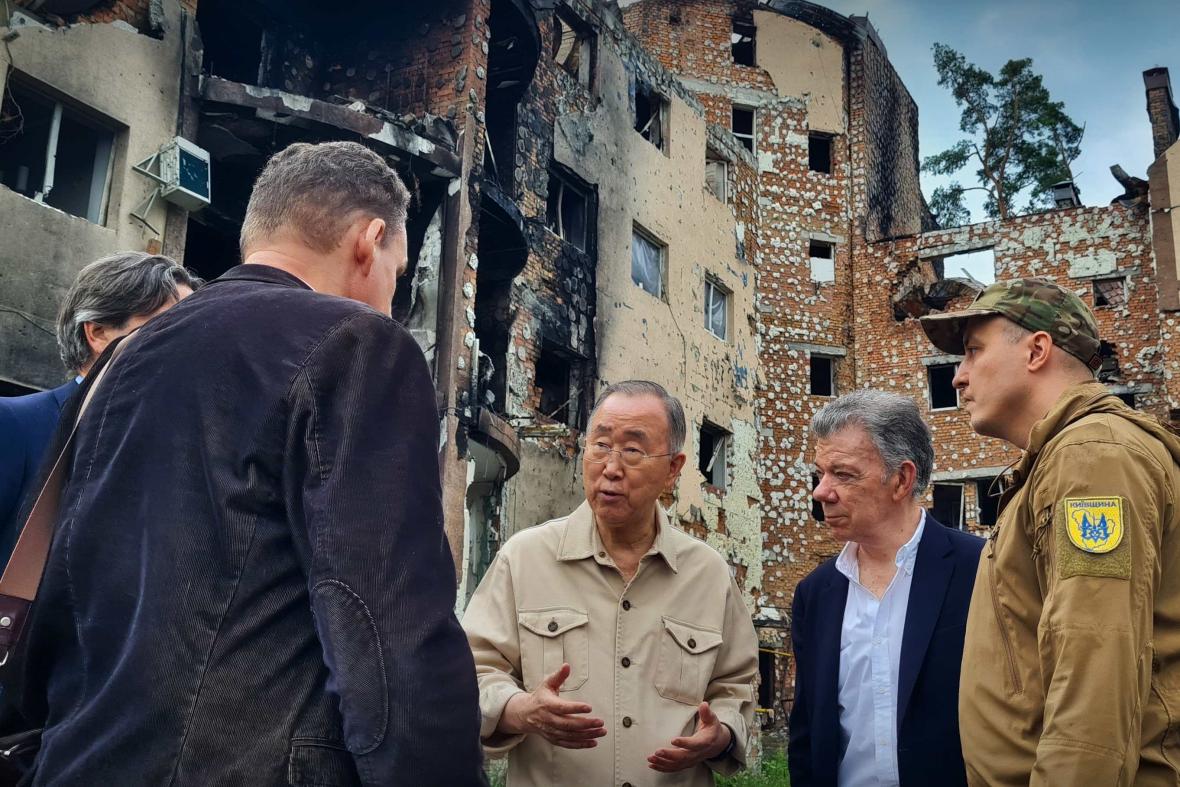 Read in
English
,
Русский
,
українська
The Elders hacen un llamado para aumentar el apoyo internacional a Ucrania e insisten en que la neutralidad no es una opción moral ante la prolongada agresión rusa.
A su regreso de Kiev, los Elders Ban Ki-moon y Juan Manuel Santos instaron al gobierno ucraniano a buscar apoyo en las ciudades capitales alrededor del mundo. La solidaridad pública por parte de los gobiernos, particularmente de África, Asia y América Latina, es esencial para mantener la atención mundial sobre el conflicto en Ucrania y para lograr un eventual fin de la guerra rusa.
Los Elders se reunieron con el Presidente Volodymr Zelenskyy y con otros altos funcionarios del gobierno en Kiev el martes 16 de agosto, después de haber visitado los lugares afectados por las atrocidades cometidas por las fuerzas rusas.
Ban Ki-moon, vicepresidente de The Elders y ex secretario general de Naciones Unidas, afirmó:
"Nuestra visita a Bucha e Irpin no nos dejó ninguna duda en cuanto al terrible sufrimiento que Rusia está infligiendo al pueblo ucraniano, y condenamos en los términos más enérgicos las acciones de las fuerzas rusas en estos sitios y en otros lugares."
The Elders reiteran su convicción de que la guerra de Rusia contra Ucrania es un esperpento moral. Hacen un llamado al mundo para resistir contundentemente la normalización del horror y la injusticia de la guerra, y a hacer todo lo posible para ayudar a poner fin a la agresión rusa.
Merece una seria consideración la solicitud por parte del gobierno de Ucrania de garantías de seguridad que vayan más allá de las fallidas garantías del pasado.
The Elders también resaltan el papel central de la propia ONU, señalando el éxito inicial de la Iniciativa del Mar Negro para la Exportación de Grano y la posibilidad de que la organización tenga un rol frente a las preocupaciones sobre la seguridad nuclear en la planta de Zaporizhzhia.
Juan Manuel Santos, expresidente de Colombia y Premio Nobel de Paz, dijo:
"Es vital que los 16 millones de ciudadanos ucranianos tengan acceso a la ayuda humanitaria, particularmente aquellos que viven en áreas no controladas por el Gobierno. Las víctimas de esta terrible agresión no pueden ser ignoradas. Ucrania también necesita un apoyo financiero sostenido para ayudar a su reconstrucción y recuperación.
Como Elders, nuestro objetivo es prevenir o acabar las guerras, no ganarlas - nuestra prioridad es mantener viva la llama de la paz. Por mi propia experiencia en Colombia, sé que los conflictos y su resolución son impredecibles, pero el principio de una paz justa y duradera no puede olvidarse. Los ciudadanos de Ucrania deben saber que la gente de todo el mundo está con ellos, hombro a hombro, en su lucha por determinar su propio futuro."
Ban Ki-moon agregó:
"La causa por la solidaridad internacional hacia Ucrania debe ir más allá de los países de la OTAN. Como Elders de Asia y América Latina, Juan Manuel Santos y yo visitamos Kiev para enfatizar que el apoyo a Ucrania proviene de todo el mundo. La lucha de Ucrania les concierne a todos los países que valoren su propia soberanía. La neutralidad frente a la agresión no puede ser una opción."
FIN