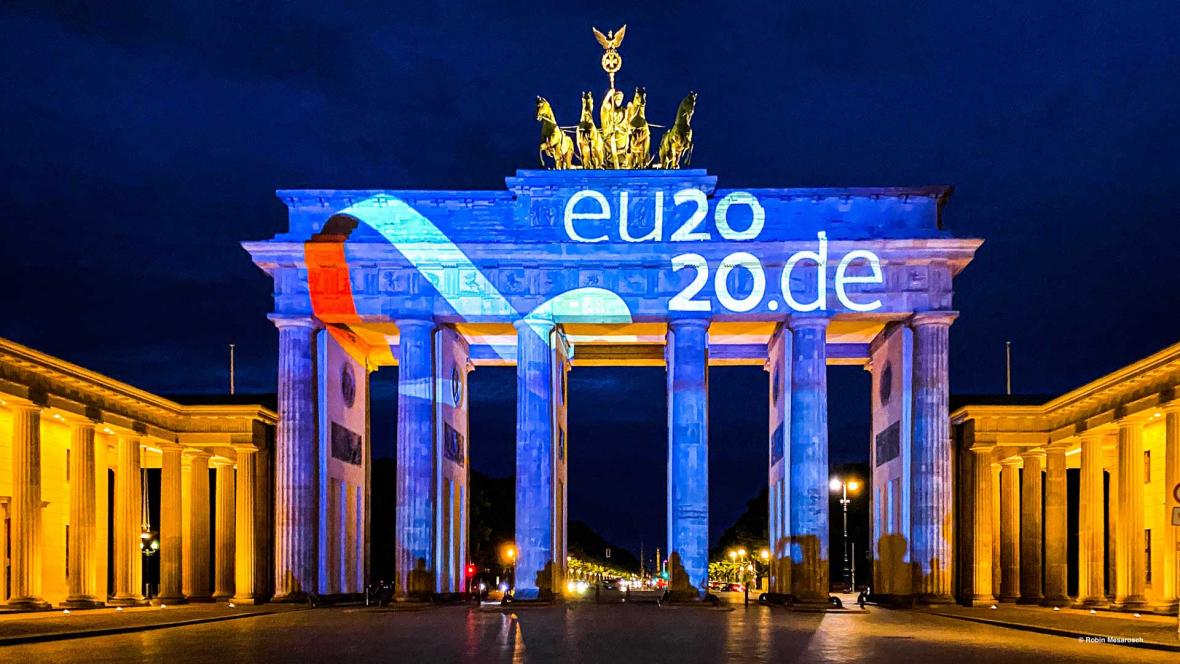 Welcoming the priority German Chancellor Angela Merkel has placed on tackling climate change during the country's Presidency of the European Council, Ban Ki-moon urges German leadership to deliver ambitious solutions that can protect our climate and planet for future generations. Published in Die Zeit.
From record temperatures in the Arctic Circle to disastrous floods in Japan, the climate crisis continues to imperil our environment whilst global attention is consumed by the COVID-19 pandemic.
Leadership is critical to overcoming both of these existential threats, and Germany has an important role to play in shaping a coordinated European response.
I welcome Chancellor Angela Merkel's recent assertion in her speech to the European Parliament that climate change will be a key priority during Germany's Presidency of the European Council until the end of 2020. It is now critical for words to be backed up by actions.
COVID-19 has shown the world the importance of preparedness, rigorous respect for scientific data and a coordinated response across the political, economic and civic spheres.
Germany's response to this public health crisis to date has been impressive. The coming weeks and months will now also be a test of its climate leadership.
All members of the European Union need to show greater ambition to meet their commitments under the Paris Agreement on climate change, and to keep global temperature rises below the critical 1.5 degrees Celsius threshold identified by the Intergovernmental Panel on Climate Change (IPCC) in 2018.
One early test is the upcoming Special European Council meeting on 17-18 July, when member states are due to negotiate the EU's budget for 2021-2027 – the Multiannual Financial Framework (MFF) – jointly with the European Recovery Fund.
I welcome Germany's plan to advocate that the EU Recovery Fund be implemented though existing frameworks that allow for coordination of member states' economic policies.
By allowing for analysis and coordination of fiscal and reform plans across Member States, this offers an opportunity to expand macroeconomic analysis to incorporate factors like climate. Other elements, like National Energy and Climate Plans, can enhance the analysis to support a green recovery and the European Green Deal.
One clear example is the need to set clear milestones to achieve the overarching ambition of EU climate neutrality goal by 2050. The European Council should take this opportunity to revise the EU's "Nationally-Determined Contribution" (NDC) target under the Paris Climate Agreement, with an increased ambition to cut emissions by 55 percent from 1990 levels by 2030.
This entails a definitive shift in economic and industrial models, including a withdrawal from the extraction and financing of fossil fuels at home and abroad.
In 2019, German leadership was significant in persuading the European Investment Bank (EIB) to end its investments in fossil fuels.
In 2020, as the world charts its path towards a post-pandemic recovery, I hope that Germany will lead the way in ensuring that investments via the planned EU Recovery Fund support the transition to climate neutrality and the recovery of the natural world.
Climate neutrality, protection of biodiversity and the exclusion of fossil fuels should be obligatory criteria.
Climate also needs to be central to all discussions on trade agreements between the EU and Mercosur, and the multi-faceted and complex EU-China dialogue.
COVID-19 has shone a light on the acute vulnerabilities of our interconnected world. It has shown that no country can tackle threats that have no respect for national borders, regardless of size, strength or technological sophistication. The only way to overcome such global challenges is through international cooperation and transparency. The climate crisis is no different.
This is why the multilateral instruments and processes created to tackle climate change, including the Paris Climate Agreement and the broader UN Sustainable Development Goals, need to be informed by a sense of "climate justice".
The countries and peoples who have contributed the least to global warming are paying the highest price as temperatures and sea levels rise, making their homes uninhabitable and their livelihoods unsustainable, from fishing and agriculture to traditional indigenous cultures.
2020 will be a memorable year in human history for reasons that scarcely anyone could have anticipated at its beginning. But it is also a year of poignant and pertinent anniversaries that should guide the collective response of governments and citizens in Germany, Europe and the whole world.
It is 75 years since the end of the Second World War, the defeat of Nazism and the creation of the United Nations.
It is 50 years since the first "Earth Day", when global citizens came out to sound the alarm at environmental catastrophe and demand action from their leaders.
And it is 30 years since the peaceful unification of East and West Germany, showing how challenges once seen as intractable can be overcome with innovation, inclusivity and goodwill.
I am confident that a similar spirit can be shown in Germany today, to deliver ambitious solutions that can protect our climate and planet for future generations.