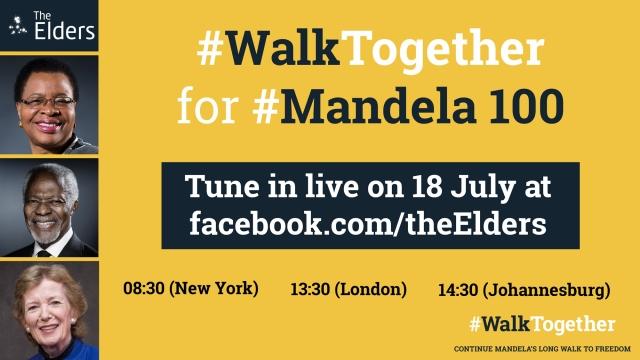 Join Graça Machel, Kofi Annan, Lakhdar Brahimi and Mary Robinson on 18 July, as they celebrate Nelson Mandela's centenary in Johannesburg, South Africa.
Let freedom reign. The sun never set on so glorious a human achievement. - Nelson Mandela
On 18 July, the world will celebrate 100 years since our Founder, Nelson Mandela's birth.
The Elders will mark Mandela Day by leading a symbolic walk through Johannesburg with Spark of Hope organisations who work for the freedoms Madiba dedicated his life to achieving.
Graça Machel, Kofi Annan and Mary Robinson will then host a live-streamed event at Constitution Hill with Sparks of Hope and civil society on how peace, health, justice and equality can be strengthened to leave no one behind.
Watch LIVE here and on Facebook at 0830 (New York), 1330 (London), 1430 (Johannesburg):