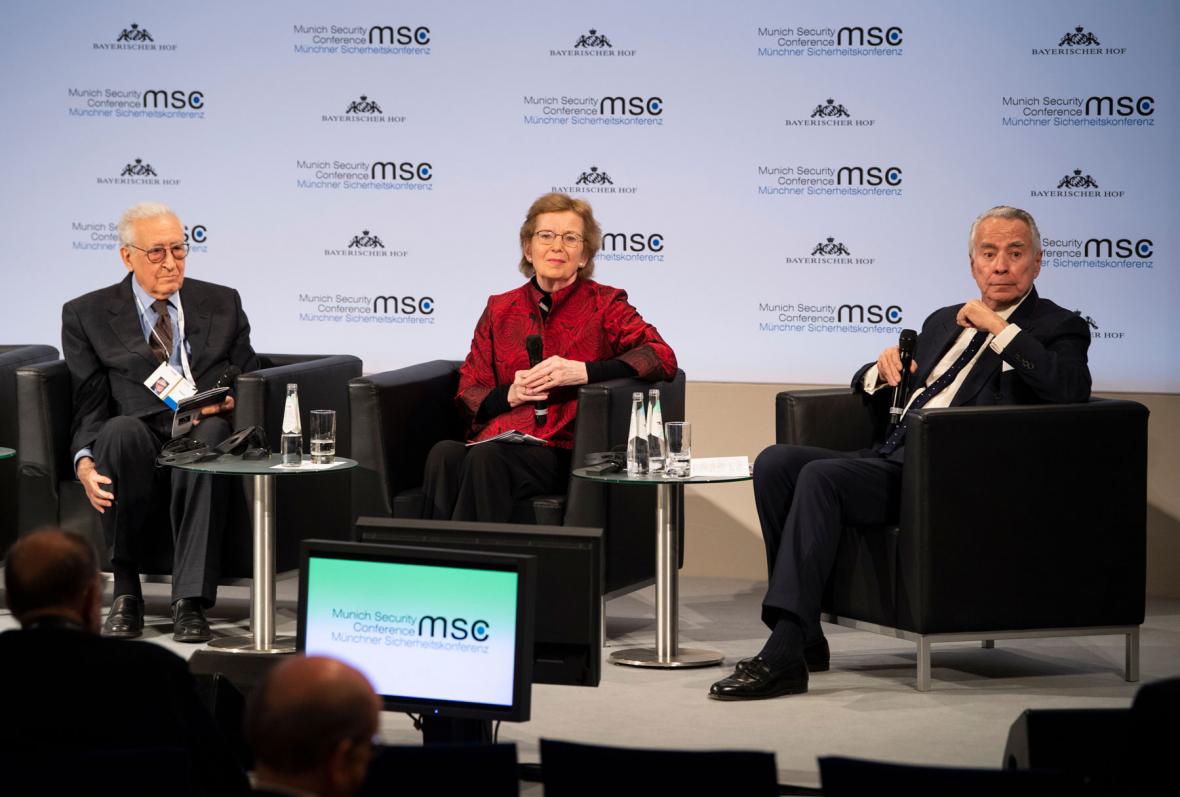 Heightened tensions between the US and Russia, and within the traditional transatlantic alliance, formed a timely if ominous backdrop to the presentation of The Elders' new initiative on nuclear disarmament and non-proliferation at the Munich Security Conference (15-17 February).
Mary Robinson and Lakhdar Brahimi presented their "minimisation" agenda on the main conference stage following a broader panel discussion on arms control where the tensions and differences between the US and Russian positions were plain to see, particularly regarding the Intermediate-Range Nuclear Forces (INF) Treaty.
Sergei Ryabkov, Deputy Foreign Minister of Russia, appeared on stage alongside Andrea Thompson, Under-Secretary of State for Arms Control and International Security Affairs at the US State Department but both vigorously disputed the other's assertions of respective violations of the INF Treaty, giving little sense of a spirit of dialogue or compromise.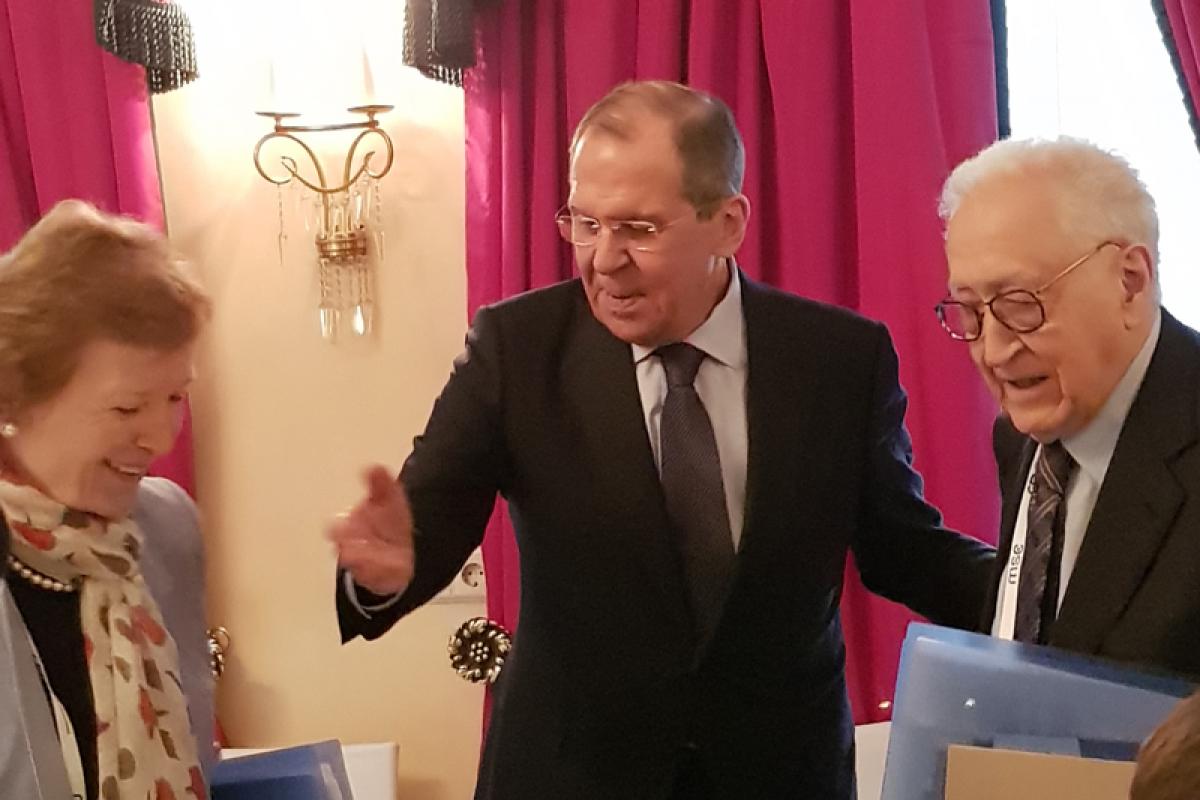 The Elders urged the leadership in Washington and Moscow, and in all nuclear-armed states, to take urgent steps to rebuild trust and commit to a minimisation agenda that offers a realistic long-term path to the total elimination of nuclear weapons.
The minimisation agenda is focused on four key principles: Doctrine, whereby every nuclear state should make an unequivocal "No First Use" declaration; De-alerting, with almost all warheads taken off high alert status; Deployment, with a substantial reduction of all nuclear warheads that are currently operationally deployed; and Decreased numbers, to dramatically cut the number of nuclear weapons in existence.
Mary Robinson told the conference:
"Nuclear weapons pose an existential threat to the future of humanity, and tensions between key powers are dangerously high. The only way to tackle this threat is through tough, credible and sustained multilateral engagement. The shared goal must be to reduce stockpiles and prevent weapons being acquired or developed by any further states, which could have catastrophic humanitarian consequences for the whole world."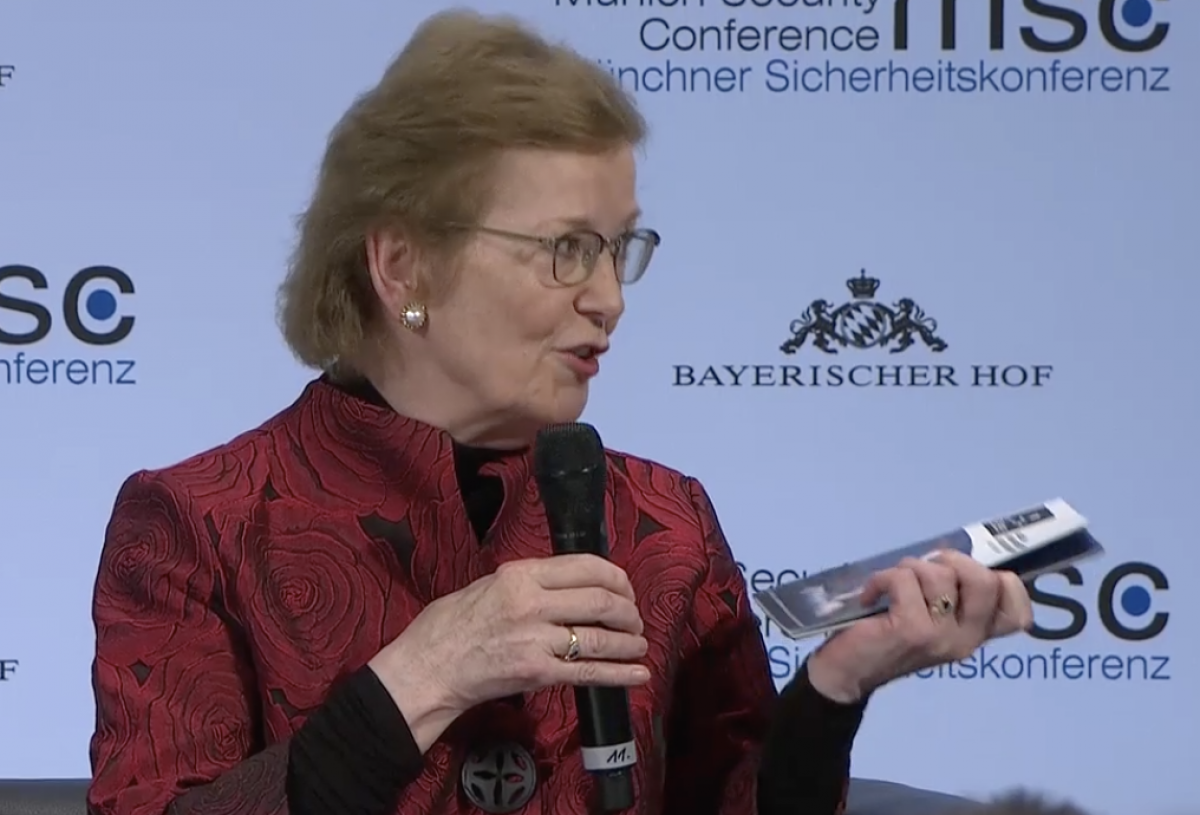 The two Elders explained the urgency of tackling this existential threat to global peace at bilateral meetings with key interlocutors on the sidelines of the conference, including Russian Foreign Minister Sergey Lavrov, former Russian Foreign Minister Igor Ivanov, Iranian Foreign Minister Javad Zarif, the Executive Director of the International Campaign to Abolish Nuclear Weapons (ICAN) Beatrice Fihn, representatives of the Nuclear Threat Initiative including former US Senator Sam Nunn and former US Energy Secretary Ernie Moniz, and the UN High Representative for Disarmament Izumi Nakamitsu.
A recurrent theme in all discussions was the indispensability of multilateral institutions and processes in tackling nuclear disarmament and non-proliferation, as well as the urgent need to revive military-to-military dialogue between the two superpowers. Unilateral actions by nuclear-armed states threaten to weaken the wider global security architecture and make it harder to persuade other powers to abide by existing treaties, the Elders warned.
In their meeting with Iran's Javad Zarif, the Elders reaffirmed their support for the Joint Comprehensive Plan of Action (JCPOA) negotiated between Iran and the international community in 2015. Despite the US withdrawal, the Elders continue to believe that the JCPOA offers a successful model of multilateral diplomacy to prevent nuclear proliferation.
The Elders also discussed ongoing conflicts in the Middle East including Yemen and Syria, urging all regional powers and their backers to prioritise saving civilian lives and engaging with credible international-led peace processes.
On the Israeli-Palestinian conflict, the Elders' delegation met with former Israeli Foreign Minister Tzipi Livni and emphasised that only a credible two-state solution can bring peace by offering justice to the Palestinians and security to Israelis. Tzipi Livni's subsequent decision to retire from political life illustrates how challenging it is to argue for a two-state solution in the current Israeli political landscape, but The Elders continue to believe that without such an option, meaningful peace will remain elusive.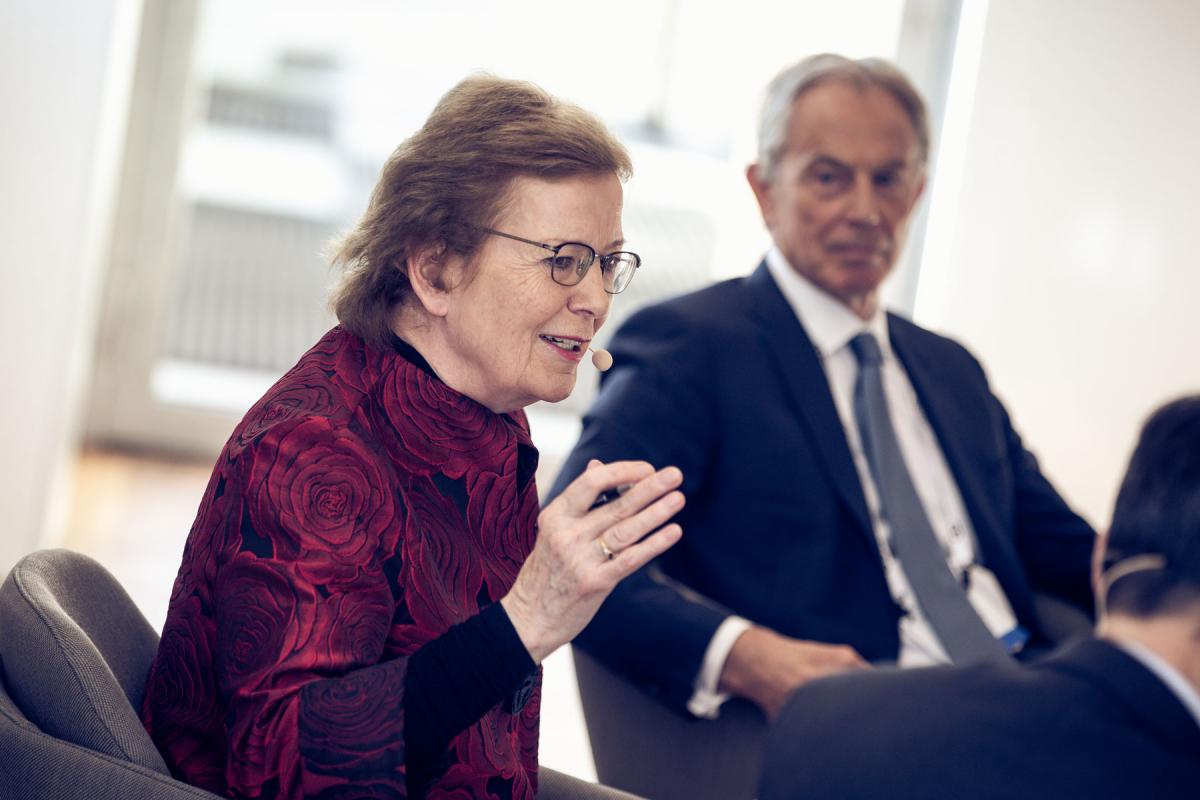 As in previous years, the spectre of Brexit and its implications for the future of the European Union hung over the conference, with repeated declarations of regret by senior German and other European participants that the UK seems intent on leaving an organisation that has helped guarantee peace and security in Europe in the post-war era.
Mary Robinson discussed the issue together with former UK Prime Minister Tony Blair at a private lunch organised by the ZEIT-Stiftung. Both agreed that Brexit was a retrograde step that has alarming implications for peace in Northern Ireland. Tony Blair argued that the future of the EU should be seen in terms of power projection; Mary Robinson countered that it should be based on defending European values of tolerance, rights and dignity as a counterweight to the growing trends of nationalist populism and xenophobia.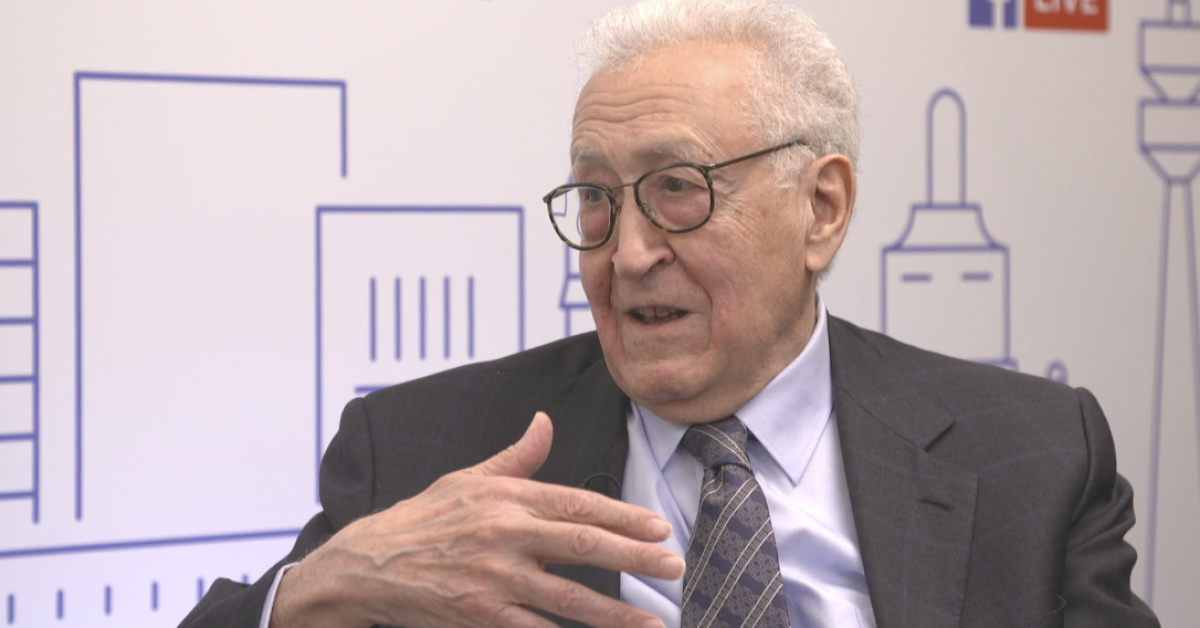 Alongside the physical meetings and debates, the Elders also engaged in digital advocacy in Munich to reach a global audience. Mary Robinson and Lakhdar Brahimi participated in a "Facebook Live" discussion on the new nuclear initiative together with Camille Grand, NATO Assistant Secretary-General for Defence Investment and former Director and CEO of French defence think tank Fondation pour la recherche stratégique (FRS). The main conference presentation was also streamed live on the MSC website and broadcast on Bavarian state television.
The Elders will continue to advocate their minimisation agenda at relevant events over the course of 2019, and provide support to all groups working to eliminate nuclear weapons.
As Lakhdar Brahimi expressed it:
"Today's leaders must commit to the vision and legacy of the United States and Soviet Union at the end of the Cold War that a nuclear war can never be won and must never be fought."