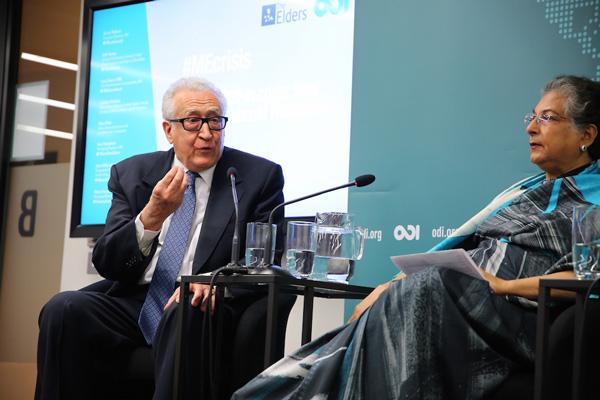 The Elders and ODI co-hosted a discussion panel on the Middle East with the BBC's Lyse Doucet, bringing together world-leading research and experience to discuss all angles of the regional crisis.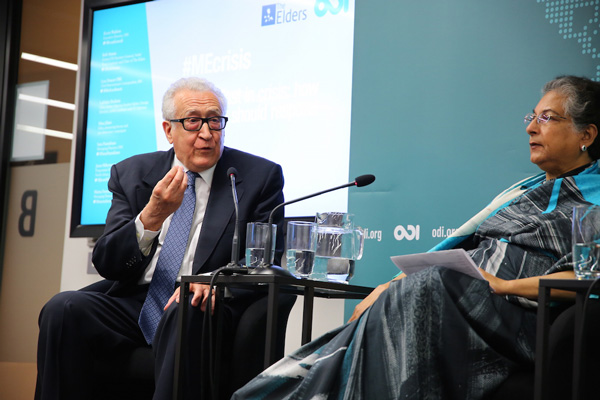 Lakhdar Brahimi and Hina Jilani at Middle East in Crisis discussion at ODI in London. (Credit: ODI/The Elders)
On 10 May, on the occasion of their London board meeting, The Elders co-hosted a public event with the Overseas Development Institute entitled "Middle East in crisis – how the world should respond".
The panel discussion featuring Lakhdar Brahimi and Hina Jilani alongside Sara Pantuliano, Managing Director of ODI's Humanitarian Policy Group, and Joost Hiltermann, Middle East and North Africa Programme Director of the International Crisis Group, was moderated by the BBC's Chief International Correspondent Lyse Doucet.
It was introduced by Kevin Watkins, ODI's Executive Director, and Kofi Annan delivered opening remarks.
Much of the discussion centred on Syria and the roles of the UN, US and Russia. Kofi Annan noted that one hundred years on from the Sykes-Picot agreement, colonial-era borders were disintegrating but there was no certainty as to what will come in their place. He urged global cooperation to resolve the crisis - not just the US and Russia but regional players such as Qatar, Turkey, Saudi Arabia and Iran.
Lakhdar Brahimi decried missed opportunities at the UN Security Council to resolve the Syrian crisis early on. Europeans only started paying real attention when millions of refugees from Syria appeared on their shores, he added.
Hina Jilani called for the UN Security Council to play a much more affirmative role in Middle Eastern crises, saying that they have all the tools they need. Sara Pantuliano called for reform of the Council, suggesting the suspension of the power of veto when mass atrocities have occurred or are taking place. The Elders have adopted a similar position.
The panel discussion was accompanied by a high quality question-and-answer session, including an intervention by UK Shadow Foreign Secretary Hilary Benn who was in the audience. Jimmy Carter and Martti Ahtisaari responded from the audience to questions posed by Lyse Doucet.