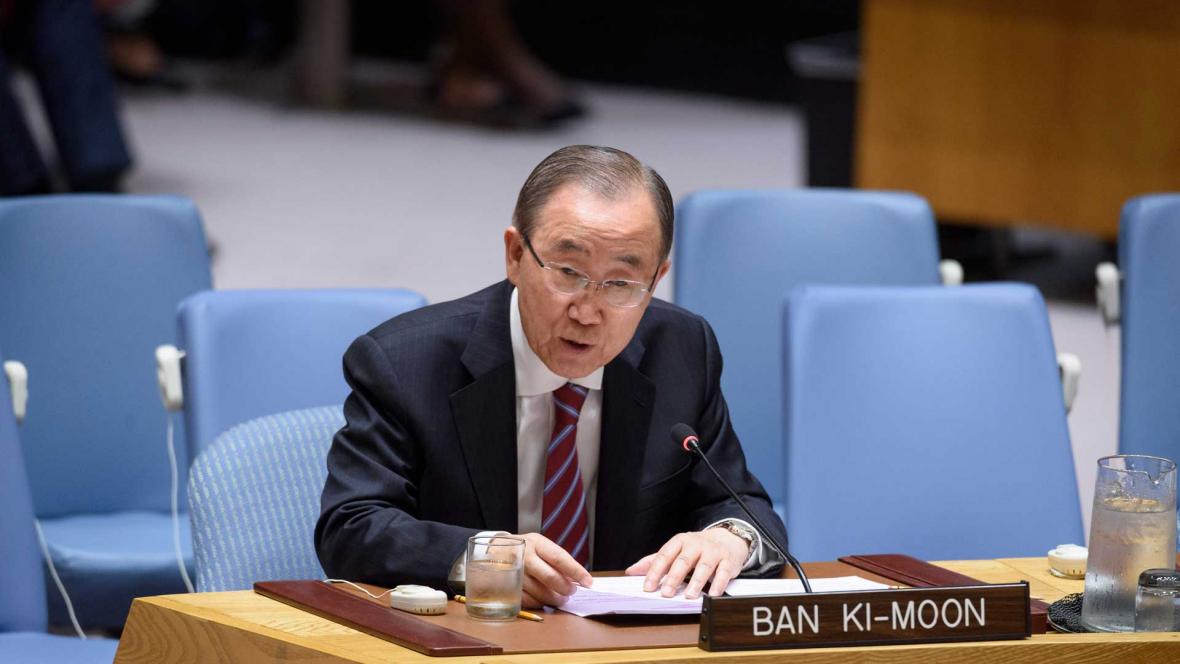 Ban Ki-moon addresses a virtual session of the UN Security Council on the challenges of sustaining peace during COVID-19.
The following is a transcript of his 12 August 2020 speech.
Madam President, Distinguished Members of the Security Council, Secretary General Antonio Guterres, Excellencies, Ladies and Gentlemen,
It is my honor to deliver these remarks at this High-Level Open Debate of the UN Security Council on "Pandemics and the Challenges of Sustaining Peace."
I take this opportunity to express my sincere appreciation to Her Excellency Retno L.P. Marsudi, Foreign Minister of the Republic of Indonesia, for inviting me to take part in this important briefing.
My special gratitude also goes to today's distinguished briefers, UN Secretary-General Antonio Guterres and NYU Center on International Cooperation Director Sarah Cliffe.
Madam President,
The COVID-19 pandemic has triggered unprecedented global turmoil over the last six months. This includes over 735,000 deaths and staggering socio-economic disruptions. It is truly astonishing that in response to this pandemic, the world has placed billions of people under lockdown, closed international borders, suspended trade and migration, and temporarily shut down a whole variety of industries – but has not managed to suspend armed conflicts.
I welcome the unanimous adoption of UN Security Council resolution 2532, which calls for a humanitarian ceasefire for 90 days around the world. My fellow Elders and I strongly supported this initiative by Secretary-General Guterres. However, valuable months were wasted in arguments over the details of the text. This has weakened the message that this Council needs to send to all warring parties: now is the time to confront our common enemy.
The delayed decision by the Council further aggravated the current volatile global security situations in the midst of the global fight against COVID-19. The impact of COVID-19 on conflict-affected settings has been much worse than initially thought. This is true not only in terms of the immediate health and humanitarian ramifications, but also in the areas of social cohesion, governance, and the rule of law. Global solidarity has been loosened while multilateralism has been under threat. This jeopardizes ongoing international efforts to sustain peace, or may even cause a reversal in hard-won peace and security gains to date.
Meanwhile, as the pandemic places states under huge pressure, some see opportunities to ramp up attacks – from the surge in violence by Boko Haram and other militant groups in Nigeria, to growing mob violence in the DRC, to murders by cartels in Mexico. Some groups use healthcare itself as a weapon, and civilian suffering as a tool. In recent years in Syria and Yemen, we have seen hospitals repeatedly bombed, and in these countries and others, we have seen hunger deployed as a weapon of war.
Unfortunately, we are still in the early stages of this pandemic. Beyond the direct health effects, the economic impacts will be both long-lasting and severe, with ripple effects for many fragile and conflict-affected states. For example, we already see Lebanon's political and economic crisis being compounded by the economic effects on COVID-19 on tourism and trade, while Iraq's budget is stretched thin because of the collapse in oil prices. Taking this opportunity, I extend my deepest condolences to the families and people of Lebanon for the tragic loss of lives and terrible destruction caused by the recent explosion of chemicals.
The World Food Programme has warned of the rising risk of famines in conflict zones. For instance, in the Sahel, there are alarming estimates that more than 50 million more people will face a food crisis because of the combination of conflict and COVID-19. The humanitarian impact is simply appalling. But some will find ways to benefit: militant groups can recruit more easily when young people are desperate for any source of livelihood.
And with more than 1.5 billion children missing school during lockdowns around the world, Save The Children has warned that 10 million kids may never return to school. This tragedy of opportunities lost will increase the scope for disaffection and radicalization in fragile societies.
With these stark realities in mind, today's debate is a timely opportunity to explore various ideas on how to dynamically respond to the current crisis and bolster international efforts to sustain peace in the post-COVID-19 era.
Madam President,
In 2016, the Security Council and the General Assembly adopted historic joint resolutions on peacebuilding, which, together with the 2030 Agenda for Sustainable Development Goals, serve as the UN's blueprint in assisting conflict-affected countries through peacebuilding efforts. The key messages from these landmark resolutions center on the importance of prioritizing prevention, addressing the root causes of conflict, and devising long-term, guiding strategies.
This has offered an opportunity to increase the UN's focus on preventing conflicts so that the systemic causes of conflicts, rather than just the symptoms, are holistically addressed. I believe these lessons learned can also be applied to our current response to COVID-19.
UN responses to the current pandemic should be in line with conflict-sensitivity, which enables us to address patterns of systematic exclusion and the other root causes of conflicts. In addition, one of the major peacebuilding goals at the moment should be to strengthen the socio-economic capacities of local communities and populations.
I commend the Secretary-General Antonio Guterres for his leadership in maintaining momentum on sustaining peace, even during the pandemic. I also strongly support his plan to emphasize the global responsibility to "build back better" by strengthening health systems, eradicating extreme poverty, reducing inequalities, and investing in resilient societies.
The experience of this crisis should also spur us to change our priorities and our understandings of what threats and values really matter. We need to address the inequalities in our own societies and the gaps in social protection. We see that this virus has flourished disproportionately among marginalized communities, such as migrants without access to decent healthcare or those working low wage jobs – whether in the global South or in the richest countries in the world.
In this regard, this experience must remind us that inclusive, just, peaceful societies – as envisaged by SDG 16 – are the best way to deliver public health.
This pandemic also demonstrates the genuine utility of sustaining peace, and proves the benefits of enhancing the humanitarian-development-peace nexus. The COVID-19 crisis may be limiting the UN's peacebuilding operations.
However, it is also serving as an opportunity to promote greater discussions and activities on emerging threats such as pandemics, inequality, and climate change in the peacebuilding process. In this regard, I am confident that the 2020 review on the UN Peacebuilding Architecture will assess the achievements made since 2015 and suggest ways to prevent the current global health crisis from reversing hard-won peace gains.
The pandemic has also shown that the UN must work more effectively with various partners, including regional organizations, international financial institutions, the private sector, and civil society. The Peacebuilding Commission is well positioned to help synergize such multi-stakeholder partnerships by making full use of its distinctive convening power. Building on its work in support of West African countries during the 2014 Ebola outbreak when I was Secretary-General, it should be encouraged to better fulfil its role in a few key areas.
These include raising awareness of country-specific situations, bringing about integrated support, and allowing UN actors to carve out political space and identify entry points for peacebuilding with an in-depth understanding of the operating contexts and priorities of specific countries.
I welcome the PBC's work to promote women and youth in the peacebuilding process, proving how a more inclusive, whole-of-society approach will ultimately yield better outcomes. An increased focus on the role of regional organizations in providing an effective forum for prevention, early detection, and response to potential conflicts is also important moving forward.
There are also opportunities to make peacebuilding more inclusive by using digital technologies to bring together a much wider range of people – young people, women, people from remote areas, or marginalized communities who might not be able to travel to traditional peace conferences. But this will only work if we can urgently address the digital divide, which is now ever more important as a result of pandemic-induced lockdowns.
Madam President,
Even during the COVID-19 crisis, the ideals of sustaining peace and the underlying spirit of the twin resolutions – which empowers the crucial role of local communities, women, and young people – should be further built upon.
Indeed, I believe the UN and its Member States have a generational opportunity to use this concept to help build back better, further catalyze greater inclusivity, and steer humanity and our planet towards a more peaceful and sustainable and future. The UN must elevate its efforts to harness this pandemic as a gateway to a brighter world.
I thank you for your attention.