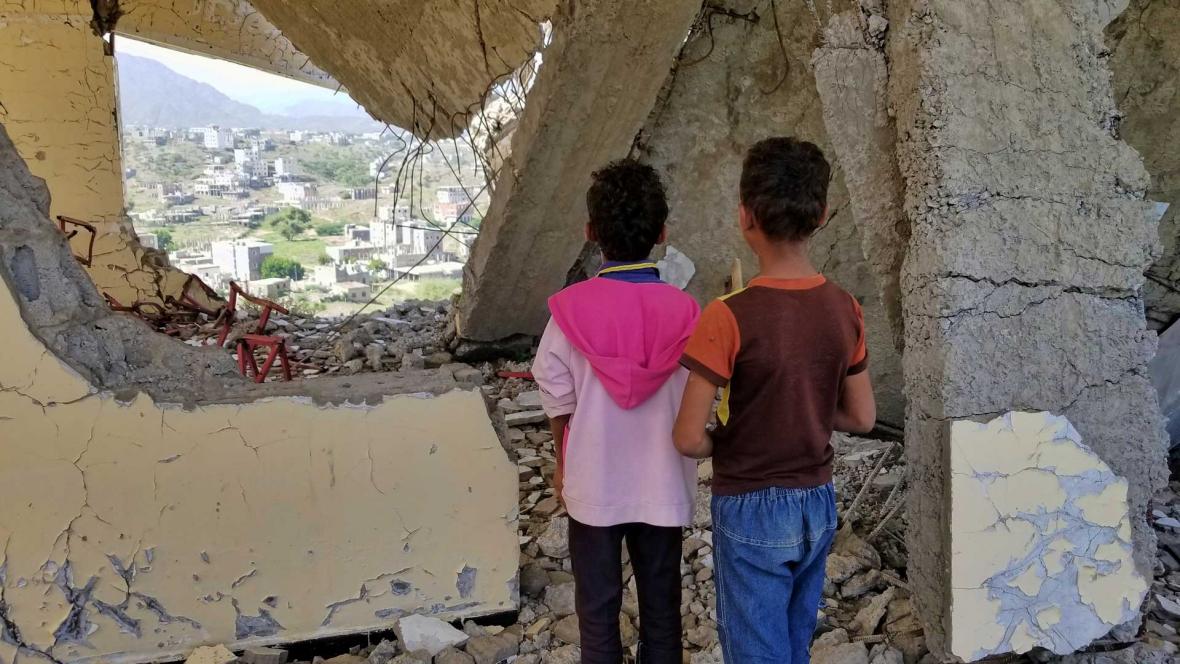 The Elders' Head of Programmes, Jane Kinninmont, analyses the impact of COVID-19 on conflicts around the world.
The COVID-19 pandemic has brought much of the world to a standstill, with half of the world's population now living under some form of lockdown. Yet for the most part, armed conflicts are continuing regardless: Libya, southern Yemen and Mali are among nearly 100 countries that have seen an increase in political violence since the beginning of the pandemic, according to the Armed Conflict Location and Event Database.
Now, as a more globalised world faces a uniquely global pandemic, the UN Secretary-General has called for a much larger scale effort: a global ceasefire to focus on fighting the coronavirus. Some groups have begun to respond, with armed groups tentatively testing out temporary ceasefires in contexts from Sudan and Cameroon to Colombia and the Philippines. France and Tunisia have jointly sponsored a draft resolution at the UN Security Council to call for a global "humanitarian pause" in all fighting, except counterterrorism, for at least 30 days. That would commit the UN and major world powers to work to make ceasefires a reality.
But the Security Council remains hamstrung by divisions, especially between China, which wants the resolution to acknowledge the good work of the World Health Organisation, and the US. The latter has criticised both the WHO and China for their response to the virus, and has so far blocked the draft because of its references to WHO and health agencies. There is a risk the efforts will collapse entirely over this issue, although it is at best tangential to the question of a ceasefire. Conversely, a resolution by the Security Council could give a boost to all those working for peace, especially by indicating that mediators in the field have the backing of powerful governments.
Wars threaten to get worse
Without urgent action, wars may get worse still. The pandemic, and its knock-on effects on economies and social contracts, threatens to exacerbate the drivers of conflict. Resources will become scarcer, while inequalities are growing. Grievances against governments, security forces and neighbours may soar. Lockdowns will sometimes be an excuse for violent repression. The pandemic has exposed fragility and mistrust even in peaceful countries; in some places state authority may break down altogether.
According to the World Food Programme, the number of people facing acute hunger is forecast to nearly double this year. They will be concentrated in conflict zones in Africa and the Middle East, where food security is already compromised by conflict, sometimes on purpose. Given this context, hunger will be a political issue as well as a humanitarian one.
Lebanon and Iraq offer sobering examples of states that have for years been semi-collapsed but also semi-functioning, and now increasingly seem to be unravelling. Their governments and healthcare systems are already weak and overstretched, and lockdowns have only briefly interrupted months-long uprisings against the political elites, corruption and inequality.
The pandemic will also hinder mediation and negotiations in many practical ways, as travel and convening become harder, as diplomacy shifts to an untested digital sphere, and as governments look inwards.
But opportunities are opening up
But there are opportunities for peacemaking and co-operation as humanity faces a common external threat. In previous decades there have been multiple examples of "disaster diplomacy", where natural disasters create different incentives for peacemaking, and "vaccine diplomacy", where ceasefires have been agreed temporarily for vaccination programmes. For instance, the need for reconstruction after the 2004 tsunami helped to catalyse peace talks in Aceh, and to bring together the imperatives for post-conflict reconstruction and post-tsunami reconstruction.
In Yemen the Saudi-led coalition fighting the Houthis has announced a unilateral ceasefire which might help restart talks, though so far the Houthis have said they need the blockade of their territory to end before they will talk. This is just one example where ceasefire efforts are complicated by different definitions of what actually constitutes violence; peace scholars use the concept of "structural violence", which might include blockades or confiscation of land by force, not only armed attacks on people.
Yemen may nonetheless be ripe for a ceasefire, as warring parties have been seeking a way out for some time. Covid-19 hasn't changed the paradigm of the Yemen war. It has gone on for five years through cholera and famine. But the pandemic has given a stronger hand to those on both sides who already wanted a way to end the war.
In northwest Syria, the pandemic has not yet taken hold, but after years of fighting, and repeated air raids on hospitals, the capacity to manage a pandemic is utterly lacking. Fear of the consequences has helped to maintain the latest ceasefire, agreed between Turkey and Russia in March. In Libya, by contrast, international calls for a ceasefire go largely unheeded.
In Israel and Palestine there has been some health cooperation between Israel and the Palestinian Authority, and even, more quietly, Israel and Hamas (one area being considered is a prisoner swap as Israel wants to reduce overcrowding in its prisons). But the new unity government in Israel plans to proceed with the annexation of swathes of occupied Palestinian land from July onwards, indicating that tactical cooperation has not changed strategic priorities.
The shock of the coronavirus will not change everything. It will often catalyse or accelerate existing trends. But it may provide opportunities to transform the calculations and behaviour of key actors, sometimes for better and sometimes for worse.
Early action will be important to reduce the risks of conflicts and social unrest worsening in the post-COVID-19 world. The pandemic is only beginning in many conflict zones. Health and economic crises may eventually accelerate processes of "conflict fatigue" or the "hurting stalemate" often said to lead to conflict resolution. But the longer this takes, the more fatalities and damage there will be, both from the pandemic and from the pre-existing crises. There are vital opportunities now for leaders to take early action in response to early warnings, rather than waiting for the pain to play out.