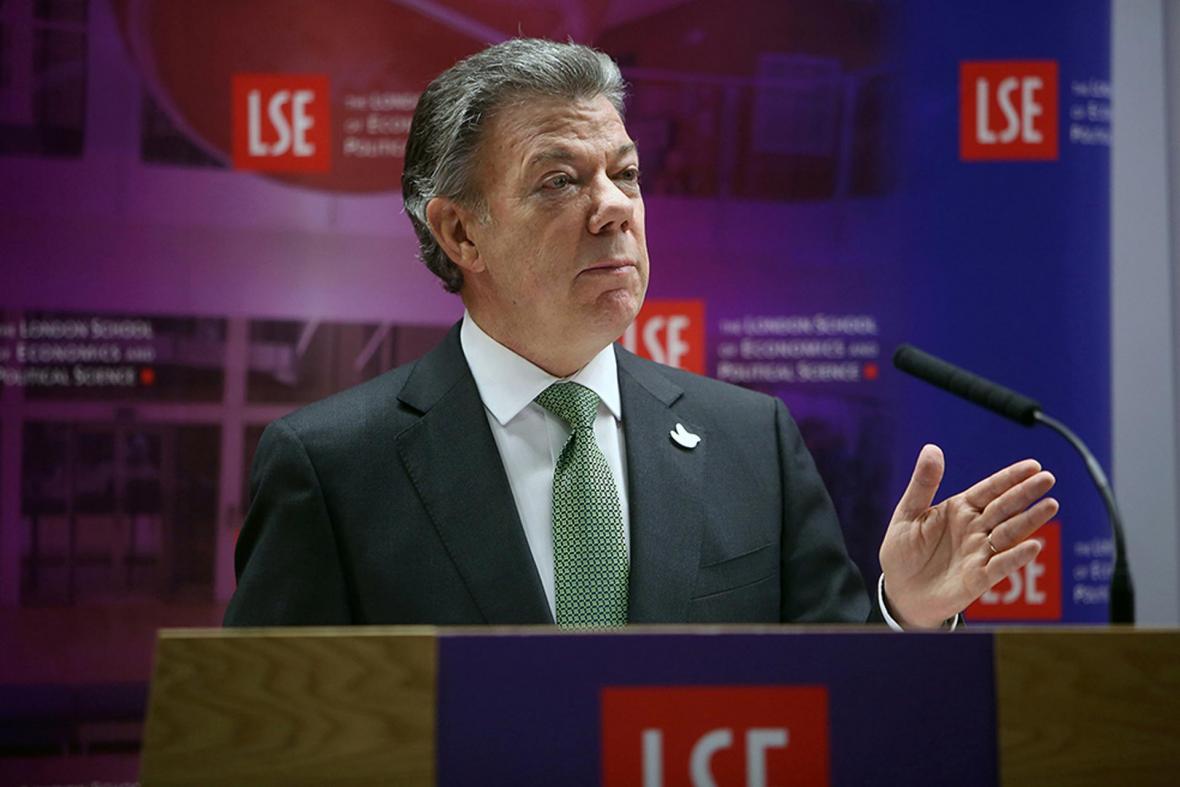 Rejecting the extreme Right and the extreme Left as representations of authoritarianism and populism, Juan Manuel Santos urges rising generations to have the collective courage to champion moderation and inclusivity in approaching global challenges.
Ladies and Gentlemen,
Dear friends,
It is a huge pleasure to be back at the London School of Economics in this event in which we celebrate the courage of rising generations to fight against inequality and injustice in the world.
This institution holds a special place in my heart and in my political life: it was here that I was inspired by its rich tradition of progressive thought, from Sidney and Beatrice Webb and Harold Laski to modern-day visionaries like Amartya Sen or Anthony Giddens.
Just three months ago I had the great privilege of receiving an honorary degree from this great university. Thank you again Minouche.
I am speaking tonight not only as a proud LSE alumnus but also as an equally proud member of The Elders, the group of global leaders founded by Nelson Mandela in 2007, who work for peace, justice, and human rights.
The Elders have just concluded our board meeting in London, where we come together to discuss global challenges in a world that is upside down and seek to identify where our modest interventions could help those brave women and men on the frontlines who are fighting for a better future.
The words of Mandela when he launched our organization are today more relevant than ever:
The Elders, he said, should "support courage where there is fear, foster agreement where there is conflict, and inspire hope where there is despair."
These are good principles to guide us all as we reflect on how best to tackle the inequality and injustice that destroys the opportunities of so many people around the world.
They say that courage is the mother of all virtues. And in the same way that collective intelligence produces better results because of the synergy it generates, collective courage is much stronger, much more effective.
We need collective courage to confront the political, business and economic interests that seek to maintain our current unequal order.
We need collective courage to promote agreement, inclusion, and consensus to achieve policies that work for the common good rather than narrow self-interest.
And we need collective courage to inspire hope across all sections of society, especially young people, listening to their voices, acknowledging their experiences and ensuring that their ideas, determination, and innovation will be anchored into the policy-making process.
As a former President and head of state, I know very well the tremendous difficulties faced by all leaders, especially in today´s world, the intense pressure and scrutiny under which they have to make decisions, and the harsh and sometimes deceitful media prism through which these decisions are judged.
One example of how collective courage helps was the long and arduous process of negotiating the peace process in Colombia to end more than fifty years of war. I always drew support and encouragement from the collective courage of the Colombian people, especially the victims, who gave me great lessons of generosity and resilience.
This same sense of collective courage is needed to tackle the two existential threats facing the world today: climate change and nuclear weapons.
When I was a student at the LSE, the Cold War was still very much "hot," and the prospect of nuclear annihilation gave people of my generation sleepless nights.
Climate change, instead, was not an issue.
But today, more than four decades later, nuclear war is still a dangerous threat, but it is still only a possibility, whereas climate change, with its equally devastating effects, is a certainty!! With one caveat, in our ecosystems that are already changing it is the poorest and most vulnerable who are paying the price, as usual.
It is no exaggeration to say that without urgent, radical action, future generations will have no future.
Unfortunately, these are not the only concerns of our times. How to tackle the problems of migration, of exacerbated nationalism, of the discourses of hatred and exclusion, of the poverty and inequality that affect so many millions on the planet?
What can we say to the new leaders of the rising generations, to you in this auditorium, who are looking for ways to guide and be helpful in an environment of polarization, populism, and radicalism?
The answer, my dear friends, can be summarized in just one word: MODERATION.
Moderation is not inaction — quite the opposite. Moderation implies seeking reforms and taking the necessary measures to solve the problems of the community and the world, but doing so without stridency, without considering ourselves to be better than others, without excluding anyone, without dogmatism.
A leader who works with moderation does so from a spirit of inclusiveness and humility, listening to voices from the grassroots as well as experts, welcoming help from outside when it can make a difference, and creating space for the next generation to also play its role.
Moderation in speech. Moderation in deeds. Moderation in the use of natural resources. Moderation in the way of treating others.
Moderation is not being carried away by extremes that are always harmful. It is to work out our differences always with respect for the one who thinks differently.
As a member of The Elders, let me today leave you with this simple but powerful message, as the elder of a tribe would do when talking to the young leaders who will succeed him.
The extremes end up becoming the same. The extreme Right and the extreme Left are nothing more than diverse representations of authoritarianism and populism. They are both manifestations of a selfish spirit.
So be aware of the strength of collective courage, and use it by all means, but do so with moderation. In that way you will have more possibilities, many more possibilities, to change the world, to make a difference, for the better of course.
Thank you.