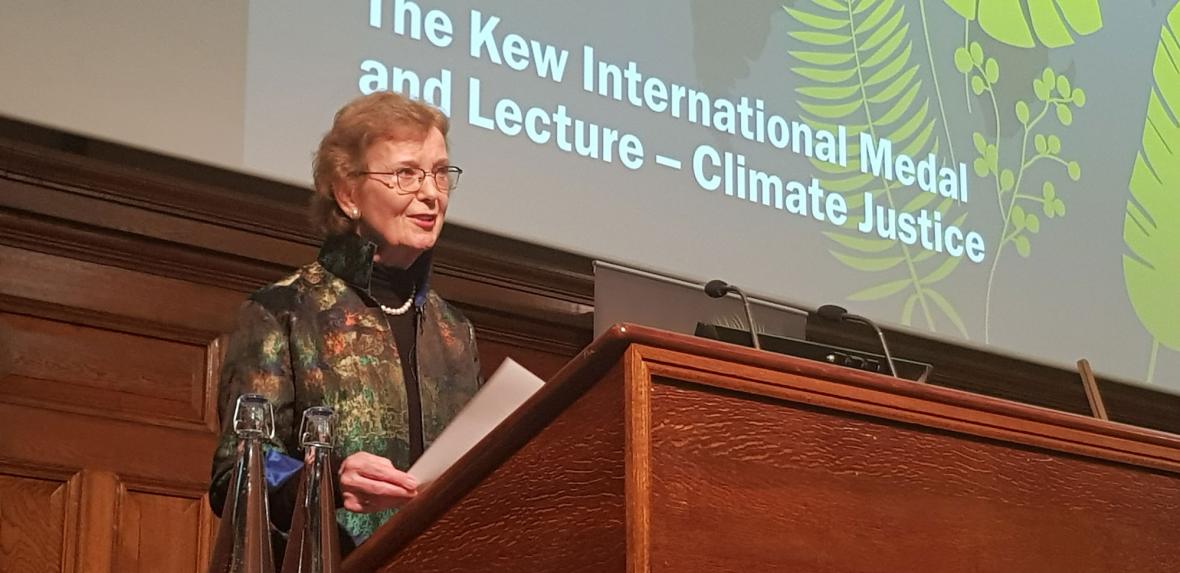 Excellencies, Ladies and Gentlemen,
Thank you for this warm welcome. It is an honour and a privilege to be with you here this evening, amid such distinguished company and following in the formidable footsteps of previous winners of the Kew International Medal.
The Royal Botanic Gardens, Kew is a remarkable and venerable institution whose mission remains acutely relevant today.
It appears as an oasis of calm and natural beauty for Londoners and visitors from all over the world, but it is also a world-leading scientific institution in plant research and conservation that is actively engaged in the struggle to defend our planetary patrimony from the potentially devastating impacts of climate change.
Kew represents a tradition of openness to the world, a shared curiosity towards and appreciation of our common heritage, and an understanding of the responsibility we collectively share to bequeath the bounties of nature to future generations.
This tradition is in sore need of affirmation in today's increasingly divisive, selfish and insular geopolitical climate.
It has informed my work on climate change, and particularly my championing of the cause of "climate justice", for more than a decade, via the work of my Foundation in Dublin, as UN climate envoy in the run-up to the Paris Agreement of 2015, and today as Chair of The Elders, the group of independent global leaders founded by Nelson Mandela.
I am particularly pleased that my immediate predecessor as award-winner was Juan Manuel Santos, former President of Colombia and Nobel Peace laureate, a courageous peacemaker and climate defender who has recently joined our group of Elders.
One of the many valuable contributions that Juan Manuel has made has been to address biodiversity and climate change through the prism of peace and security, and vice versa.
This holistic understanding of the climate threat and the need for an integrated, intersectional response – one that includes the perspectives and contributions of women, indigenous communities and other minority groups – is essential to building a climate-resilient, zero-carbon economy.
It chimes with the African concept of "Ubuntu" that informed the founding of The Elders, and was memorably described by our organisation's first Chair, Archbishop Desmond Tutu, as being "a state in which one's humanity is caught up and inextricably bound up in others'."
The worldview of Tutu, Mandela and the other great leaders of the anti-apartheid struggle was the antithesis of the miserly, myopic spirit that seems to drive so much of today's politics.
Nelson Mandela intimately understood how our fates are intertwined, and how it is only through courage, perseverance and solidarity that we can build a prosperous, just and sustainable world.
Last year, to celebrate what would have been Nelson Mandela's 100th birthday, my fellow Elders and I gathered in a Johannesburg park to plant 100 trees in his memory.
Each of these trees – which were specially chosen to withstand the rigours of a South African winter, rather than the temperate conditions of a Kew glasshouse – represented a grassroots organisation that we as Elders endorsed as a "Spark of Hope", working in its own modest way to further the goals of peace, justice, health and equality that Mandela strove for throughout his long and storied life.
Those trees reminded me of the lines from his autobiography, "Long Walk To Freedom", about the pleasure and fortitude Mandela derived from tending a small garden whilst a prisoner on Robben Island:
"To plant a seed, watch it grow, to tend it and then harvest it, offered a simple but enduring satisfaction. The sense of being the custodian of this small patch of earth offered a small taste of freedom."
This is a universal truth. It helps explain why Kew is cherished by people around the world regardless of age, gender, race or class. We share an instinctive connection to the wonders of the natural world, and an instinctive understanding of the cycles of life and growth for plants, flora and fauna, that binds us together in our common humanity.
Many people who work at and with Kew make these shared connections an integral element of their conservation efforts: for example, the botanist Oliver Whaley, whose work on a forest conservation project in Peru in recent times led to a close collaboration with local environmental defender Felix Quintero.
Felix started off as an amateur photographer capturing the beauty of his region's native Huarango tree, a species that underpins the region's biodiversity and ecosystem, as well as providing food, forage and fuel resources for local people for at least 7,000 years.
Together, Felix and Ollie helped raise awareness of the importance of protecting the Huarango tree in the face of rapacious commercial development, and today there is a centre at Lima University dedicated to its conservation.
This is a salutary example of how Kew can act as an organic agent of solidarity, not just a repository of trees, flowers, plants and fungi from far-off lands but an active defender of these species' survival in their native environments.
In the situation we find ourselves today, this shared appreciation and solidarity needs to be amplified and channelled into collective, concerted, urgent action.
Kew is not only a beautiful place to visit for calm, relaxation and reflection, but it is also at the frontline of the global fight against climate change and for human security and climate justice. The work being done in Kew's Millennium Seed Bank partnership involves over 100 countries in a close collaborative effort to identify important plant species so they can be conserved and studied. This type of cross border collaboration is vital to the success of conservation on a global scale.
At its heart, climate justice is a transformative concept. It insists on a shift from a discourse on greenhouse gases and melting icecaps into a civil rights movement with the people and communities most vulnerable to climate impacts at its heart.
Now, thanks to the recent marches, strikes and protests by hundreds of thousands of schoolchildren, we have begun to understand the intergenerational injustice of climate change.
Climate justice links human rights and development to achieve a human-centred approach, safeguarding the rights of the most vulnerable people and sharing the burdens and benefits of climate change and its impacts equitably and fairly. Climate justice is informed by science, responds to science and acknowledges the need for careful stewardship of the world's resources.
"Careful stewardship" lies at the heart of Kew's mission. But in researching the institution's history, I was reminded of an occasion just over a century ago when that tradition of stewardship came into conflict with the imperative for radical change to right an historic injustice.
In March 1913, two young women, Olive Wharry and Lilian Lenton, burned down the tea pavilion at Kew Gardens in a deliberate act of arson as part of the suffragette campaign of civil disobedience to win the vote for women.
Before you decide to rescind my award, let me reassure you that I am not advocating any such action today – my aim is to reduce carbon emissions, not increase them by starting fresh fires.
But just as the suffragettes needed to embrace militant tactics to win the fight for female emancipation, so today we need to be fiercely determined to identify and challenge vested interests, especially in the fossil fuel sector, who are still dragging their feet or indulging in isolationism and unilateralism rather than taking their global climate responsibilities seriously.
The report last October by the Intergovernmental Panel on Climate Change on the steps needed to meet the target of keeping to a 1.5°C of warming should and must herald the end of the fossil fuel era.
We have entered a new reality where fossil fuel companies have lost their legitimacy and social licence to operate and where we must embark on a just transition to protect people and their rights as we embrace unprecedented levels of climate action.
It beggars belief that there are still some supposedly serious people in public life who deny that climate change is a reality. Let me speak bluntly here: I believe that climate change denial is not just ignorant, it is malign, it is evil, and it amounts to an attempt to deny human rights to some of the most vulnerable people on the planet.
The evidence about the effects of climate change is incontrovertible, and the moral case for urgent action indisputable. This is because climate change is not just an issue of atmospheric science or plant conservation; it is also about human rights. Climate change undermines the enjoyment of the full range of human rights—from the right to life, to food, to shelter and to health.
The situation is particularly acute for people living in vulnerable situations owing to geography, gender, age, race, poverty, disability or social status. It is an injustice that the people who have contributed least to the causes of the problem suffer the worst impacts of climate change.
It is incumbent on political and business leaders to develop effective, inclusive, multilateral policies to address this challenge. Sometimes it may be a useful advocacy tool to present these choices as a matter of sound investment or shrewd self-interest. But fundamentally it is a matter of human rights and justice – and this is the message that institutions like Kew need to amplify, to truly build public consensus behind the radical action we need to guarantee all our futures.
Governments and companies need to gain trust in order to be able to operate legitimately and effectively in society. But this trust and ensuing legitimacy risks being forfeited when the economies and companies that have contributed most to global warming abjure their responsibility to lead on finding solutions and reducing emissions.
One of the most egregious examples of climate irresponsibility in recent years remains of course the decision by US President Donald Trump to withdraw from the Paris Agreement.
But whilst I continue to deplore the climate recidivism that appears to direct policy in the White House, I have been heartened at the loud and growing voices from all sections of American society, from businesses and labour unions to state and city administrations, faith and youth groups and media who affirm that they are "still in" and are taking their own important steps to curb emissions and strengthen regulations to protect the environment.
At the same time, other signatories to the Paris Agreement must not use the US withdrawal as an excuse or smokescreen to renege on or weaken their own commitments. As my dearly-missed friend Kofi Annan said as Chair of The Elders when the US withdrawal was announced:
"The Paris Agreement was born out of effective multilateralism and a desire to find a cooperative solution to a global problem. No one country can dismantle the Agreement. While the US withdrawal weakens that international accord, it will not trigger its demise."
Without presuming to comment on domestic politics, Kofi's defence of the values of multilateralism applies to the UK in 2019 as well.
Whatever the ultimate outcome of the current debate regarding the UK's membership of the European Union, it is vital that this country continues to play a leading role in the fight against climate change and remains a powerful voice for multilateral engagement.
But as another fellow Elder, Ban Ki-moon, recently noted, this must mean that the UK maintains the highest of standards regarding its climate and investment policies overseas as well as domestically.
Decarbonisation is a vital part of this agenda. The UK has made important progress in this regard; in April 2017, it enjoyed its first full day without any coal-fired electricity since the 1880s, which was a striking achievement for a country that had been at the vanguard of the Industrial Revolution.
But this progress is at odds with the policies currently implemented by UK Export Finance, which continues to fund fossil fuel investment projects in developing economies.
Over the timeframe of 2010-16, it is estimated that UKEF provided £4.8 billion of support for fossil fuel projects. The UK's total spend on its International Climate Fund for a similar period, 2011-17, was £4.9 billion. These figures and policies are hard to reconcile with the UK's commitments under the Paris agreement, its membership of the Powering Past Coal Alliance and its own pledge in 2013 to end support for public financing of new coal-fired power plants overseas.
It stirs painful memories of past exploitative behaviour to see the UK and other rich, industrialised countries proclaim their good intentions and act in a progressive way at home, whilst effectively exporting their emissions to poorer foreign countries and leaving them to pay the price socially and environmentally.
So I hope that all of you here will join Ki-Moon and I in urging the Prime Minister and her government to recalibrate its export finance policy so it is fully consistent with international climate trends and obligations as a G20 member. This is part of what I mean by climate justice.
But another element is that all of us as global citizens recognise our interconnected responsibilities, and move away from siloed thinking where – to use a phrase that is perhaps quite often heard at Kew – we may lose the wood for the trees.
I have to confess that I came late to understanding the link between climate change and human rights. I didn't make a single significant speech on climate change during five years as UN High Commissioner for Human Rights because there was another part of the UN that was dealing with it.
It was when I did work on the ground in Africa on economic and social rights that I became aware of how significantly African countries were already affected back around 2003 and 2004 and on by the negative impacts of climate change.
I would meet women from agricultural communities in Rwanda, Liberia or Malawi and hear the same stories – the seasons are changing, the rains don't come as they used to. Communities no longer knew when to plant and when to harvest. These shifting seasons were having disastrous impacts on their food security and resilience. I recall Constance Okollet, a farmer from Uganda, telling me how she relied on the sale of a surplus from their small agricultural yield to pay essentials for her family - education, fuel, healthcare, clothes.
Constance is a powerful woman, a leader in her community and uses the full extent of her agency to both adapt to the impacts of climate change, and warn the world of the consequences of our fossil fuel based development. Today, I am struck by her courage and empowerment in the face of heightening adversity, but I fear for her community's future if our capacity for empathy is outstripped by reluctance to make the transition in our developed economies and behaviour that is needed.
Environmental defenders plough a lonely and dangerous furrow in these countries. These brave defenders need the solidarity that institutions like Kew can provide. They need to build connections with wider networks of climate activists across the world, including those in developed countries who can operate in effective partnerships and enjoy access to the media and elected officials.
Last year I met with a group of committed activists in Boston, Massachusetts who embodied the old principle "think globally, act locally". One idea they proposed was for Massachusetts citizens to voluntarily contribute any portion of their tax refund to the Least Developed Countries Fund, the UN-mandated fund to help the world's most vulnerable countries to adapt to the effects of climate change.
Such ideas need to be replicated rapidly and at scale if we are to truly build a collective sense of solidarity to respond to our growing climate crisis.
But in the words of the great literary Bostonian Henry James, "a tradition is kept alive only by something being added to it."
And this applies to Kew as well, and all the tremendous work you do in supporting environmentalists, conservationists, botanists and researchers in remote and inhospitable corners of the world as well as here in London. And I know they have ambitions to do more, to speed up the pace at which they can share the data stored in Kew's collections digitally. The simple act of investing in digitisation of plant and fungal specimens collected around the world is a great step towards empowering people in countries where the decisions about land use are urgent. Simply being able to make informed decisions about what to protect and where to develop could avoid species loss in a way that is critical.
It is high time to take this conversation out of the greenhouses and gardens, and into the streets and the corridors of power. We have the knowledge of what damage is being done by climate change, and now we need the energy and courage to use this knowledge to shape the political case for radical change.
A few months ago, I might have concluded this speech by saying that the way to add to Kew's tradition of stewardship and responsibility is to educate the younger generation of the need to take these matters seriously.
But in fact, the situation is the reverse. The younger generation is taking the lead and demanding action, and shaming those of us who are old enough to influence and deliver policy change.
The global school strike movement is an inspiration, and I dare say it would draw approving nods not only from Felix Quintero in Peru but also from Olive Wharry and Lilian Lenton. We need to listen to and learn from the passion of our young people, and show them by our actions that there is indeed a way for our political and economic systems to meet their cries for action.
And even if the marches, sit-ins and strikes of Greta Thunberg and the hundreds and thousands of other children she has inspired seems a world away from the genteel Victorian prose of Henry James, it is with one of his quotes that I would like to end this lecture:
"To believe in a child is to believe in the future. Through their aspirations they will save the world. With their combined knowledge the turbulent seas of hate and injustice will be calmed. They will champion the causes of life's underdogs, forging a society without class discrimination. They will supply humanity with music and beauty as it has never known. They will endure."