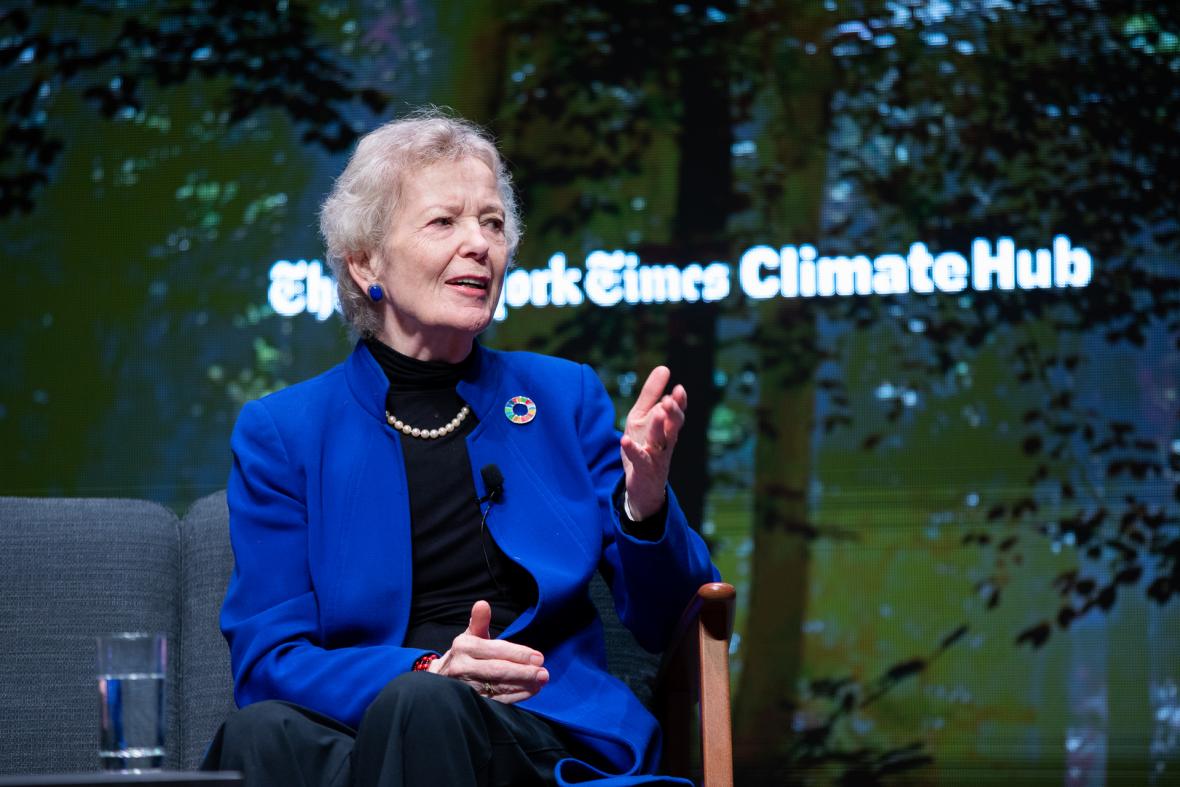 On Saturday 12 November
Mary Robinson
joined a COP27 roundtable discussion exploring the importance of just transitions and how to achieve them in practice around the world. She calls for just transitions to be rooted in human rights and for them to be considered as societal transformations that will benefit the wellbeing of all people.
Read Mary Robinson's speech
It is a pleasure to join you for this roundtable on the critical importance of Just Transitions and how to achieve them in practice around the world.
My thanks to IHRB, the Laudes Foundation, the Institute for Sustainable Communities, and the Climate Policy Initiative for bringing us together. I look forward to listening to the impressive panel that will be opening our discussion, and to learning from you all this evening.
A broad range of UN human rights special procedure mandate holders came together last week to issue a common message to us all - that human rights must be central in all of our considerations - as the Paris Agreement recognises.
Actions to address the climate crisis have their own consequences and human rights impacts. The idea of a just transition must respond to those impacts.
However, like many of you, I observe that Just Transitions, and the newer concept of Just Energy Transition Partnerships, are being interpreted in various ways, and in too many cases, without the "justice" component being clearly rooted in international human rights and labour standards.
Another challenge - as I learnt from a recent visit to South Africa as Chair of The Elders – is that it is hard to deliver the "justice" component without concessional finance – retraining workers does not come for free! Yet less than 4% of the JET-P funds being provided to South Africa are grants, and only 1% is dedicated to social projects.
I was pleased to be with IHRB at COP26 in Glasgow last year to begin looking at how energy transitions are being implemented. We were making the case that business and human rights standards like the UN Guiding Principles on Business and Human Rights can help steer all actors in transition planning and implementation. Since then, the need for stronger and more coherent standards has become even more urgent.
Standards relating to workers impacted by transitions are clear, thanks to the ILO, ITUC, and trade union efforts over many decades. But what just transition means for wider communities, as well as indigenous peoples, consumers, and many other potentially affected groups is far less certain. And as multiple and varied interpretations continue to diverge, the danger is we lose sight of what the 'Justice' element actually means in practice.
An expression I have heard recently being used in place of "just transitions" is "just transformations". I like this expression, because holistic, comprehensive, just transitions will drive societal transformation that will benefit the wellbeing of all people. A truly just transition will not be just a transition – it should tackle the inequalities and injustices caused by and exacerbated by the climate crisis and lead us to a better future.
Yesterday, UN Secretary General Antonio Guterres released his criteria for what a meaningful net-zero claim must look like to combat green-washing. Just transition must be no different. Our challenge is to deepen a common understanding of what is and what is not a just transition in key sectors like energy, but also in agriculture, the built environment, apparel and manufacturing.
We need to move towards a common standard, with the human rights framework at its core. I hope our discussions this evening can help us move in that direction as effectively and quickly as possible. One thing is very clear, we need to work with urgency to shape change for all affected communities and offer pathways to decarbonisation across the economy to keep 1.5°C in reach.
Thank you once again to the organisers for bringing us together. I look forward to the discussion.