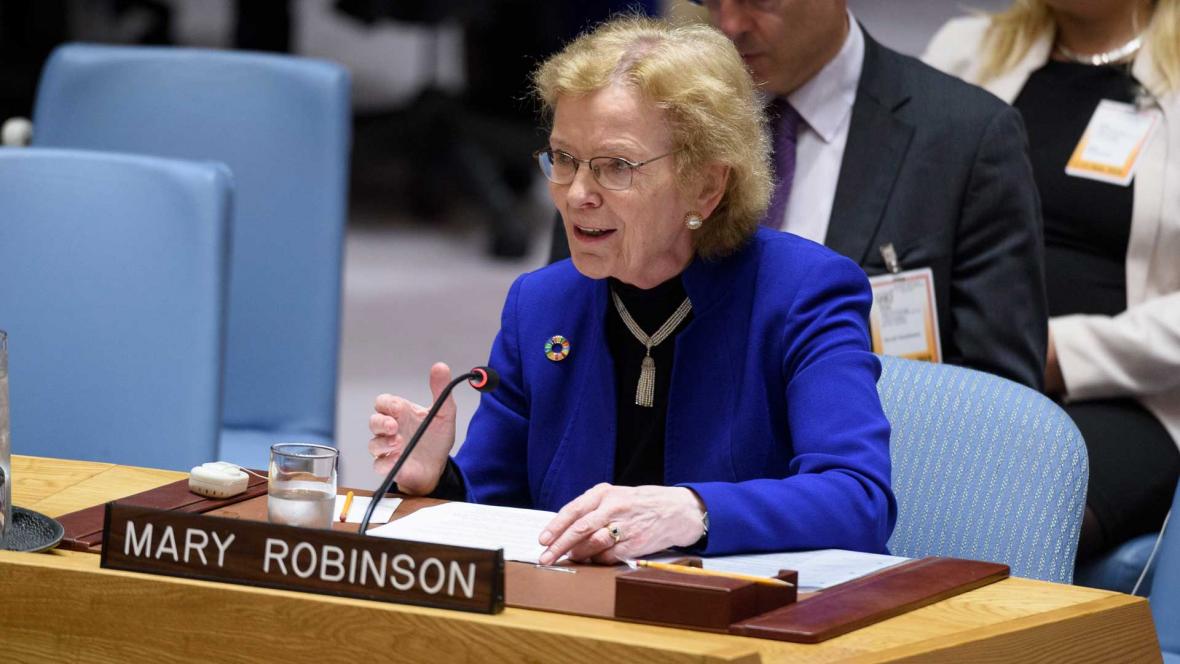 Addressing a UN Security Council session on conflict prevention and mediation, Mary Robinson implores Member States to work together to deliver on its commitments outlined in the UN Charter.
The following is a transcript of her 12 June 2019 speech.
Mr. President,
Mr. Secretary-General,
Distinguished Members of the Security Council,
Ladies and Gentlemen,
It is a privilege to speak to you today for this important session on conflict prevention and mediation, two issues that lie at the very heart of the mission of the United Nations Security Council and the wider multilateral rules-based system.
I am speaking today in my capacity as Chair of The Elders, the group of independent global leaders founded by Nelson Mandela, who work for peace, justice and human rights.
I am honoured, too, to be here alongside someone who needs no introduction to people in this room: His Excellency Ban Ki-moon, former Secretary-General of the United Nations who today serves as one of the Deputy Chairs of The Elders, together with Graça Machel. I am also happy to be joined by President Juan Manuel Santos.
On behalf of all the Elders, I would like to sincerely thank His Excellency Sheikh Sabah Al Khalid Al Sabah, Deputy Prime Minister and Minister of Foreign Affairs of the State of Kuwait, for extending the invitation to address the Council as part of Kuwait's Presidency.
I recall when serving as the UN Special Envoy for the Great Lakes in Africa and the Democratic Republic of Congo in 2013/14 how invaluable it was to have a united Security Council to report to. I know that President Santos had the same appreciation of the support of the Security Council for his work on peace in Colombia.
The Elders want to urge all members of the Council today to approach the topics under discussion in the same spirit of inclusive dialogue and willingness to work for compromise and consensus in the interests of peace.
We know that the world is more divided and polarised at the moment, but you have a unique responsibility under the UN Charter, and we encourage the E10 members to play as full a part as possible in your work.
Mr. President,
When Nelson Mandela founded The Elders in 2007, he charged us with a precise mandate:
"Support courage where there is fear, foster agreement where there is conflict and inspire hope where there is despair."
I believe it is testament to both Mandela's perspicacity but also the grim realities of our world that his words continue to feel as urgent in 2019 as when he uttered them on stage in Johannesburg a dozen years ago, not least when we think of conflict prevention and mediation.
Fear, conflict and despair are all too obvious: from the streets of Khartoum to the townships of Harare; the bombed-out hospitals of Idlib to the ruined schools of Yemen; and the slums of Gaza to the Rohingya refugee camps of Cox's Bazaar in Bangladesh.
In all these cases and so many more the world over, the UN Security Council should be seen as an instrument of deliverance, a defender of rights and a provider of protection.
But too often over the decades the Council – and, particularly, its five permanent members – has failed to live up to its responsibilities and has favoured realpolitik or short-term power stratagems rather than meeting the solemn commitments outlined in the UN Charter.
Nowhere has this been more apparent than in the repeated use of the veto by certain permanent members on resolutions aimed to prevent mass atrocities, including the use of chemical weapons on civilians.
In the words of my immediate predecessor as Chair of The Elders, the late and sorely-missed Kofi Annan, "you cannot put down a veto, paralyse operations, create a stalemate and not propose a way forward."
Mr. President,
To propose positive ways forward in our deliberations today, I would like to focus on three specific areas where we, The Elders, believe that the Council can play a proactive and positive role on conflict:
The importance of prevention
Everyone here in this room will recognise that prevention is by far the most effective way to deal with conflicts.
But this should not be narrowly viewed in terms of securing immediate security and stability, or distorted to justify deals with unscrupulous leaders who pay lip-service to peace and mediation as a way to retain power without ever taking the necessary steps to address the root causes of conflict and division.
Inclusive government and a commitment to justice and human rights is also crucial. Violations or disrespect for fundamental values of human rights, and undemocratic and unaccountable actions by long-serving leaders have often festered to become bigger crises.
I have also felt for a long time that insufficient attention has been paid to the role and voice of women on the ground in terms of conflict prevention. The Council has shown leadership on this issue in past years, particularly through the passing of Resolution 1325 in 2000. It should now redouble its collective efforts to make sure women's perspectives and experiences are reflected in the mainstream of peacekeeping and conflict prevention policy.
Overall, the international community has too often not paid enough attention to all these issues – and the citizens of conflict-blighted countries and regions have paid far too high a price for this neglect.
Climate change
Together with nuclear weapons, there is no greater existential threat to our planet than climate change. The UN has shown commendable leadership on this issue, brokering the Paris Agreement in 2015 and ensuring that climate is an integral element of the Sustainable Development Goals.
The Elders are pleased to see that the issue of climate change continues to be of concern to the Security Council. We feel that if the Council were to adopt a more holistic approach to conflict prevention, including climate change, this would both make it more effective as well as supporting the mandate of other parts of the UN system.
We support the creation of an institutional focal point, in the form of a Special Representative of the Secretary-General, to pull together expertise on climate change from across and beyond the UN in order to help the Council assess the diverse, complex and shifting impact of climate change on conflicts.
Impact of technology
Another aspect of a more long-term, more holistic view of the causes of conflict and how to prevent conflict needs to be the impact of technology, including artificial intelligence and automation.
As Elders, we make no claims to be at the vanguard of the debate here, but again I would recall a wise epigram from Kofi Annan:
"You are never too young to lead, and never too old to learn."
We need to listen to and learn from the young people, the "digital natives" who are fluent in this brave new world of technology but who also risk paying the price for progress as previously secure jobs and career paths become obsolete.
Youth unemployment is especially high in the Middle East and Africa and has been a driver of social unrest in many countries.
Similarly, social media, while being a powerful tool for connecting people around the world, has also been used as a tool for enabling violent extremism, and for spreading misinformation which has contributed to violence and social unrest.
There is additionally an urgent need to develop global norms and rules around cyber conflict prevention.
Currently there is no international mechanism to regulate offensive cyber threats, and both states and non-state actors are able to operate with a large degree of impunity.
As a minimum, we need to develop a process whereby states and governments become more transparent about their cyber capabilities and deterrence mechanisms.
The international community must not wait until a major tragedy occurs to develop these rules, and I believe the Security Council is uniquely placed to lead the efforts to find a progressive, inclusive consensus.
Mr. President,
Thank you again for the opportunity to raise these issues with the Council today. It is now my pleasure to hand over to my colleague, His Excellency Ban Ki-moon, who will expand upon more of our priorities and concerns.
Thank you.
Watch Mary Robinson's address to the UN Security Council: