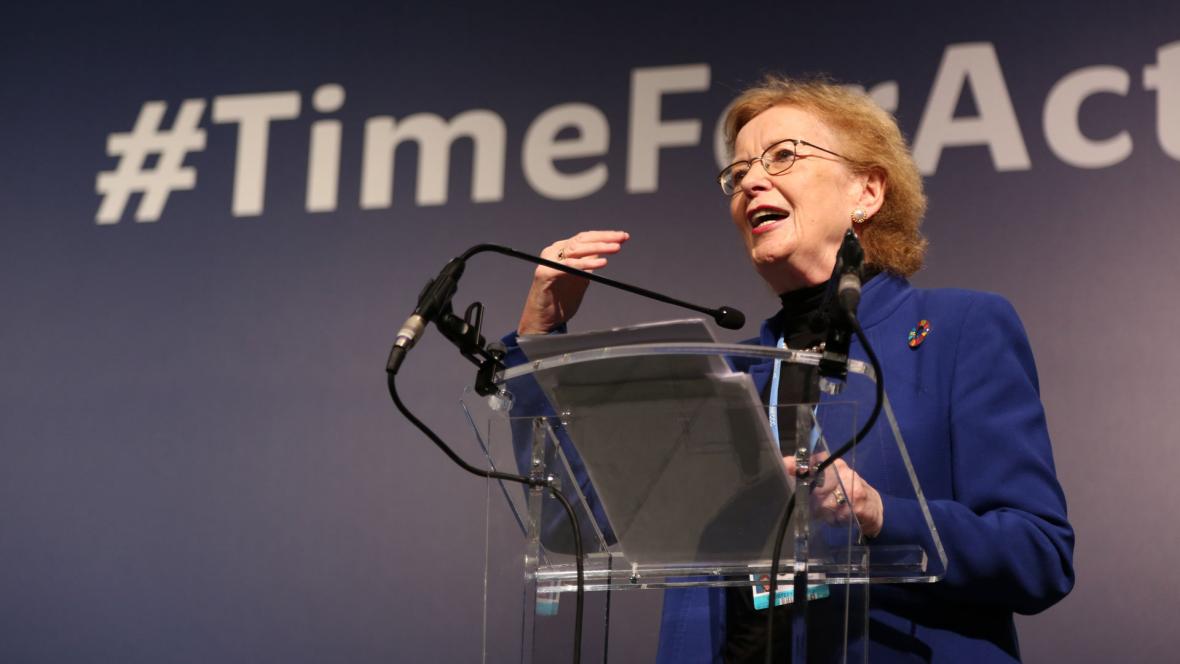 At a COP25 event entitled, 'Advancing Climate Action through Escazú Agreement Standards in Latin America and the Caribbean', Mary Robinson speaks about the unique and historic achievement of the Agreement, and the need for early ratification.
Ladies and Gentlemen, dear friends,
It is a pleasure to be with you today for this important event that highlights the intersections between two of the most important issues of our age – the climate crisis and the protection of human rights.
These two issues have been the driving force behind my engagement in public life for the last three decades, and I am heartened to see so much grassroots and civil society engagement here, and in the preparatory discussions in Chile and elsewhere that preceded this gathering.
But I have to confess that I only appreciated the linkages between climate and human rights fairly late in the day. As UN High Commissioner for Human Rights, I did not make a single speech on climate issues throughout my period in office.
I had become "siloed", as the term goes. I knew it was important, but I also knew that another arm of the UN was responsible, so I didn't feel the need to focus on it myself.
It was only after ending my term as High Commissioner, when I began to work on more grassroots projects in Africa, that I realised that climate change was already having a severe impact on the human rights of poor and rural communities – and especially on women, who are often the most vulnerable and exposed both to the immediate impact of climate change through adverse weather, and to the longer-term economic and social effects on their livelihoods.
I am now absolutely convinced that the only way to tackle and mitigate the climate crisis is via a rights-based approach that recognises the intersectionality of climate change, poverty and inequality.
The Escazú Agreement is a unique and historic achievement, not only for Latin America and the Caribbean but for the world, because it specifically offers protection to human rights defenders on environmental issues.
The need for such protection could not be greater: research from the NGO Global Witness shows that more than three people were murdered each week in 2018 for protecting their environment, with countless others criminalised.
These are ordinary people trying to protect their homes and livelihoods, and standing up for the health of our planet.
Often their land is violently seized to produce goods used and consumed across the world every day, from food, to mobile phones, to jewellery, with attacks driven by destructive industries like mining, logging and agribusiness. And more land and environmental activists were killed in Latin America than anywhere else in the world last year.
The Escazú Agreement places human rights at the heart of tackling the climate crisis, including special procedures to provide the most vulnerable communities with information, foster their participation in environmental decisions and offer technical and financial help on the path toward environmental justice.
It is also a declaration of solidarity and an affirmation of the centrality of human rights to sustainable development, at a time when too many countries in Latin America and the Caribbean are showing worrying signs of regression on both fronts.
I have a particular memory from my mandate as Special Envoy of the Secretary-General on Climate Change in 2016, of going to Honduras, to listen and speak up for community. I went out into a rural area, with the help of a women's organisation, to meet women who told me, 'We have no water. How do you live without water?'
As the conversation went on, they spoke about a large hydro project close by that had cut down some of their trees, but that was not accessible to them – they were not benefitting from all that water. Later on that day in a slightly different part of Honduras, I spoke with another community, who were suffering from the impact of a solar farm which was a World Bank project but again, was not benefitting their community, and siphoning off power for urban areas of Honduras. It is clear that more and more, climate action is not respecting human rights. This agreement is extraordinarily important in addressing this issue, and I am very grateful for that.
The relocation of COP 25 shows how national crises can have a damaging impact on multilateral institutions and processes that matter to the whole world.
But at the same time, Escazú offers a means by which governments and citizens in the region can simultaneously accelerate progress on climate action, protect human rights and foster greater inclusivity across their societies.
All leaders need to do is ratify it.
For the Agreement to enter into force, 11 countries of the 33 in the region must ratify it. So far, 22 have signed the Agreement and five – Bolivia, Guyana, St. Kitts and Nevis, St. Vincent and Uruguay — have ratified it. It is notable that two of these countries are from the Caribbean – so it is not just Latin America taking action.
Now is the time for other states to show true leadership. Ratifying Escazú would be a tangible sign to the people of Latin America, and the wider world, that its heads of state understand the severity of the climate crisis and its intersections with poverty, discrimination, gender and human rights.
As it happens, my fellow Elder - who is also a former High Commissioner for Human Rights - Zeid Raad Al Hussein, recently wrote an opinion piece on the importance of Escazú, published in both El Pais and O Globo. I want to quote a short paragraph from him:
"The Escazú Agreement offers the means by which governments and citizens in the region can simultaneously accelerate progress on climate action, protect human rights, and foster great inclusivity across their societies."
It would also be a tangible gesture in support of what I call climate justice: a means of empowerment by which the policies and instruments we devise to tackle climate change also serve to lay the foundations for a more equal and sustainable world for future generations.
This is the promise of the UN's 2030 Agenda for Development. It behoves us all now to make it a reality.
I regard the 2030 Agenda as one of the most important diplomatic achievements of this century. Together with the Paris Agreement on climate change, concluded in the same year of 2015, they are tangible proof of the benefits of multilateralism and a rebuke to the narrow agendas of nationalism, isolationism and self-interest.
Although the 2030 Agenda was considered voluntary by the 193 states who negotiated it, and the Paris Agreement is weak in enforceability, both frameworks have, I believe, become imperative because of the succession of recent scientific reports. These include the IPCC report in October 2018 on 1.5°C of global warming, the report last May on biodiversity loss and threat to a million species, the Emissions Gap report of UNEP and recent IPCC reports on land use and oceans. An agreement can be negotiated and thought to be voluntary, but become imperative, because of the science. What are the young people and school children telling us to do? They are not asking us to listen to them, they are asking us to listen to the science.
These frameworks are a pathway to a world where poverty, inequality and conflict will not blight the life chances for millions of people currently denied the opportunity to enjoy their fundamental rights and freedoms.
But as we are all aware, this requires a change of mind-set at the global political level.
What sort of world do we want to leave to our children and grandchildren? Is it one of walls and barbed-wire fences, where a privileged few live in comfort whilst the poor and marginalised face climate chaos, discrimination, persecution and violence?
Or is it one where the voices and talents of all members of society are heard and valued, where human rights are cherished and championed, and where decisions are made in the interest of the next hundred years and not the next news headlines?
I trust that for everyone here in this room, the answers to the questions I just posed are self-evident. The spirit of COP is one of solidarity, between nations and increasingly between generations.
Countries across Latin America and the Caribbean are already suffering from increased hurricanes, rising sea levels and shorter rainy seasons and drought, and it is the poorest and most vulnerable communities who are suffering the most.
Enlightened leaders should realise that the Escazú agreement is in their own self-interest as it increases their nations' resilience and cohesion in the face of such existential threats.
Failure to act would be a terrible stain on the world's conscience, and mean any future references to justice or common endeavour would ring hollow for the millions impoverished and displaced by the climate catastrophe.
Nevertheless, I refuse to succumb to fatalism or despair. In the words of my dear friend Archbishop Desmond Tutu, I remain a "prisoner of hope", and am inspired by the determination and fierce clarity of the young people who have taken to the streets this year to demand change, action and justice.
Ratifying the Escazú Agreement is one important way of answering their call. We must not miss the opportunity it presents.
Thank you.