How do we empower women at the peace-table – and how are they key to preventing conflict? On Wednesday, The Elders held a public debate with women peacebuilders to discuss the role of women in peace.
On 5 November, four members of The Elders joined four women peace and gender experts in front of a packed audience at The Carter Center in Atlanta, Georgia, and online, to discuss how to empower women in peacebuilding.
Jimmy Carter started off the first panel debate by calling for women's equality in "every part of life", highlighting that in 500 Fortune companies, only 23 of the CEOs are women. He added that women occupy only 23 per cent of political positions worldwide – 15 per cent in the USA.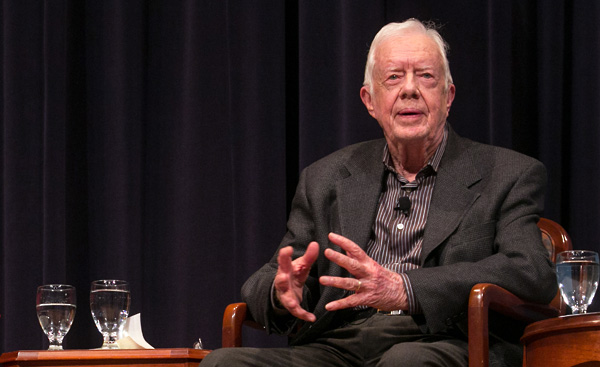 Gender and conflict expert Sanam Naraghi Anderlini highlighted the lack of consultation and representation of women in present conflicts, asking:
"How come we never get to hear from Syrian women when we talk about bringing peace to Syria?"
When asked how to amplify the voice of women, Ms Anderlini joined Mary Robinson in urging women to use social media. Mrs Robinson argued that it is important to "connect women at the grassroots with decision-makers at every level of civil society."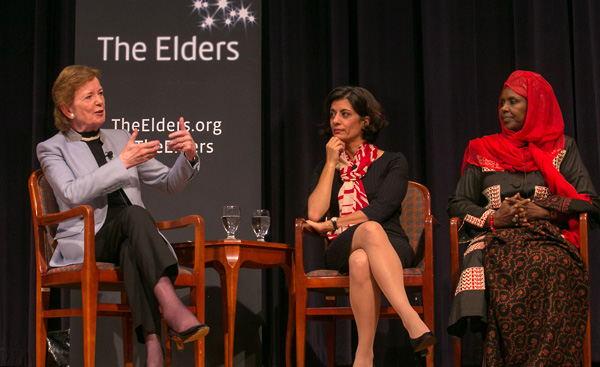 Mary Robinson on stage with Sanam Naraghi Anderlini and Asha Haji Elmi
When asked how to empower women to be active peace advocates, not to be merely seen as tokens, Jimmy Carter replied that a strong, eloquent and sincere woman can influence an entire room.
To round off the debate, Somali peace activist Asha Haji Elmi spoke of the importance of peacebuilders in representing "the voice for the silent majority, primarily women and children," and the dangers of the role:
Promoting #peace is a Godly endeavour" Asha Haji admits being prepared to die for peace #WhereAreTheWomen pic.twitter.com/vXLexMK81I @TheElders

— Ahmed Omar (@ahmedvision1) November 7, 2014

Women at the peace-table
Kofi Annan and Hina Jilani began the second panel debate, discussing the shift in nature of the conflicts affecting the world today, with Ms Jilani warning:
"With more internal conflicts coming up based on identity rather than territorial issues, it has become even more difficult for women to play a role."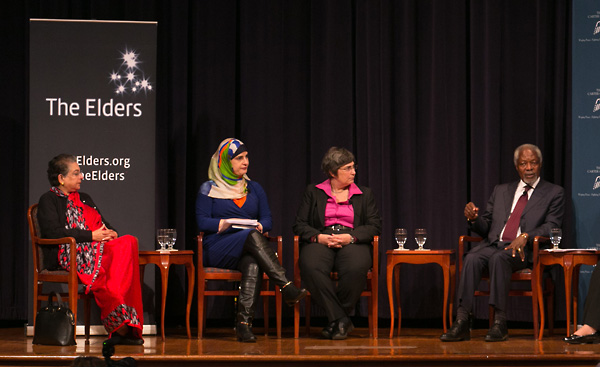 From left-right: Hina Jilani, Manal Omar, Jessica Neuwirth and Kofi Annan
Middle East and gender expert Manal Omar linked unrest with the under-representation of women in the countries that underwent the Arab Spring:
"When women are absent, you can almost guarantee that you will not have democratic principles in the culture that is emerging."
She further explained how the power of women directly threatens extremist organisations:
"Women do challenge ISIS and that's what they're scared of, and why they target women."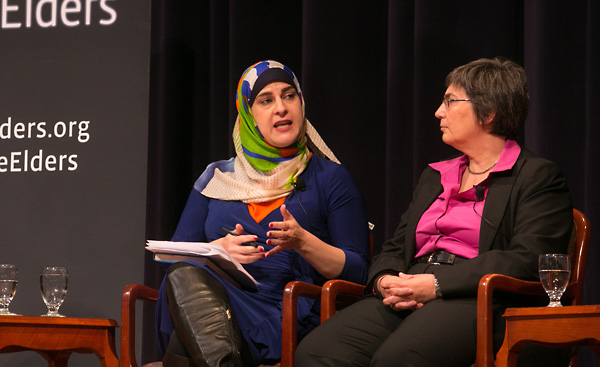 While lawyer and campaigner Jessica Neuwirth highlighted how women need an opportunity to contribute:
"Everywhere there's conflict there are women who are willing and able to make a significant contribution to peace."
Kofi Annan concluded the debate, saying that, with optimism, anyone can make the world better:
"Having courage doesn't mean you have to be fearless. Help one person. Stand up." -Kofi Anan @TheElders #WhereAreTheWomen

— Kristi York Wooten (@kristiwooten) November 6, 2014

Watch the video of the full discussion