Conflict
Elders Statements
Nous devons accorder la même importance aux vies humaines palestiniennes et israéliennes dans la réponse mondiale à la crise, avertissent The Elders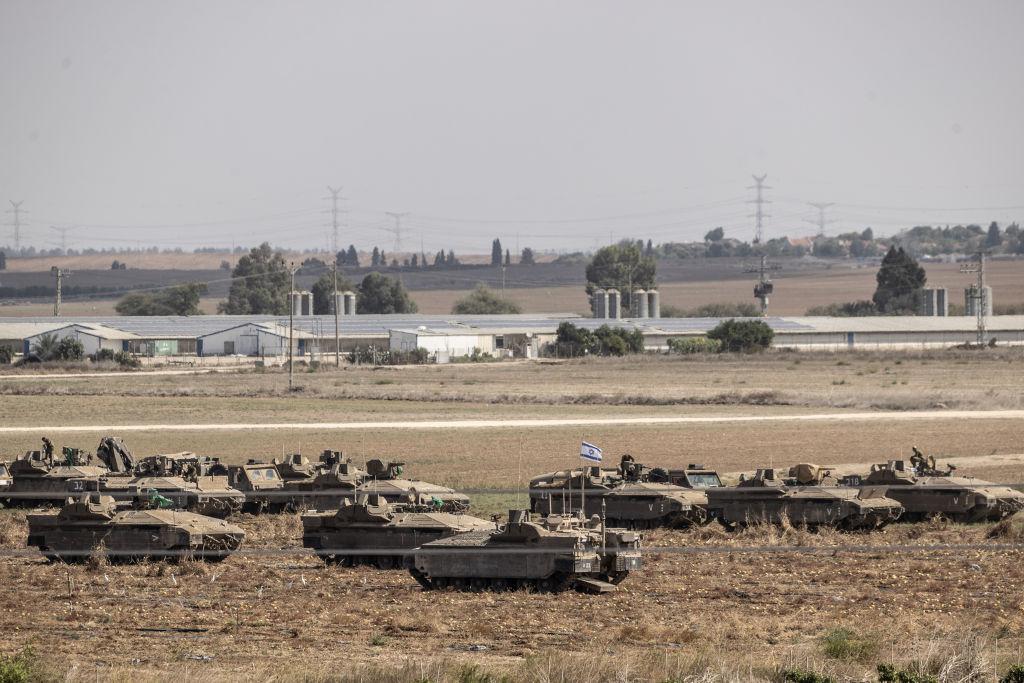 13:00 BST, 25 October 2023, London
STATEMENT
The Elders condamnent les horribles attaques terroristes lancées par le Hamas le 7 octobre 2023, ainsi que le meurtre de civils innocents, la prise d'otages et les frappes incessantes à l'aveugle à l'aide de missiles contre Israël. Les auteurs de ces atrocités de masse doivent être traduits en justice, idéalement devant un tribunal.
Nous condamnons par ailleurs la répression collective inacceptable infligée par le gouvernement israélien qui assiège la population de Gaza, ainsi que l'ampleur de l'assaut militaire et le nombre de victimes, le transfert forcé de civils à l'intérieur du territoire, les incursions terrestres et les démolitions de maisons en cours en Cisjordanie, et la violence des colons à l'encontre des communautés palestiniennes. Il ne s'agit pas d'actes d'autodéfense légitimes, mais de violations manifestes du droit humanitaire international, dont certaines constituent des atrocités pour lesquelles des responsabilités pénales doivent être assumées.
Les peuples palestinien et israélien sont liés par l'histoire, la géographie et l'héritage de sacrifices et de souffrances. La crise actuelle, qui a provoqué des douleurs et des traumatismes inimaginables des deux côtés, exige la compassion et le respect du monde entier. Les vies humaines israéliennes et palestiniennes ont la même valeur.
L'histoire, la morale et l'expérience politique nous obligent à envoyer ce message clair : répondre à une série de crimes par d'autres crimes n'est pas la solution.
Comme l'a prévenu le président Biden, Israël ne doit pas répéter les erreurs commises par les États-Unis après les attaques terroristes d'Al-Qaïda du 11 septembre 2001, dont la pire a été l'invasion de l'Irak. Essayer de vaincre le terrorisme uniquement par le biais d'une action militaire est le plus souvent une terrible erreur qui conduit à d'autres actes de terrorisme, d'extrémisme et de violence. Une incursion terrestre des troupes israéliennes dans la bande de Gaza pourrait provoquer des pertes civiles massives, qui viendraient s'ajouter aux milliers de vies déjà perdues, et risquerait d'entraîner une escalade du conflit à l'échelle régionale.
Les cycles de violence et d'impunité doivent être brisés, et la communauté internationale doit affirmer clairement que toutes les personnes accusées de crimes d'atrocité dans les deux camps doivent être tenues pénalement responsables.
Les leaders ont trop longtemps renoncé à assumer leurs responsabilités à l'égard de ce conflit. Toutes les parties ont joué un rôle dans la perte d'espoir. Trente ans après les accords d'Oslo, l'absence d'horizon politique vers une solution à deux États susceptible de mettre fin à l'occupation israélienne des territoires palestiniens et de garantir la sécurité d'Israël se fait ressentir.
Les leaders devraient considérer ce conflit à travers les valeurs de la Charte des Nations unies et non à travers le prisme des divisions géopolitiques. En l'absence d'accord sur une résolution et d'appel à un cessez-le-feu à ce stade, alors que des milliers de personnes perdent la vie, le Conseil de sécurité des Nations unies manque à son devoir fondamental. En tant que membres de The Elders, nous appelons à un cessez-le-feu immédiat, au rétablissement de l'approvisionnement en eau, en nourriture, en médicaments et en carburant à Gaza, et à la libération de tous les otages détenus par le Hamas.
Les relations entre Israël et certains États arabes seront normalisées uniquement lorsque l'autodétermination palestinienne et la création d'un État seront au centre des préoccupations. À cet égard, la relance de l'Initiative de paix arabe de 2002 et la mise en œuvre des résolutions pertinentes du Conseil de sécurité des Nations unies offrent une voie viable vers la stabilité et la réconciliation régionales.
La période sombre actuelle doit servir de catalyseur au changement.
En tant que membres de The Elders, nous sommes aux côtés de ceux qui prônent le dialogue politique et la justice par le droit, et qui sont attachés aux valeurs des droits humains et de la coexistence pacifique.
FIN
Mary Robinson, former President of Ireland and Chair of The Elders
Ban Ki-moon, former UN Secretary-General and Deputy Chair of The Elders
Graça Machel, Founder of the Graça Machel Trust, co-founder and Deputy Chair of The Elders
Gro Harlem Brundtland, former Prime Minister of Norway and former Director-General of the WHO
Helen Clark, Former Prime Minister of New Zealand and head of the UN Development Programme
Elbegdorj Tsakhia, former President and Prime Minister of Mongolia
Zeid Ra'ad Al Hussein, former UN High Commissioner for Human Rights
Hina Jilani, Advocate of the Supreme Court of Pakistan and co-chair of the Taskforce on Justice
Ellen Johnson Sirleaf, former President of Liberia and Nobel Peace Laureate
Ricardo Lagos, former President of Chile
Juan Manuel Santos, former President of Colombia and Nobel Peace Laureate
Ernesto Zedillo, former President of Mexico
---
ENDS
For media inquiries, please contact William French, Head of Communications (+44 7795 693 903) or email: [email protected]