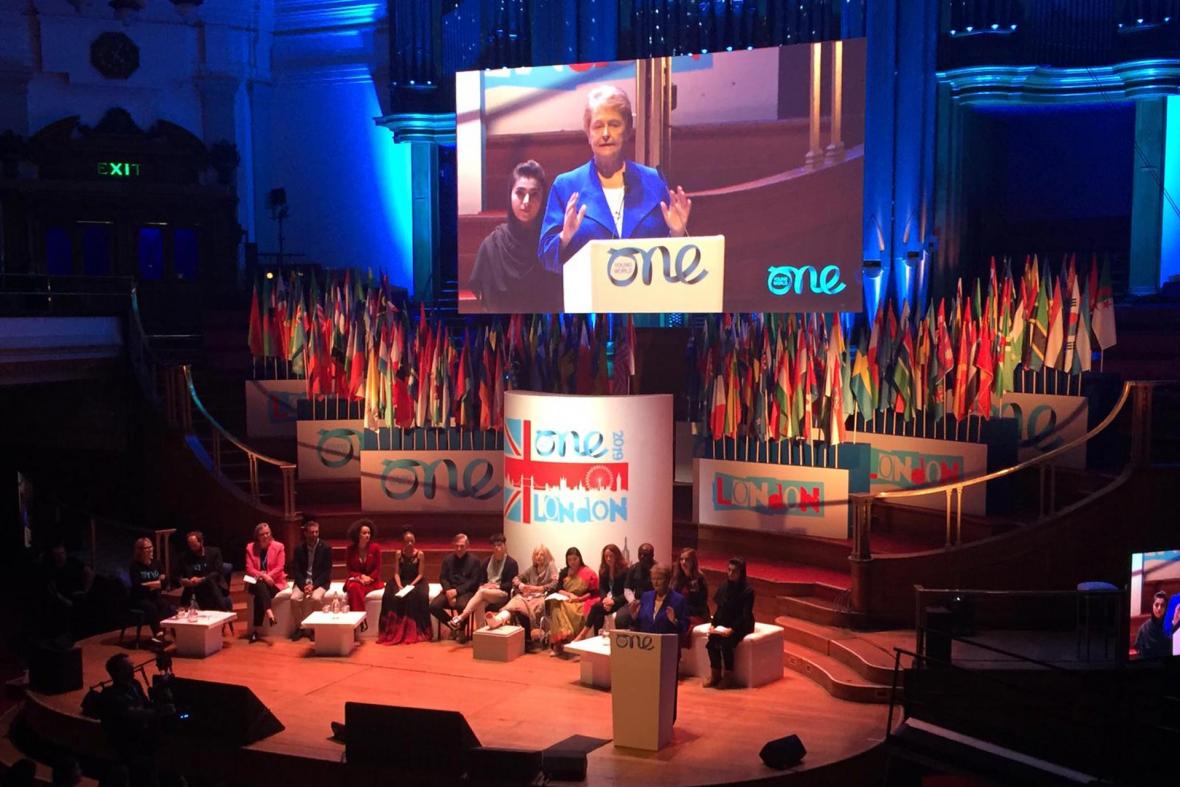 Addressing young leaders at One Young World, Gro Harlem Brundtland defends the concept of global citizenship and calls for collaboration to tackle global challenges.
This keynote speech was delivered at One Young World's London Summit on 25 October 2019.
Excellencies, Ladies and Gentlemen, dear friends,
It is a privilege and a pleasure to be with you here today, and to have enjoyed the opportunity for so many stimulating discussions here at One Young World.
I am speaking here as a member of The Elders, the group of independent leaders founded by Nelson Mandela in 2007 to work for peace, justice and human rights.
It is deeply rewarding for us "Elders" to talk to you, the "Youngers", and learn more about your thoughts and hopes for the future.
The determination of One Young World delegates to work together for a better world, and your optimism that such an outcome is achievable, is a welcome antidote to the pessimism, cynicism and sometimes even despair that seems to characterise the global political debate of our times.
I share your determination, applaud your optimism and offer you my solidarity in the momentous task of building peace, securing social justice and protecting human rights in open, diverse and tolerant societies.
And for all the well-founded concerns about the future of multilateralism and the international rules-based system that we have heard in the various discussions, we are fortunate to have two remarkable multilateral accomplishments to help us in this common task: the Sustainable Development Goals, and the Paris Agreement on climate change.
Taken together, they offer a realistic pathway to a more equitable and peaceful world where climate disaster is averted, and human rights and justice are integral to national and international development plans.
We will only tackle the threat of climate change and truly implement sustainable development if our efforts are rooted in the principles of multilateralism, cooperation and inclusion.
This means listening to the voices of young people, and recognising that climate change indeed is an intergenerational injustice.
It is wrong that you young people should pay the price for my generation's failure to act with sufficient urgency and ambition to curb emissions, end the use of fossil fuels and invest in renewable energy.
And it is critical that your voices are heard in the debates now underway about the best way to face the future. You are following in the admirable footsteps of Greta Thunberg, and other youth activists and environmentalists in the room today like Farwiza Farhan and Abdulla Fisam.
These courageous young women and men do recognise that the existential threats facing humanity know no borders.
They act as global citizens to find common solutions, and offer us all a model to follow.
This concept of global citizenship is essential to peacebuilding. It is an expression of solidarity that echoes the opening lines of the UN Charter:
"We, the peoples… [are] determined to save succeeding generations from the scourge of war."
But I fear it is an indisputable fact that the political and cultural environment in which a true sense of global citizenship can be nurtured has become much more challenging over the past four years, the deceptive allure of populism and isolationism has grown across all continents, from North and South America to Africa, Asia and Europe.
Faced with complex, multi-faceted challenges from nuclear proliferation to climate change and a radical transformation of our economic and social models, it is perhaps understandable that many people from everyday walks of life feel overwhelmed and seek solace in simplified narratives of a bygone "golden age" when they had a sense of being in control of their individual and national destinies.
What is profoundly irresponsible, however, is for politicians to collude in or deliberately stoke these illusions for their own aims of securing and sustaining power, in full knowledge that no one country, however powerful, will be able to meet these global challenges on its own.
Even here in the United Kingdom, a country I admire for its openness to the world and the richness of its multicultural heritage, some politicians have sneered at the concept of being a global citizen, dismissing and distorting it as being a "citizen of nowhere".
Nothing could be further from the truth!
I think that all of you in this hall today understand both personally and politically that being a global citizen does not mean your attachment to and love of the country of your birth is in any way diminished.
On the contrary, it is enhanced by building new connections, discovering common interests and priorities, and working together to overcome global challenges.
This is why I believe it is absolutely essential for global peace and security that the member states of the United Nations understand and meet their responsibilities under the UN Charter and act in the service of all humanity rather than the narrow fields of national, ideological or sectarian interests.
Next year, the UN will celebrate its 75th anniversary.
This is an important moment for member states to recommit to its founding values, and for civil society worldwide to act with vigilance and resolve to not only celebrate past achievements, but ensure the organisation can succeed in its mission in the future.
We need only look at the appalling scenes from Syria and Yemen to see the price paid by innocent civilians when world powers reduce foreign policy decisions to the level of business transactions, without any consideration for humanitarian needs, long-term strategic alliances or respect for human rights.
It seems that some leaders have forgotten the meaning of integrity, as they recklessly or cynically abandon previous alliances, or tolerate assassinations and poisonings as an instrument of state power, while insisting in public that no such moves have taken place and creating the concept of "fake news" to confuse and obscure their real motives.
Leaders need to be reminded that concepts of truth, honour and trustworthiness are indispensable if the peoples of the world are to live in lasting peace.
For this to happen, the citizens of these countries – and particularly young leaders such as yourselves – need to hold their leaders to account.
You need to get organised, engage with existing political structures – and vote!
Those of you in this hall who are already in positions of leadership should insist that your older colleagues recognise both the severity of our global challenges, and the imperative of a collaborative, multilateral approach.
This has been the guiding principle of my political career and wider engagement in public life for over four decades.
As threats mounted to the environment on which we all depend, and the need to protect Planet Earth became a major concern, I found myself in the role of minister of Environment in Norway in the 1970s.
I became deeply involved, engaged and convinced in pursuing a pattern of development that could benefit everyone, protect our planet and promote peace.
I continued this agenda as Prime Minister in the 1980s, while I also chaired the World Commission on Environment and Development at the invitation of UN Secretary-General Javier Pérez de Cuéllar.
I am glad to say that our 1987 report, "Our Common Future", became a landmark document that brought sustainable development to the attention of Presidents, Prime Ministers and Finance Ministers, and thereby into the mainstream of policymaking, nationally and internationally. It initiated the Rio Conference in 1992 and continues to influence global thinking today.
When I look back at the words I wrote in the Foreword of our report, in 1987, I am struck by their continued relevance today:
"Our most urgent task today is to persuade nations of the need to return to multilateralism… the challenge of finding sustainable development paths ought to provide the impetus - indeed the imperative - for a renewed search for multilateral solutions and a restructured international economic system of co-operation."
Of course, the world has changed immeasurably since the 1980s.
The ideological struggles between capitalism and Communism have been consigned to the history books, and the Berlin Wall and Iron Curtain are mercifully fading memories.
Issues that were then still viewed as "fringe", from feminism, racism and sexual equality to climate change and biodiversity, are now taken seriously at the very highest levels of state power.
Globalisation has transformed economic models, supply chains, labour markets, industrial relations and migratory flows.
Millions of people worldwide now work in the so-called "gig economy", facilitated by digital technology, while advances in robotics and artificial intelligence are fundamentally transforming everything from manufacturing and heavy industry to education and the service sector.
From fighting terrorism to managing migration, from developing new methods of environmentally-sustainable economic growth to promoting tolerance in multicultural societies, we will only make progress if we act in concert with one another, not just competition.
None of this is possible without a strong, effective and principled system of international rules and institutions to ensure that fairness lies at the heart of governance and decision-making.
Fairness means inclusion. It means the voices of young people, women, indigenous communities, migrants, sexual minorities and other marginalised groups are listened to in the decision-making process, from the Chamber of the UN Security Council to SDG Summits and national parliaments.
The "UN75" programme of activities offers many such opportunities for citizen engagement. However a collaborative and inclusive approach to solving global problems cannot begin and end at the UN.
Business leaders, including those represented here at One Young World, can and must play a critical role alongside non-governmental organisations, labour unions, women, youth, faith leaders and other representatives of civil society.
Business leaders must also speak up for a regulatory environment that protects all human rights and meets climate obligations. They must also do more to be transparent and accountable about their own activities, including their roles in partnerships to help implement the SDGs.
Nearly four hundred years ago, the English poet John Donne wrote some memorable lines that echo down the generations. These should inspire us also today:
"No man is an island,
Entire of itself,
Every man is a piece of the continent,
A part of the main."
Donne's words are literally true today in the context of climate change, and their metaphorical strength resounds when we think about almost any aspect of geopolitics, from the future of the European Union to building peace in the Middle East, developing just and resilient frameworks to manage global refugee policy, and working to prevent nuclear proliferation and the spread of new weapons of mass destruction.
Global problems cannot be solved if countries cut themselves off from their neighbours by building walls or leaving regional bodies that have helped maintain peace and stability for decades.
Proclaiming one's country to be "greater" than any other may win applause in an election campaign, but it is an unrealistic and ultimately dishonest approach to the hard realities of governance – and sooner or later, its shortcomings will be exposed.
The challenges facing our world, and the consequences for the future of you young people gathered here, let alone your children and grandchildren, are too grave and pressing to allow leaders to indulge in blinkered or disingenuous isolationism.
This is why The Elders seek to address the twin existential threats of our age – climate change and nuclear weapons – and to support all efforts to bolster the international rules-based system and a multilateral response.
On climate change, the science is clear. As the 2018 report from the UN's Intergovernmental Panel on Climate Change set out, we have less than a dozen years to cut global emissions by 45 percent and keep temperature rises to 1.5 degrees Celsius. Any rise over this level spells catastrophe for global ecosystems, flora, fauna and whole communities.
This is not just a matter of environmental concern. It affects social justice, sustainable development, human rights, peace and global stability – in short, it matters to every woman, man and child on the face of the planet.
Many of the same moral arguments apply to the issue of nuclear disarmament and non-proliferation.
Those of us who grew up in the shadow of the Cold War were acutely aware of the devastating, indiscriminate threat posed by these weapons and were determined that they should never be used.
But over the past three decades since the collapse of the Soviet Union, an alarming complacency has grown up around the importance of this threat.
The institutions and mechanisms established during the period of superpower rivalry have withered through neglect or deliberate misuse, even though the risks posed by nuclear weapons have in many ways increased through technological developments.
The termination by the United States of the Intermediate-range Nuclear Forces (INF) Treaty has dangerously raised the stakes for a new nuclear arms race, making it all the more critical to renew and defend other nuclear treaties – or risk the dangerous prospect of no formal arms control mechanisms in place between the two leading superpowers for the first time in nearly half a century.
The common strand binding these two challenges is that both can only be effectively addressed by ethical leadership and multilateral cooperation.
We need to insist on a people-centred, holistic and inclusive approach to tackling all interlocked global challenges – including equality for women and girls, sustainable development, universal health coverage, access to justice and the strengthening of democratic institutions.
My generation cannot do this on its own. Some might even say that we cannot be trusted to do it on our own. We need the fierce clarity of youth to hold us to our principles and stiffen our resolve!
So let us work together to build peace, fight injustice and build that better world that is your birthright.
Thank you.